In Japan, There's a Toilet for Divorce
Let's hope it doesn't get clogged.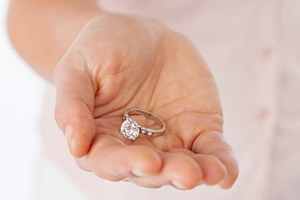 In the Gunma Prefecture in central Japan, women have been praying to the porcelain god, but it has nothing to do with recovering from a night of binge drinking. The Mantokuji Temple is known as the "divorce temple," and within it are a couple of toilets that many modern Japanese women hope will answer their prayers.
Historically, the ancient Buddhist temple served as a refuge for women wanting to leave bad marriages. Tadashi Takagi, the Temple museum director, explained:
"In the past the Mantokuji was a divorce temple. There are only two in Japan and in the whole world. Originally it provided the possibility to break off with bad relationships. Women used to come here to have legal protection and divorce from their husbands."
Today, the Temple serves a similar purpose.  Many Japanese believe their gods are present in everything, including toilets, which they call the Kawaya Kami deity. Many women still visit Mantokuji, write down their divorce wishes on paper and flush it down the toilet, symbolic of their split. The ritual is called enkiri—severing ties. Takagi explained:
"The idea today is that people get rid of the bad things in their life and become happy."
But Mantokuji isn't limited to divorcees-to-be. Visitors can perform enkiri with anything. According to the Telegraph, one woman flushed her obesity down the toilet.
And it's not just about cutting ties; visitors can also partake in enmusubi—strengthening ties—although they'll be flushing an entirely different toilet.  There's a black lavatory in the temple for those who wish to strengthen the ties in their marriage.
Japan's divorce rate has quadrupled over the past 50 years, so Mantokuji has become a Mecca for many unhappy wives making the pilgrimage. With modern Japanese divorce laws, it may not serve the exact purpose it did hundreds of years ago, but it's still a symbolic sanctuary.
Takagi admits there's been some confusion at Mantokuji.
"There [have been] people who take it for a real lavatory and actually use it," he said.  "But since we have put a sign indicating that the toilets are for praying, almost nobody makes that mistake anymore."
Key word: Almost.
Photo: Vstock LLC/Getty Images
More on love & sex from MSN Living:
How to Determine If He's Marriage Material
8 Secret Guy Insecurities

On Location: A New Orleans Wedding
love: friendships, dating, sex & marriage
A new study on attraction may help explain why fashions change.

As a general rule, any island that offers great weather year-round is going to attract the most visitors in the winter (high season) when we're all trying to escape the snow. Once summer rolls around, many islands see a sharp drop-off in tourism since many people have beach weather right in their own backyards.

And how you can attack the issues together.

A wedding is an exceptionally special day. Sometimes, an opportune photo flub makes the occasion even more memorable. Here are 25 awesome wedding photo bombs.

Somewhere between the first few butterfly-inducing dates and the committed-for-life stage, there's the period of wondering if you're both on the same page about how serious you feel about a future together. If you're not quite at the point of "that talk" but you're looking for a few clues you're heading in that direction, here are some signs he's in it for the long haul as your relationship progresses.

What's that sound? It's white noise blocking out the well-meaning person proclaiming groundbreaking news about where you can meet someone, asking why you're still single, or bugging you about when you're getting married already. Don't be that person. Here are 15 annoying things all single people don't want to hear.

With just a few days left before the big day, you already have a mile-long checklist of to-dos—now meet the don'ts! From impromptu skin treatments to all-night movie marathons, here are 11 things to avoid at all costs.

A new study shows that watching and discussing romantic films can drastically reduce your chance of divorce. These flicks more than fit the bill.

These seemingly innocent phrases still have the power to wound… big time.

Making "I do" last forever is one of the biggest challenges you'll ever face—and it's normal to worry about how you'll do it. But, if your connection involves any of these things, rest assured that you're in it for the long run.

Ultimately, as hard as it may seem at the beginning, a marital affair can be a turning point.

Five months after the Boston Marathon bombing, The Knot reached out to Rebekah Gregory and Pete DiMartino and offered to throw them a dream wedding. They said yes, and on April 4, 2014, the two married at the Biltmore Estate in Asheville, North Carolina. Rebekah and Pete exchanged vows on the tennis lawn amidst the cherry tree blossoms and then celebrated with all of their friends and family at a beautiful reception tent right in front of the estate. All of the details were perfectly executed by a team of talented and generous wedding industry pros, including celebrity wedding planner Marcy Blum. Here, a few highlights from Rebekah and Pete's wedding day.