In Japan, There's a Toilet for Divorce
Let's hope it doesn't get clogged.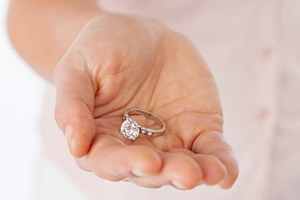 In the Gunma Prefecture in central Japan, women have been praying to the porcelain god, but it has nothing to do with recovering from a night of binge drinking. The Mantokuji Temple is known as the "divorce temple," and within it are a couple of toilets that many modern Japanese women hope will answer their prayers.
Historically, the ancient Buddhist temple served as a refuge for women wanting to leave bad marriages. Tadashi Takagi, the Temple museum director, explained:
"In the past the Mantokuji was a divorce temple. There are only two in Japan and in the whole world. Originally it provided the possibility to break off with bad relationships. Women used to come here to have legal protection and divorce from their husbands."
Today, the Temple serves a similar purpose.  Many Japanese believe their gods are present in everything, including toilets, which they call the Kawaya Kami deity. Many women still visit Mantokuji, write down their divorce wishes on paper and flush it down the toilet, symbolic of their split. The ritual is called enkiri—severing ties. Takagi explained:
"The idea today is that people get rid of the bad things in their life and become happy."
But Mantokuji isn't limited to divorcees-to-be. Visitors can perform enkiri with anything. According to the Telegraph, one woman flushed her obesity down the toilet.
And it's not just about cutting ties; visitors can also partake in enmusubi—strengthening ties—although they'll be flushing an entirely different toilet.  There's a black lavatory in the temple for those who wish to strengthen the ties in their marriage.
Japan's divorce rate has quadrupled over the past 50 years, so Mantokuji has become a Mecca for many unhappy wives making the pilgrimage. With modern Japanese divorce laws, it may not serve the exact purpose it did hundreds of years ago, but it's still a symbolic sanctuary.
Takagi admits there's been some confusion at Mantokuji.
"There [have been] people who take it for a real lavatory and actually use it," he said.  "But since we have put a sign indicating that the toilets are for praying, almost nobody makes that mistake anymore."
Key word: Almost.
Photo: Vstock LLC/Getty Images
More on love & sex from MSN Living:
How to Determine If He's Marriage Material
8 Secret Guy Insecurities

On Location: A New Orleans Wedding
love: friendships, dating, sex & marriage
Want a classic round stone but an extra special setting? These stunning rings are not your average solitaire.

If you just got engaged, congrats! This is seriously exciting news that deserves lots of congratulatory hugs, "oohing" and "ahhing" over the ring and plenty of bubbly. To make sure you get the right response from friends, family and coworkers, avoid announcing your engagement like this…

All year long we laugh and cry along to some of the cutest, funniest and most creative proposals on the Internet. We've seen it all -- from marching bands to every kind of flash mob you can imagine. Here, we've narrowed down our favorites from this year.

John F. Kennedy reigned with his wife Jackie in the Washington golden age known as Camelot. They were young, beautiful and seemingly the perfect couple. But behind the scenes, it was a totally different story. JFK's affairs were as legendary as some of his conquests.

Persistent nagging could cause an avalanche of distrust the way an affair can.

Try these tried-and-true tricks from dating experts to detach the stage-five clinger in your life without being a heartbreaker.

We know that the winter doldrums can leave you lacking the spirit and inspiration needed to come up with steamy Saturday night plans, so we did it for you. Happy (early) holidays!

A guide to getting by and creating a productive and memorable experience.

Plus, the No. 1 reason for divorce.

Taking forever to get ready? Nagging him? See where it all ranks on the tolerable spectrum.

Looking for an afternoon delight? A dating service lists the most desirable locations for sex at work.

Breakups: They're an emotional time for everyone. Let's agree on a few ground rules, shall we?