In Japan, There's a Toilet for Divorce
Let's hope it doesn't get clogged.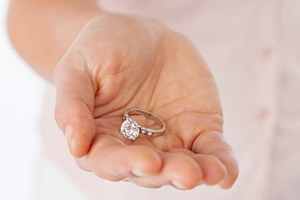 In the Gunma Prefecture in central Japan, women have been praying to the porcelain god, but it has nothing to do with recovering from a night of binge drinking. The Mantokuji Temple is known as the "divorce temple," and within it are a couple of toilets that many modern Japanese women hope will answer their prayers.
Historically, the ancient Buddhist temple served as a refuge for women wanting to leave bad marriages. Tadashi Takagi, the Temple museum director, explained:
"In the past the Mantokuji was a divorce temple. There are only two in Japan and in the whole world. Originally it provided the possibility to break off with bad relationships. Women used to come here to have legal protection and divorce from their husbands."
Today, the Temple serves a similar purpose.  Many Japanese believe their gods are present in everything, including toilets, which they call the Kawaya Kami deity. Many women still visit Mantokuji, write down their divorce wishes on paper and flush it down the toilet, symbolic of their split. The ritual is called enkiri—severing ties. Takagi explained:
"The idea today is that people get rid of the bad things in their life and become happy."
But Mantokuji isn't limited to divorcees-to-be. Visitors can perform enkiri with anything. According to the Telegraph, one woman flushed her obesity down the toilet.
And it's not just about cutting ties; visitors can also partake in enmusubi—strengthening ties—although they'll be flushing an entirely different toilet.  There's a black lavatory in the temple for those who wish to strengthen the ties in their marriage.
Japan's divorce rate has quadrupled over the past 50 years, so Mantokuji has become a Mecca for many unhappy wives making the pilgrimage. With modern Japanese divorce laws, it may not serve the exact purpose it did hundreds of years ago, but it's still a symbolic sanctuary.
Takagi admits there's been some confusion at Mantokuji.
"There [have been] people who take it for a real lavatory and actually use it," he said.  "But since we have put a sign indicating that the toilets are for praying, almost nobody makes that mistake anymore."
Key word: Almost.
Photo: Vstock LLC/Getty Images
More on love & sex from MSN Living:
How to Determine If He's Marriage Material
8 Secret Guy Insecurities

On Location: A New Orleans Wedding
love: friendships, dating, sex & marriage
A researcher from Texas Tech University has found that people who use the same kind of "function words" are more likely to get together.

Check out these five celebrity stunners.

And by weird, we really mean friggin' awesome.

Being in a relationship can sometimes mean having less time to hang out with your mates. But lazy boyfriends will be delighted to hear about a new app that sends automated texts to their other halves.

Only 2 percent of bridesmaids will actually wear their dresses again (plus more fun facts you didn't know).

When even their president is being caught sneaking around behind his partner's back, it is perhaps unsurprising to find the French topping a poll for infidelity, alongside the equally hot-blooded Italians.

They're not NBD, and they can put a real dent in your marriage.

You probably don't even realize you're doing it. Nix this little habit for a stronger bond.

We're not making this up. Some couples are looking for ways to include marijuana in their wedding day plans – from cannabis reception centerpieces to special brownies at the bridal shower. And while we don't expect it to become as popular as, say, the signature drink at cocktail hour, many of the Colorado and Washington state-based wedding planners and experts we talked to gave us reason to believe that we can expect to see more of it over the next year.

Researchers found that couples who live together for at least four years prior to marriage are more likely to stay together.

The great outdoors provides a glorious backdrop — and a wealth of decorating inspiration — for an unforgettable New Hampshire wedding. For the most impact in an outdoor setting, use intense colors.

Let your guests dine in style! From galvanized buckets to glass hurricanes, these ideas for floral arrangements, candle groupings, and more will put the finishing touches on your big day.