Love makes you delusional
But that's actually a good thing!
By Gena Kaufman
It's a big pile of duh that trust is important in a relationship, but a new study shows it may be important in a way you might not have thought. Trust makes you kind of delusional, and it turns out, that's great for your relationship.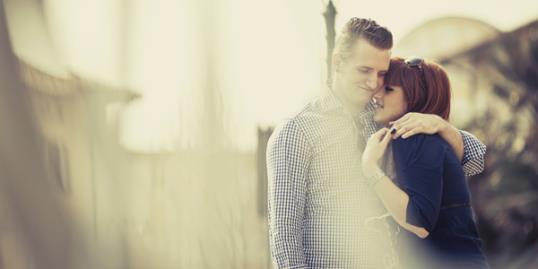 Being delusional doesn't sound particularly healthy, but in this case it is. It essentially causes people to forget the bad times in a relationship. Here's how the mental shift works: Students in relationships were asked to report their partner's screw-ups over a course of six months, like not being supportive or forgetting to make Valentine's plans (whoops!), rating them for severity and forgiveness and then re-evaluating their feelings at a later check-in.
More from Glamour: 10 ways to seduce your man in seconds
Participants who reported high levels of trust and commitment tended to forget their anger about their partner's transgressions over time, with memories getting rosier, but the opposite happened for those who didn't trust their significant other.
And rather than be concerned that being too trusting might make you willing to accept bad behavior, researchers say it's very healthy because it signals that despite a problem, you feel confident enough in your relationship to depend on a partner and trust him to look out for your interests. For those who didn't trust, feeling angrier than before about the bad behavior was probably a way to protect themselves from hurt by distancing themselves.
More from Glamour: 30 sex tips every woman should consider
The average age of participants was 18, but researchers expect the same results from older adults. And it does make sense, right? Inevitably, we all screw up and do crappy things to the people we love, so if we weren't able to conveniently forget it, no relationship would survive.
More from Glamour:
20 "annoying" girl things he secretly loves about you
50 things men are afraid to ask for (but really want)
10 romantic movies men secretly love
Bing: Read your love horoscope
Photo: Love makes you delusional / Valentin Casarsa/Getty Images
love: friendships, dating, sex & marriage
This time of year, we dust off our holiday traditions of special songs, stories, events and food to make our season bright. Here's a look into the traditional, unique and quirky holiday traditions of some famous couples.

Look, I looooove engagement season for obvious reasons, but even I can admit I'm like, "Really, AGAIN?" when yet ANOTHER engagement ring pops up in my news feed. Seriously, there were two this weekend. (Congrats, Gemma and Danny!)

We asked real men and women (and a few first-base experts, too) to give us the cardinal rules of kissing, tell us what makes someone a good kisser and more. So whether you're leaning in for kiss No. 1 or 1,000, read on.by Devin Tomb

Not quite sure which diamond shape suits your personality? We're here to help.

Dating can lead to all kinds of tricky situations. To help you navigate even the most awkward moments, we've compiled our 50 best dating tips—some new, some old—given to us by experts, moms, women like you, and even Justin Timberlake.

Customers as Madison's new Snuggle House can snuggle with professional cuddlers for $60 an hour.

Can you believe it was only about 15 years ago that engagement ring shopping meant a time-consuming slog from jewelry boutique to jewelry boutique? Thank goodness for the internet; nowadays, it's easy to do all that legwork online.

The holiday season, with all its twinkly lights and fireplaces and cold nights perfect for snuggling, is most definitely for lovers—but "The Single Woman" author Mandy Hale is here to remind you that it's also for singles, too.

Studies show that being satisfied with your romantic relationship is one of the best predictors of happiness -- even more important than education, income, or having a high-status job. Resolve to make 2014 your happiest year yet with these bond-strengthening pledges.

This winter, it's all about mixing unexpected seasonal elements with elegant neutral details and a hint of sparkle and sequins. Take a look.

Here's why dudes without hair make the best boyfriends.

What do you wish you appreciated more when you were flying solo?