Love makes you delusional
But that's actually a good thing!
By Gena Kaufman
It's a big pile of duh that trust is important in a relationship, but a new study shows it may be important in a way you might not have thought. Trust makes you kind of delusional, and it turns out, that's great for your relationship.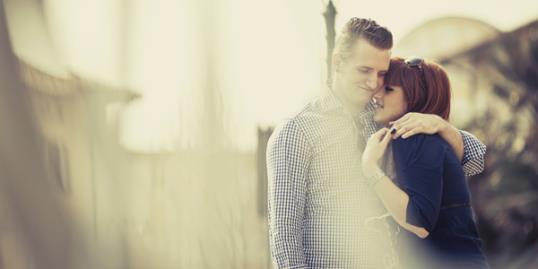 Being delusional doesn't sound particularly healthy, but in this case it is. It essentially causes people to forget the bad times in a relationship. Here's how the mental shift works: Students in relationships were asked to report their partner's screw-ups over a course of six months, like not being supportive or forgetting to make Valentine's plans (whoops!), rating them for severity and forgiveness and then re-evaluating their feelings at a later check-in.
More from Glamour: 10 ways to seduce your man in seconds
Participants who reported high levels of trust and commitment tended to forget their anger about their partner's transgressions over time, with memories getting rosier, but the opposite happened for those who didn't trust their significant other.
And rather than be concerned that being too trusting might make you willing to accept bad behavior, researchers say it's very healthy because it signals that despite a problem, you feel confident enough in your relationship to depend on a partner and trust him to look out for your interests. For those who didn't trust, feeling angrier than before about the bad behavior was probably a way to protect themselves from hurt by distancing themselves.
More from Glamour: 30 sex tips every woman should consider
The average age of participants was 18, but researchers expect the same results from older adults. And it does make sense, right? Inevitably, we all screw up and do crappy things to the people we love, so if we weren't able to conveniently forget it, no relationship would survive.
More from Glamour:
20 "annoying" girl things he secretly loves about you
50 things men are afraid to ask for (but really want)
10 romantic movies men secretly love
Bing: Read your love horoscope
Photo: Love makes you delusional / Valentin Casarsa/Getty Images
love: friendships, dating, sex & marriage
Forgotten what love is all about? Read this note, and remember.

And a few that aren't so shocking.

If you find yourself doing any of these things, consider changing your behavior or counseling.

From pineapple sculptures made out of sunflowers to bold graphic printed tablecloths, ten trendsetters in the wedding industry shared 100 days' worth of inspiring new wedding details. See The Knot editors' top picks for the coolest and most awe-worthy ideas from the wedding experts.

Those Facebook friends who seem to have perfect lives with flawless mates whom they adore at all times? Even they face tough times like these.

How to flag her little fibs. By Laura Tedesco

A new study on attraction may help explain why fashions change.

As a general rule, any island that offers great weather year-round is going to attract the most visitors in the winter (high season) when we're all trying to escape the snow. Once summer rolls around, many islands see a sharp drop-off in tourism since many people have beach weather right in their own backyards.

And how you can attack the issues together.

A wedding is an exceptionally special day. Sometimes, an opportune photo flub makes the occasion even more memorable. Here are 25 awesome wedding photo bombs.

Somewhere between the first few butterfly-inducing dates and the committed-for-life stage, there's the period of wondering if you're both on the same page about how serious you feel about a future together. If you're not quite at the point of "that talk" but you're looking for a few clues you're heading in that direction, here are some signs he's in it for the long haul as your relationship progresses.

What's that sound? It's white noise blocking out the well-meaning person proclaiming groundbreaking news about where you can meet someone, asking why you're still single, or bugging you about when you're getting married already. Don't be that person. Here are 15 annoying things all single people don't want to hear.