Love makes you delusional
But that's actually a good thing!
By Gena Kaufman
It's a big pile of duh that trust is important in a relationship, but a new study shows it may be important in a way you might not have thought. Trust makes you kind of delusional, and it turns out, that's great for your relationship.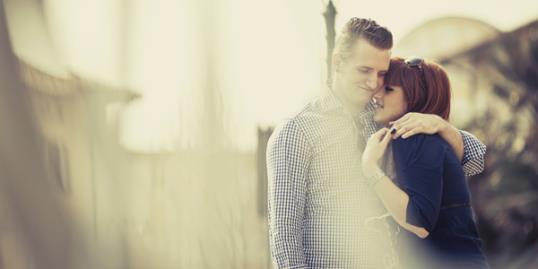 Being delusional doesn't sound particularly healthy, but in this case it is. It essentially causes people to forget the bad times in a relationship. Here's how the mental shift works: Students in relationships were asked to report their partner's screw-ups over a course of six months, like not being supportive or forgetting to make Valentine's plans (whoops!), rating them for severity and forgiveness and then re-evaluating their feelings at a later check-in.
More from Glamour: 10 ways to seduce your man in seconds
Participants who reported high levels of trust and commitment tended to forget their anger about their partner's transgressions over time, with memories getting rosier, but the opposite happened for those who didn't trust their significant other.
And rather than be concerned that being too trusting might make you willing to accept bad behavior, researchers say it's very healthy because it signals that despite a problem, you feel confident enough in your relationship to depend on a partner and trust him to look out for your interests. For those who didn't trust, feeling angrier than before about the bad behavior was probably a way to protect themselves from hurt by distancing themselves.
More from Glamour: 30 sex tips every woman should consider
The average age of participants was 18, but researchers expect the same results from older adults. And it does make sense, right? Inevitably, we all screw up and do crappy things to the people we love, so if we weren't able to conveniently forget it, no relationship would survive.
More from Glamour:
20 "annoying" girl things he secretly loves about you
50 things men are afraid to ask for (but really want)
10 romantic movies men secretly love
Bing: Read your love horoscope
Photo: Love makes you delusional / Valentin Casarsa/Getty Images
love: friendships, dating, sex & marriage
No sense in wasting your time on someone who will never commit.

There he is, the man of your dreams. He's sitting across from you at the coffee shop or standing at the opposite side of the bar. His eyes meet yours, a quick glance, and then it's back to his drink. Was he giving you a signal?

Remember that time on "30 Rock" when Liz Lemon and her eventual-husband Criss went shopping at Ikea, only to end up in a major fight? We know it couldn't be closer to the truth because we've all been there. In honor of the irritation that can be Ikea, here are the top fights you'll likely encounter.

Love it or hate it, the selfie wields much power.

Dating doesn't have to be a daunting task, promise. Here's how to make it fun for you and him.

One woman's honest journey to divorce will break your heart and inspire you at the same time.

Want to send your date running? Try one these moves.

Two guests arrested in New Jersey.

Celebrities certainly know how to travel in style, so if you're struggling to select a honeymoon destination, look no further than these star-approved hotspots. To make it even easier, we're providing you with hotel recommendations, packing essentials, and tips on what to do and see! So channel your inner celeb at one of these U.S. destinations for an unforgettable vacation!

Tall Twitter users named Wayne, we're on to you!

Should little girls be dreaming of a different kind of "I do"?

Need a reason to pack your bags and get the hell out of here?