Ohio couple married 65 years die 11 hours apart
Harold and Ruth Knapke died days before their 66th anniversary.
DAYTON, Ohio (AP) — Relatives of an Ohio couple who died at a nursing home 11 hours apart on the same day said their love story's ending reflects their devotion over 65 years of marriage.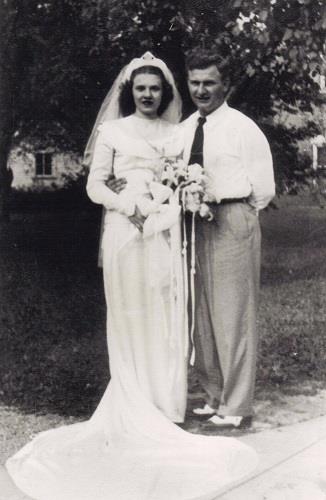 Photo: Harold and Ruth Knapke on their wedding day in St. Henry, Ohio, Aug. 20, 1947. (AP Photo/Knapke Family)
Harold and Ruth Knapke died in their shared room on Aug. 11, days before their 66th anniversary, The Dayton Daily News reported. He was 91, she was 89.
The couple's daughters said they believe their father willed himself to stay by his wife's side despite failing health until they could take the next step in their journey together. He went first — his children saw it as his "final act of love" — and she followed.
"We believe he wanted to accompany her out of this life and into the next one, and he did," daughter Margaret Knapke said.
The couple had known each other as children and began their courtship as pen pals while Harold, known as "Doc," served in the Army during World War II. Ruth would later joke: "I let him chase me until I caught him!"
Her husband became a teacher, coach and athletic director at Fort Recovery Schools, the newspaper said. They raised six children while looking after each other with a devotion that didn't seem to diminish.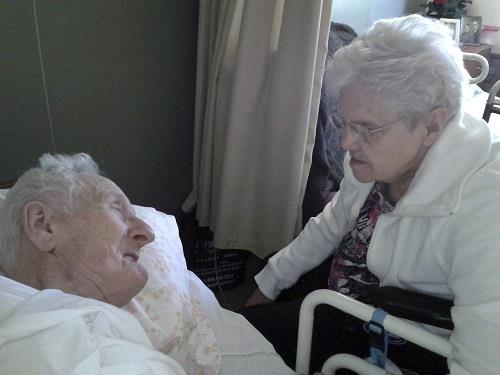 Photo: Harold and Ruth Knapke in June 2013. (AP Photo/Knapke Family)
A photo taken this summer shows him lying in a bed, arm stretched through a guardrail to hold her hand, as she leans in to press the top of her head to his. When she was ailing, he blessed her each night with holy water, daughter Pat Simon said.
The Knapkes had a joint funeral Mass, with granddaughters carrying Ruth's casket and grandsons carrying Harold's casket. The cemetery procession stopped at the farm house where the couple had lived, and the current owners surprised the family by flying a flag at half-staff to honor the longtime loves.
"It is really just a love story," said Carol Romie, another daughter. "They were so committed and loyal and dedicated, they weren't going to go anywhere without the other one."
More from The Heart Beat:
Clown couple ties the knot
Woman wants to marry her death row pen pal
5 quirks you have that guys love
Subscribe to The Heart Beat | Friend us on Facebook, follow us on Twitter and find us on Pinterest.
Are you sure you want to delete this comment?
love: friendships, dating, sex & marriage
Here's why dudes without hair make the best boyfriends.

What do you wish you appreciated more when you were flying solo?

"If you're so busy tweeting and Instagraming, you're not paying attention," New York wedding planner Marcy Blum said. "It's almost a cosmic faux pas. People want your energy with them and focused on what they're doing."

The wedding favor, that little thank-you-for-coming gift, has risen to new heights with the bride and groom giving guests a wide range of favors that are meaningful to them.

Generations ago, planning a wedding was 100 percent the bride's job, but in today's age of gender equity, it's a mere 99 percent.

For all the self-help books and advice columns out there (um, keeping reading my advice anyway, please!), there's one tool we all already have in our arsenal for picking a partner that will keep us happy: our gut instincts.

According to a new study from the University of Texas and the University of California, Los Angeles, both men and women have regrets when it comes to sex, but the genders vary greatly when it comes to what they regret specifically.

Spending time alone with your guy is easy, but going public with your plus-one is another thing entirely. Whether it's your crazy relatives at Thanksgiving dinner or awkward convos with your boss at the holiday party, possible pitfalls are everywhere. Keep reading for tips on how to make his grand entrance into your social life a good thing.

Match.com survey reveals the day you're least likely to get spruced up for a date.

Drinking and relationships seem to go hand in hand in a lot of ways. But only in moderation!

Many men will tell you that they have no clue what their wives are thinking.

Spending the holidays with your guy's family for the first time is a huge relationship milestone. But between your nerves, the usual family tension, and your weird Uncle Sal's inappropriate stories, it's also a prime opportunity for total disaster. Read on for 10 of our readers' most embarrassing meet-the-parents moments.