20 reasons why you don't need a boyfriend to be happy
Forget what the rom-coms are telling you — you don't need a beau to be happy. Here's why!
As a single gal, there are times when it's difficult to see the perks of your boyfriend-less lifestyle (for example, that time when you made the poor choice to see the latest Nicholas Sparks book-turned-movie and began to forget all the perfectly legitimate reasons you broke up with your ex).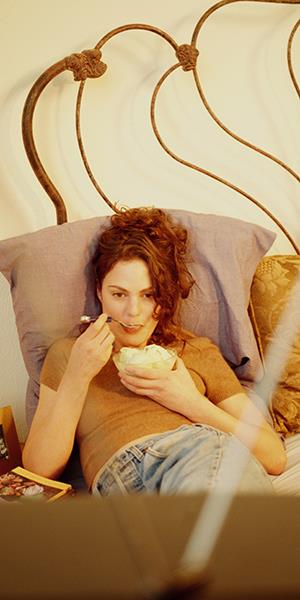 But no worries, Her Campus is here to help! Let this list remind you of all the perks of being a Beyoncé-certified single lady; you'll be back to reveling in your independence in no time and loving life in the land of the singles.
1. You can spend the entire day watching Bravo television without anyone complaining about it.
2. You never have to choose between hanging out with him or your friends.
3. It's one less person you have to buy holiday and birthday presents for.
4. No one is going to yell at you for hogging the bed.
5. There are endless opportunities for you to partake in a random dance floor makeout.
6. The only person who will experience your bad morning breath is you.
7. You can rest assured that you're not the dreaded "boyfriend girl." You know, that girl that can't not be in a relationship. Oh, hey, Kristin Cavallari. We didn't miss you.
8. You won't feel guilty about feasting your eyes on the hot shirtless men at the gym.
9. There's no one holding you back from studying abroad.
10. If you want to watch ABC Family's Saturday night double feature of "The Notebook" and "A Walk to Remember" while sobbing into your bowl of ice cream, you can. And you can love it.
11. Your eight-hour solo shopping spree is not going to push anyone to the brink of madness, like it would if you had a boyfriend in tow.
12. "Sh** Single Girls Say" exists for your viewing entertainment, and it's satisfying knowing that somewhere out there, a fabulous gay man understands you.
13. You never have to watch him and his friends play video games for hours on end.
14. Ryan Gosling's filmography is 34 titles long.
15. No one is there to witness the ghastly sight of you wearing your glasses and retainer to bed.
16. You won't suffer from constant stubble-burn. Never struggle to explain away your irritated pink-skinned chin again.
17.
Did you see what happened to Heidi Montag? That's a girl who could have used a few more years of the single life, and you're certainly not following in those plastic footsteps.
18.
No need to be ashamed of the picture of your latest celebrity crush that's hanging over your bed ... or the one you're using as your screensaver.
19. You're free from the drone of ESPN ... free at last!
20. You can lay poolside without fear of the male archetypal scoop-and-throw into the water.
To read 30 more reasons why you don't need a boyfriend to be happy, check out HerCampus.com!
Photo: Jessie Jean/Getty Images
love: friendships, dating, sex & marriage
This winter, it's all about mixing unexpected seasonal elements with elegant neutral details and a hint of sparkle and sequins. Take a look.

Here's why dudes without hair make the best boyfriends.

What do you wish you appreciated more when you were flying solo?

"If you're so busy tweeting and Instagraming, you're not paying attention," New York wedding planner Marcy Blum said. "It's almost a cosmic faux pas. People want your energy with them and focused on what they're doing."

The wedding favor, that little thank-you-for-coming gift, has risen to new heights with the bride and groom giving guests a wide range of favors that are meaningful to them.

Generations ago, planning a wedding was 100 percent the bride's job, but in today's age of gender equity, it's a mere 99 percent.

For all the self-help books and advice columns out there (um, keeping reading my advice anyway, please!), there's one tool we all already have in our arsenal for picking a partner that will keep us happy: our gut instincts.

According to a new study from the University of Texas and the University of California, Los Angeles, both men and women have regrets when it comes to sex, but the genders vary greatly when it comes to what they regret specifically.

Spending time alone with your guy is easy, but going public with your plus-one is another thing entirely. Whether it's your crazy relatives at Thanksgiving dinner or awkward convos with your boss at the holiday party, possible pitfalls are everywhere. Keep reading for tips on how to make his grand entrance into your social life a good thing.

Match.com survey reveals the day you're least likely to get spruced up for a date.

Drinking and relationships seem to go hand in hand in a lot of ways. But only in moderation!

Many men will tell you that they have no clue what their wives are thinking.