3 weird (but proven) ways to get him to like you
We bet you never knew that scaring a guy will make him fall for you.
Science works in weird and wonderful ways, and chemistry between two people is no different. While you've probably already heard of some tried-and-true flirting tips that can get a guy hooked, what about some more offbeat possibilities? What are some less conventional facts about attraction that science has revealed, and how can they help you get a guy?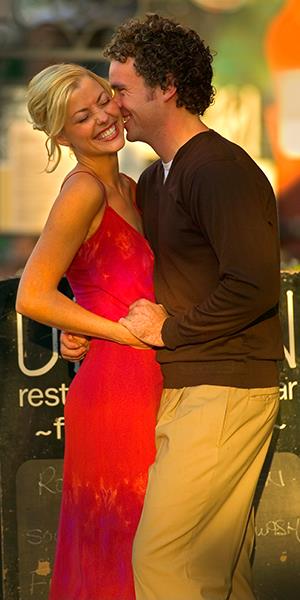 We've compiled a short list of facts you might have never known about attraction. Some of them may seem odd, but you probably never knew that they would help you snag a cutie!
Her Campus: 50 lessons in love from 'Fifty Shades of Grey'
1. Wear red
It's true that guys don't always care about our fashion choices, but the one thing they can agree on is their favorite color: red. It's been repeatedly proven to be an eye-catching color to the guys!
A recent study by the University of Rochester found that women who wear red in their online dating profile photos are more likely to receive messages and dates than those wearing any other color. And another study from the University of Southern Brittany in France found that the women in red tops prompted 21 percent of the total inquiries for dates (compare that to 14-16 percent of the messages received by women who were wearing black, white, blue, yellow or green!). So on your next date, leave your go-to LBD in the closet and slip into a flirty red number instead! The point is to inspire passion and love, and what better color to do that with than a deep, romantic red?
Her Campus: 5 places to fall in love this year
2. Listen to classical music (and maybe avoid country)
Don't hide your CDs if you're a classical music fan! A study in 1989 by Dolf Zillman and Azra Bhatia showed that men actually found women more attractive when they mentioned that they enjoyed classical music. The opposite effect happened when women mentioned that they loved heavy metal—men viewed them as less attractive. While more research needs to be done to show if today's new popular music genres have the same effect, there's no question that music does help get a man hooked.
Something surprising, though, is that both men and women found their dates less attractive if they said they liked country music. We're sure country music has less of a negative effect if both you and your guy love country, but to be safe, you may want to save the country music confession for later down the road in your relationship.
3. Scare him
Love and fear may seem like two opposite emotions, but they actually complement each other! To understand why, pretend that you live way back during the hunter-gatherer era when survival would have been your first priority. According to "Psychology Today", when humans felt threatened, they went into "survival mode" and looked for ways to stay alive. One way that hunter-gatherers survived was physically and emotionally latching on to others, which led to relationships between men and women. This means that many early emotional and sexual relationships were born out of fear for survival because our ancestors would get anxiety and attraction confused.
So on your next movie night, try watching "The Ring" and sidle up to your guy. His arm will probably be around you much sooner than you think!
For two more weird ways to make a guy fall for you and more love advice, check out HerCampus.com!
More from Her Campus:
Best new dating apps
5 contradicting dating rules and how to deal with them
10 ways to get guys to notice you
Subscribe to The Heart Beat | Friend us on Facebook, follow us on Twitter and find us on Pinterest
Photo: Alan Marsh/Getty Images
love: friendships, dating, sex & marriage
The outlandish things we do for love have no limits; just ask these guys. Who's hugged the longest? Kissed the longest? Been on the most expensive date? Take a look below as we count down the world's most loving record-breakers.

If you just got engaged, congrats! This is seriously exciting news that deserves lots of congratulatory hugs, "oohing" and "ahhing" over the ring and plenty of bubbly. To make sure you get the right response from friends, family and coworkers, avoid announcing your engagement like this…

Ladies, give yourself the best gift of all this season: The NYC Taxi Driver 2014 Calendar. By Michelle Toglia

Pheromones may be the key to finding your perfect match.

Her partner? Wine? Downtime? Find out where it all ranks.

This time of year, we dust off our holiday traditions of special songs, stories, events and food to make our season bright. Here's a look into the traditional, unique and quirky holiday traditions of some famous couples.

Look, I looooove engagement season for obvious reasons, but even I can admit I'm like, "Really, AGAIN?" when yet ANOTHER engagement ring pops up in my news feed. Seriously, there were two this weekend. (Congrats, Gemma and Danny!)

We asked real men and women (and a few first-base experts, too) to give us the cardinal rules of kissing, tell us what makes someone a good kisser and more. So whether you're leaning in for kiss No. 1 or 1,000, read on.by Devin Tomb

Not quite sure which diamond shape suits your personality? We're here to help.

Dating can lead to all kinds of tricky situations. To help you navigate even the most awkward moments, we've compiled our 50 best dating tips—some new, some old—given to us by experts, moms, women like you, and even Justin Timberlake.

Customers as Madison's new Snuggle House can snuggle with professional cuddlers for $60 an hour.

Can you believe it was only about 15 years ago that engagement ring shopping meant a time-consuming slog from jewelry boutique to jewelry boutique? Thank goodness for the internet; nowadays, it's easy to do all that legwork online.