Who lies more: Men or women?
Plus, the top five lies told by both sexes.
Whether it's a little white lie or lying by omission, we're all guilty of stretching the truth. But according to a study, men are more likely to lie than women—kind of. While men are more likely to lie overall, women are more likely to lie in specific situations.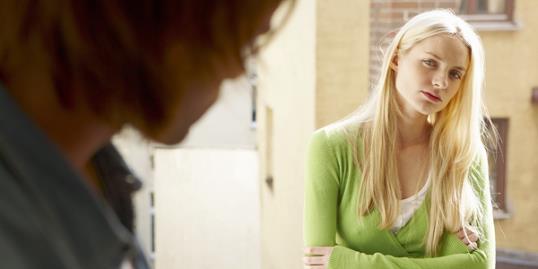 Women tell an average of 728 lies per year, or approximately two lies a day. Men, on the other hand, tell an average of 1,092 lies a year, or three per day.
More on MSN Living: Most common holiday arguments—and how to avoid them
Commissioned by the Science Museum of central London and carried out by OnePoll, the study included 3,000 adults and also listed the top lies men and women tell the most.
"Lying may seem to be an unavoidable part of human nature, but it's an important part of social interaction," Katie Maggs, museum curator, told the Telegraph. "The jury is still out as to whether quirks like lying are the result of our genes, evolution or upbringing."
More on MSN Living: The biggest rocks of 2012
Eighty-two percent of females in the survey said that lying made them feel guilty, while only 70 percent of men felt the same way. Seventy-five percent of those polled said it was okay to lie in order to spare someone's feelings.
While men lie more often, women are more prone to lie in specific situations, according to a separate study carried about by BMW Financial Services. For example, when it comes to shopping, 39 percent of women feel the need to lie about their purchases compared to only 26 percent of men. Women are also more likely to lie about being busy in order to avoid a phone call. Half of women surveyed admitted to lying in this situation compared to just over a third of men.
Below are the top five lies told by both sexes, according to the men and women surveyed. Let's hope they were telling the truth about their lying.
Top 5 lies men tell:
I didn't have that much to drink.
Nothing's wrong; I'm fine.
I had no signal.
It wasn't that expensive.
I'm on my way.
Top 5 lies women tell:
Nothing's wrong; I'm fine.
I don't know where it is. I haven't touched it.
It wasn't that expensive.
I didn't have that much to drink.
I've got a headache.
Photo: Maik Kern/Getty Images
Bing: Sesame Street to tackle divorce.
More Sex & Love on MSN Living:
10 places to meet a man for the holidays
7 strategies to divorce-proof marriages
The way to his heart after 1, 5 and 10 years of marriage
What does your engagement ring say about you
love: friendships, dating, sex & marriage
Five months after the Boston Marathon bombing, The Knot reached out to Rebekah Gregory and Pete DiMartino and offered to throw them a dream wedding. They said yes, and on April 4, 2014, the two married at the Biltmore Estate in Asheville, North Carolina. Rebekah and Pete exchanged vows on the tennis lawn amidst the cherry tree blossoms and then celebrated with all of their friends and family at a beautiful reception tent right in front of the estate. All of the details were perfectly executed by a team of talented and generous wedding industry pros, including celebrity wedding planner Marcy Blum. Here, a few highlights from Rebekah and Pete's wedding day.

Your wedding is your special day, but you want to keep your guests happy, too. Here are 20 typical wedding guest complaints and what you can do about them.

Study finds that early birds get the long-term relationships.

Receptions would take place near where raw sewage is processed.

We don't think this one can be topped.

Studies show the lesbian divorce rate is astronomical. Find out why - and how to avoid it.

Plus, four more real-life reasons to not incorporate a hot air balloon into your engagement.

We searched far and wide to find some of the most creative gifts for the first 10 years of marriage—complete with a few fun, personalized ideas for celebrating your love.

Marriage is a beautiful thing, but it's not always easy to stay on the same page. Here are 20 signs your marriage is in trouble and what you can do to fix it.

Today in unfortunately rhyming news: The more you tweet, the more you cheat.

We don't know these couples personally, but their public relationship personas can teach us a thing or two about love. Here are 25 of the best love lessons.

This short course in flirting will teach you not only how to flirt better but how to tell when someone is flirting with you—and how to respond. Have fun.