True love stories: Couple marries three times
Amid evolving same-sex marriage laws, Bob and Rik have vowed their love thrice.
The Heart Beat is excited to introduce our new weekly feature, "True love stories." Each week, a couple with a truly amazing love story will be profiled. If you know a couple with a story worth sharing, please email us at msnlivingmail@micros​​​​​​oft.com for a chance to be featured.
Bob Bragar realized he was gay at a young age. It was the 1950s, and he never really had plans to marry. In a piece for the Huffington Post, Bragar writes: 
"Marriage just wasn't an option for gay people in that time and place."
As an adult, Bob fell in love with Jay. While they couldn't marry, they did live in domestic bliss for 17 years, until Jay passed away in 1993. Naturally, Bob was devastated and found it difficult to keep going.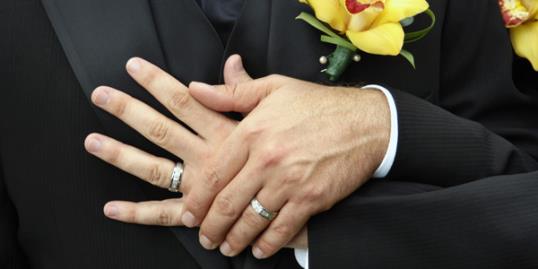 More on MSN Living: Kissing dos and don'ts
A year later, Bob met Rik—"a tall, blond, wonderfully athletic" Dutch man "with a warm, easy smile."
Bob still remembers the moment he laid eyes on Rik for the first time: 
"More than 18 years later, we both still recall that moment as love at first sight."
Little did Bob know that, over the years, he and Rik would marry three times.
More on MSN Living: 50 wedding cost-cutting tips from real brides
In 1998, Bob was living in the Netherlands with Rik, and the country made "civil registration" legal for same-sex couples. The couple decided to have a ceremony — cake, champagne, the works — and vow their love to each other. 
"We invited all our close friends and family members, many of whom flew in from the United States, while others gathered from all across Europe. My mother, my sister Joan, my cousin Alice and my old friend Paul from Washington were there, as well as Rik's parents, his brother and sister-in-law, and our many friends." 
That was Wedding No. 1. And although Bob admits he didn't have a clear grasp on the true meaning of marriage at that time, he kept his vow, and he and Rik lived happily. As the years progressed, so did Bob's understanding of the significance of their union. 
In 2001, the Netherlands updated its laws so that same-sex couples were entitled to actual marriage. If Bob and Rik wanted to upgrade their "civil registration," they had to go to city hall and sign some papers. 
Bing: Gay marriage bill faces tough road
Since they would now be considered married in the eyes of the law, the two figured they might as well throw another wedding. 
"Our original concept was to head over to city hall by ourselves, or with just a couple of friends as witnesses, then enjoy a quick lunch and hop on a plane to Paris, where we would celebrate in grand style. Inevitably, however, word of our plans got out. And each person who heard about it had the same, quintessentially Dutch response: "A WEDDING?! How wonderful!" 
For the second time, Bob and Rik gathered with friends, family and champagne.
"I realized that it had been, yet again, a perfect wedding," Bob wrote. 
Ten years later, New York state approved same-sex marriage. Because Bob considers New York his home — a place where his "heart beats faster," he immediately knew he wanted to tie the knot in the Big Apple. Bob writes about his decision to marry Rik for a third time: 
"I'm a member of the New York bar. Finally having the right to return and be married in my hometown meant a lot to me.  There was a practical reason, too: American estate taxes."
So at 10:30 in the morning on a Tuesday in August, Rik and Bob gathered, yet again, with 18 of their closest friends and family. They tied the knot with a slew of other couples in a building next to city hall. 
"As far as we could tell, we were almost the only gay couple getting hitched that morning. But it didn't matter; we were all awash in happy anticipation, and full of warm feelings for our fellow celebrants… Most of all, I wanted to thank my city and state for finally making me a full citizen. I hope that one day soon my country will do that, too." 
Indeed — here's hoping there's a forth wedding for Bob and Rik.
More from The Heart Beat:
True love stories: Couple remarries 30 years after divorce
7 lost wedding ring stories with happy endings
Study: Confidence before marriage leads to a happy union
Love content like this? Friend us on Facebook, follow us on Twitter and find us on Pinterest
Photo: Brian Summers/Getty Images
Are you sure you want to delete this comment?
love: friendship, dating, sex & marriage
We've made picking your palette a breeze! Just find your favorite hue and choose one of the cool combos below.

Get inspired with these twelve ideas for a fantastic, fun summer wedding!

What's worse than getting snubbed while proposing? Having your heart broken in front of countless strangers.

Want your I do's to be totally you? From pre-wedding cocktails to Mad Lib vows, here are 25 ways to make your ceremony as unforgettable as your reception.

Summer love can be sweet. But it tends to be fast, feverish and often fleeting. In a season where emotions run hot, here are some rules to help avoid heartbreak.

We asked brides on TheKnot.com to tell all -- and they did. Here, five of the most likely culprits and advice for how to deal with your drama-causing guests along the way.

This short course in flirting will not only teach you how to flirt better but also how to tell when someone is flirting with you—and how to respond. Have fun.

Gatsby glamour doesn't have to just live on the big screen! Embrace the trendy (yet timeless) art deco style with sequins, pearls, feathers and geometric patterns. Check out these art deco ideas and achieve the feel of 1920s decadence. By the way, all of these are affordable, except for the $600 hairpiece which is a splurge, but a knockout. Shop the look!

Wondering if your summer love will last? Here are 15 signs if your seasonal love is fleeting or for real.

Sixteen years after "Titanic's" release—and 101 years after the historic ship's notorious sinking—our hearts still go on for star-crossed lovers Rose DeWitt Bukater (Kate Winslet) and Jack Dawson (Leonardo DiCaprio). We rounded up some of our favorite ill-fated, but oh-so-romantic affairs on film, from "Gone with the Wind" to "Moulin Rouge!".

Flirting shouldn't be retired once you've got the ring. We asked relationship expert Harlan Cohen, as well as real husbands, the best way to keep the sparks flying.

When we're annoyed by male behavior, we turn to columnist Aaron Traister. His logic may be strange, but we have to admit, it's pretty helpful. Here, he answers our many questions for guys.