True love stories: Couple marries three times
Amid evolving same-sex marriage laws, Bob and Rik have vowed their love thrice.
The Heart Beat is excited to introduce our new weekly feature, "True love stories." Each week, a couple with a truly amazing love story will be profiled. If you know a couple with a story worth sharing, please email us at msnlivingmail@micros​​​​​​oft.com for a chance to be featured.
Bob Bragar realized he was gay at a young age. It was the 1950s, and he never really had plans to marry. In a piece for the Huffington Post, Bragar writes: 
"Marriage just wasn't an option for gay people in that time and place."
As an adult, Bob fell in love with Jay. While they couldn't marry, they did live in domestic bliss for 17 years, until Jay passed away in 1993. Naturally, Bob was devastated and found it difficult to keep going.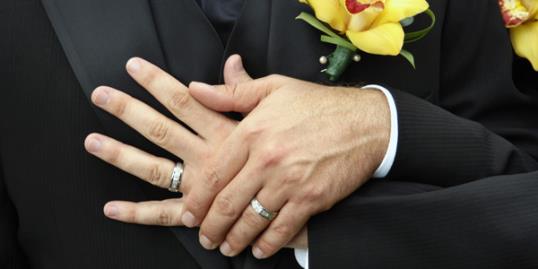 More on MSN Living: Kissing dos and don'ts
A year later, Bob met Rik—"a tall, blond, wonderfully athletic" Dutch man "with a warm, easy smile."
Bob still remembers the moment he laid eyes on Rik for the first time: 
"More than 18 years later, we both still recall that moment as love at first sight."
Little did Bob know that, over the years, he and Rik would marry three times.
More on MSN Living: 50 wedding cost-cutting tips from real brides
In 1998, Bob was living in the Netherlands with Rik, and the country made "civil registration" legal for same-sex couples. The couple decided to have a ceremony — cake, champagne, the works — and vow their love to each other. 
"We invited all our close friends and family members, many of whom flew in from the United States, while others gathered from all across Europe. My mother, my sister Joan, my cousin Alice and my old friend Paul from Washington were there, as well as Rik's parents, his brother and sister-in-law, and our many friends." 
That was Wedding No. 1. And although Bob admits he didn't have a clear grasp on the true meaning of marriage at that time, he kept his vow, and he and Rik lived happily. As the years progressed, so did Bob's understanding of the significance of their union. 
In 2001, the Netherlands updated its laws so that same-sex couples were entitled to actual marriage. If Bob and Rik wanted to upgrade their "civil registration," they had to go to city hall and sign some papers. 
Bing: Gay marriage bill faces tough road
Since they would now be considered married in the eyes of the law, the two figured they might as well throw another wedding. 
"Our original concept was to head over to city hall by ourselves, or with just a couple of friends as witnesses, then enjoy a quick lunch and hop on a plane to Paris, where we would celebrate in grand style. Inevitably, however, word of our plans got out. And each person who heard about it had the same, quintessentially Dutch response: "A WEDDING?! How wonderful!" 
For the second time, Bob and Rik gathered with friends, family and champagne.
"I realized that it had been, yet again, a perfect wedding," Bob wrote. 
Ten years later, New York state approved same-sex marriage. Because Bob considers New York his home — a place where his "heart beats faster," he immediately knew he wanted to tie the knot in the Big Apple. Bob writes about his decision to marry Rik for a third time: 
"I'm a member of the New York bar. Finally having the right to return and be married in my hometown meant a lot to me.  There was a practical reason, too: American estate taxes."
So at 10:30 in the morning on a Tuesday in August, Rik and Bob gathered, yet again, with 18 of their closest friends and family. They tied the knot with a slew of other couples in a building next to city hall. 
"As far as we could tell, we were almost the only gay couple getting hitched that morning. But it didn't matter; we were all awash in happy anticipation, and full of warm feelings for our fellow celebrants… Most of all, I wanted to thank my city and state for finally making me a full citizen. I hope that one day soon my country will do that, too." 
Indeed — here's hoping there's a forth wedding for Bob and Rik.
More from The Heart Beat:
True love stories: Couple remarries 30 years after divorce
7 lost wedding ring stories with happy endings
Study: Confidence before marriage leads to a happy union
Love content like this? Friend us on Facebook, follow us on Twitter and find us on Pinterest
Photo: Brian Summers/Getty Images
Are you sure you want to delete this comment?
love: friendships, dating, sex & marriage
A wedding is an exceptionally special day. Sometimes, an opportune photo flub makes the occasion even more memorable. Here are 25 awesome wedding photo bombs.

Somewhere between the first few butterfly-inducing dates and the committed-for-life stage, there's the period of wondering if you're both on the same page about how serious you feel about a future together. If you're not quite at the point of "that talk" but you're looking for a few clues you're heading in that direction, here are some signs he's in it for the long haul as your relationship progresses.

What's that sound? It's white noise blocking out the well-meaning person proclaiming groundbreaking news about where you can meet someone, asking why you're still single, or bugging you about when you're getting married already. Don't be that person. Here are 15 annoying things all single people don't want to hear.

With just a few days left before the big day, you already have a mile-long checklist of to-dos—now meet the don'ts! From impromptu skin treatments to all-night movie marathons, here are 11 things to avoid at all costs.

A new study shows that watching and discussing romantic films can drastically reduce your chance of divorce. These flicks more than fit the bill.

These seemingly innocent phrases still have the power to wound… big time.

Making "I do" last forever is one of the biggest challenges you'll ever face—and it's normal to worry about how you'll do it. But, if your connection involves any of these things, rest assured that you're in it for the long run.

Ultimately, as hard as it may seem at the beginning, a marital affair can be a turning point.

Five months after the Boston Marathon bombing, The Knot reached out to Rebekah Gregory and Pete DiMartino and offered to throw them a dream wedding. They said yes, and on April 4, 2014, the two married at the Biltmore Estate in Asheville, North Carolina. Rebekah and Pete exchanged vows on the tennis lawn amidst the cherry tree blossoms and then celebrated with all of their friends and family at a beautiful reception tent right in front of the estate. All of the details were perfectly executed by a team of talented and generous wedding industry pros, including celebrity wedding planner Marcy Blum. Here, a few highlights from Rebekah and Pete's wedding day.

Your wedding is your special day, but you want to keep your guests happy, too. Here are 20 typical wedding guest complaints and what you can do about them.

Study finds that early birds get the long-term relationships.

Receptions would take place near where raw sewage is processed.