Psychologist explains why women are more likely to be bisexual
Did bad dads make women "hetero-flexible"?
Barry X. Kuhle, an evolutionary psychologist from the University of Scranton, has proposed a somewhat controversial explanation for women's bisexuality, or "hetero-flexibility.​" Kuhle contends that, evolutionarily speaking, same-sex behavior allowed women to pair up in order to raise children.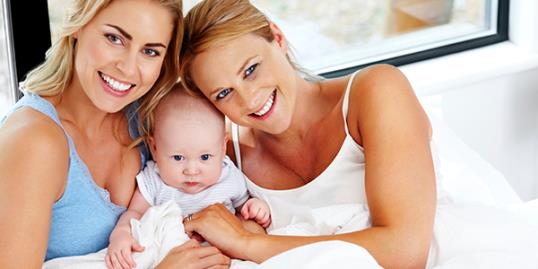 More on MSN Living: Supreme Court dismisses California's Prop 8 case

"Being born with the ability to [be attracted to men and women] may have been beneficial to ancestral women," Kuhle tells LiveScience.
His hypothesis was recently published in the journal Evolutionary Psychology, and Kuhle suggests that women who were raped or fathered children with absentee dads may have formed relationships with other women, making it easier to rear offspring.
More on MSN Living: More than 60,000 sign petition supporting gay student
Not everyone agrees with Kuhle, however.
"It's an intriguing idea, but there is actually very little evolutionary evidence for it," said Lisa Diamond, a psychologist at the University of Utah.
Read more abut Kuhle's hypothesis here.
More from The Heart Beat: 
Media bias in favor of gay marriage
Most Americans have gay friends on Facebook
Coffee shop lets customers pay with a kiss
Subscribe to The Heart Beat | Friend us on Facebook, follow us on Twitter and find us on Pinterest.
Photo: Dean Mitchell/Getty Images
love: friendships, dating, sex & marriage
We know some of this may sound obvious, but these simple statements can make both of you happier.

Making your relationship more secure, connected, and intimate doesn't have to feel overwhelming. Try these expert tips and reap the rewards now—and in the long run.

For those times when nothing big and horrible happened--but nothing is feeling right either.

What's more fun than animals in weddings? We've rounded up eight of the cutest.

Your puppy is all over your Instagram, Facebook and fridge, so there's no reason not to include him in your engagement pictures too. The best engagement photos give viewers a peek into your life. If you're a dog owner, take this opportunity to show off your pooch, like these 22 couples did! And we can't thank them enough.

Our married blogger gets real about checking out other guys when you're taken.

He's confident, distinguished and anywhere from 4 to 20 years older than you. Age is just a number, but there's something about older men that we love. Here are eight reasons why being in a relationship with an older man is tops.

While a younger man may have less life experience, that doesn't mean he's not emotionally mature. Here are the eight reasons why being in a relationship with a younger man is tops.

While we do love crazy, funny and over-the-top engagements, sometimes there's just nothing like a proposal with a heartfelt story behind it (warning: you might need some tissues). We've rounded up some of the most romantic wedding proposals from couples across the country, so keep scrolling for seven of our favorites:

As much as you'd like to think your guests will love every single aspect of your wedding, the truth is you really can't please everyone. However, you can try to avoid ticking them off. Here's how.

You'd think brides and grooms who celebrate their nuptials with 50 guests have an equal shot at wedded bliss as those who invite 500, but apparently not.

Because some things are just better with a buddy (whom you happen to be dating).