Top 5 Regrets of Divorced People
Study reveals 'marriage advice learned the hard way.'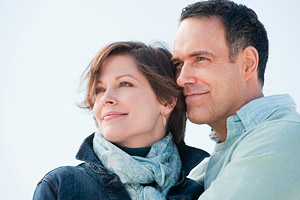 If you're looking for marriage advice, it might be wise to ask your divorced pals--why not avoid heartache by learning from someone else's?
According to a recent piece from the Wall Street Journal, most divorced people can narrow their past relationship regrets down to five areas they would change. With the help of psychologist and researcher Terri Orbuch, some divorcees have shared their lessons learned.
"Divorced individuals who step back and say, 'This is what I've done wrong and this is what I will change,' have something powerful to teach others," research professor Terri Orbuch of the University of Michigan's Institute for Social Research says. "This is marriage advice learned the hard way."
Funded by the National Institutes of Health, Dr. Orbuch has been conducting a study on 373 couples since 1986. When the study first started, the couples were between the ages of 25 and 37 and in their first year of marriage. But since then, 46 percent of them have divorced. Dr. Orbuch followed those couples as they entered new relationships—44 percent of them remarried.
The Wall Street Journal recently interviewed Dr. Orbuch about her past research in a piece titled,
"
Divorcé's Guide to Marriage
." Specifically, they were interested in what the couples she studied had learned from their past heartbreak. Dr. Orbuch found that most of them had five main areas of regret. Without further adieu, here are the lessons learned from the divorced:
1. Express love: Seems like a simple one, but 15 percent of divorced individuals said they regret not giving their spouse more affection. This includes compliments, cuddling and saying, "I love you."
"By expressing love and caring you build trust," Dr. Orbuch told the WSJ's Elizabeth Bernstein.
The divorcees listed four important components of affection: showing love often, making your partner feel good about who they are, making them feel good about having their own ideas, and making life interesting or exciting.
Dr. Orbuch agrees that it's important to make your spouse feel loved and appreciated every day—even a brief compliment can do the trick.
2. Talk About Money: It's no surprise that money was the top conflict in the majority of marriages Dr. Orbuch studied. 49 percent of those divorced said they fought so much over money in their past relationship, they're certain it will be a problem in their next one. The lesson learned? Thoroughly discuss your money plans and financial goals.
"Talk money more often—not just when it's tax time, when you have high debt, when bills come along," Dr. Orbuch says.
And here's an interesting statistic: in the study, six of 10 divorced people who started a new relationship chose not to combine finances the next time around.
3. Let go of the past: According to Dr. Orbuch, divorcees who still had strong feelings (whether it be love or hate) toward their ex were not as emotionally healthy as those who had moved on. In order to have a healthy current relationship, you can't be emotionally attached to your last one, Orbuch explains. For those who find it difficult to let go, Orbuch suggests writing a long letter to the person who has upset you, and then destroying the letter.
"This is an exercise for you, to get all the emotions out on paper so you can release them," she says.
4. Let go of blame. In the same vein as lesson number three, 65 percent of divorced people in the study blamed their ex-spouse for the divorce. Orbuch says holding on to the blame only makes it harder to move on, even if you're blaming yourself.
In order to avoid blame in your marriage, Orbuch suggests using "we," in discussions rather than "you" or "I."
"There are multiple ways of seeing a problem," Dr. Orbuch says. "By getting your partner's perspective, and marrying it with your perspective, you get the relationship perspective."
5. Open up about yourself. The top behavior divorced individuals said they would change in their next relationship is how they communicate, with 41 percent saying they would do it differently. According to Dr. Orbuch, in order to communicate effectively, it's important to open up about your thoughts and feelings—and not just when you're fighting.
"You need to tell each other about your lives and see what makes you each tick," Dr. Orbuch suggests.
What are your thoughts—have you been through a divorce? What did you learn from it?

Tell us on Facebook: Do you agree with these top 5 regrets?

Photo: Tetra Images/Getty Images
More Love & Sex from MSN Living:
10 Things You Must Do After a Breakup
What He Really Wants to Do on Vacation
Men's Secret Bedroom Fears
love: friendship, dating, sex & marriage
We've made picking your palette a breeze! Just find your favorite hue and choose one of the cool combos below.

Get inspired with these twelve ideas for a fantastic, fun summer wedding!

What's worse than getting snubbed while proposing? Having your heart broken in front of countless strangers.

Want your I do's to be totally you? From pre-wedding cocktails to Mad Lib vows, here are 25 ways to make your ceremony as unforgettable as your reception.

Summer love can be sweet. But it tends to be fast, feverish and often fleeting. In a season where emotions run hot, here are some rules to help avoid heartbreak.

We asked brides on TheKnot.com to tell all -- and they did. Here, five of the most likely culprits and advice for how to deal with your drama-causing guests along the way.

This short course in flirting will not only teach you how to flirt better but also how to tell when someone is flirting with you—and how to respond. Have fun.

Gatsby glamour doesn't have to just live on the big screen! Embrace the trendy (yet timeless) art deco style with sequins, pearls, feathers and geometric patterns. Check out these art deco ideas and achieve the feel of 1920s decadence. By the way, all of these are affordable, except for the $600 hairpiece which is a splurge, but a knockout. Shop the look!

Wondering if your summer love will last? Here are 15 signs if your seasonal love is fleeting or for real.

Sixteen years after "Titanic's" release—and 101 years after the historic ship's notorious sinking—our hearts still go on for star-crossed lovers Rose DeWitt Bukater (Kate Winslet) and Jack Dawson (Leonardo DiCaprio). We rounded up some of our favorite ill-fated, but oh-so-romantic affairs on film, from "Gone with the Wind" to "Moulin Rouge!".

Flirting shouldn't be retired once you've got the ring. We asked relationship expert Harlan Cohen, as well as real husbands, the best way to keep the sparks flying.

When we're annoyed by male behavior, we turn to columnist Aaron Traister. His logic may be strange, but we have to admit, it's pretty helpful. Here, he answers our many questions for guys.