New trend for singles: Airport dating
Courtship in the cabin?
If you're looking for love and happen to have a layover, you might want to pay attention.
A new trend mixes two of life's most adventurous endeavors—traveling and dating. Singles are taking advantage of their travel time by looking for potential partners among their fellow passengers. And a new site is making airport dating easier than ever.
More on MSN Living: 10 men in your life you may be overlooking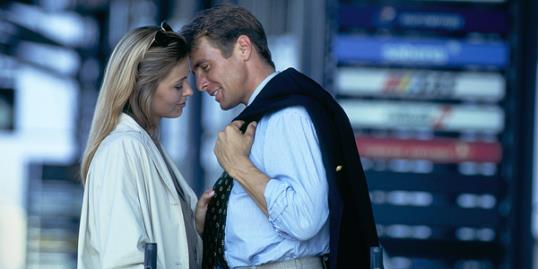 Dating site Meetattheairport.com​ allows single travelers to mingle at the gate. It was founded by Steve Pasternack, who got the idea after his flight was delayed.
"I was tired of reading a magazine or book, and there's just so many times you can watch planes take off and land," Pasternack told MSN's The Heart Beat. "I noticed how other people were gravitating toward the bars and thought it would be great to meet someone new to talk to and pass the time.  That's when I came up with the idea for a website that connects people while they're waiting for their flight."
After launching the site, Pasternack now has 20,000 members worldwide. Visitors simply answer a few questions about their personal interests and preferences. When they're ready to travel (and find romance), members input their flight information and departure airport.  From there, the site tries to connect them with a suitable match.
More on MSN Living: 9 myths about men
"It's also exciting to meet someone new from another city or even country," Pasternack told us.
He adds that airport dating is a safe option, too—a significant concern amid an age of Internet dating fraud. Pasternack contends: "Where else can you meet someone that was required to show several forms of identification and then go through a full body search?"
If only we could X-ray scan all of our dates.
Earlier this year, CNN wrote about in-transit romance, presenting several stories of couples who met at the airport. There was the flight attendant who received a Facebook request from a chatty passenger, for example. Long story short, she told CNN:
"When we met, although we knew we were falling hard and fast for one another, we continued to say, 'I'm not looking for anyone right now, but we can be friends and see where it goes!'"
Several months later, the couple tied the knot.
Tell us what you think of airport dating. Would you engage in an en route romance?
Photo: ADEO/Getty Images
More Sex & Love on MSN Living:
The Essence most eligible bachelors
15 (guy approved!) ways to have the best first date ever
50 signs he's not that into you
20 'annoying' girl things he secretly loves about you
love: friendships, dating, sex & marriage
Lesson learned: don't be afraid to shake things up!

Plus, what to do if you're experiencing a dry spell.

To go Dutch or not to go Dutch? Turns out, it's really not that simple.

While the national average wedding cost may be $29,858, if you live in a larger city, like Manhattan where the average wedding costs $86,916, you may find yourself spending close to triple of that number! Take a look at some of the other most expensive places in America to get married.

Happy spring! Luckily, the weather here in New York is fairly warm and beautifully sunny, so I'm totally feeling that start of the season buzz. You know, when you want to walk outside for hours and then reorganize your entire closet by getting rid of all your stupid snow boots and sweaters immediately?

The American Civil Liberties Union's primary work is litigation, but this month it's moonlighting as a wedding planner as part of its role in the campaign to legalize same-sex marriage nationwide.