New trend for singles: Airport dating
Courtship in the cabin?
If you're looking for love and happen to have a layover, you might want to pay attention.
A new trend mixes two of life's most adventurous endeavors—traveling and dating. Singles are taking advantage of their travel time by looking for potential partners among their fellow passengers. And a new site is making airport dating easier than ever.
More on MSN Living: 10 men in your life you may be overlooking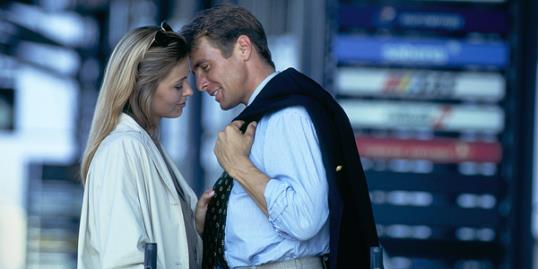 Dating site Meetattheairport.com​ allows single travelers to mingle at the gate. It was founded by Steve Pasternack, who got the idea after his flight was delayed.
"I was tired of reading a magazine or book, and there's just so many times you can watch planes take off and land," Pasternack told MSN's The Heart Beat. "I noticed how other people were gravitating toward the bars and thought it would be great to meet someone new to talk to and pass the time.  That's when I came up with the idea for a website that connects people while they're waiting for their flight."
After launching the site, Pasternack now has 20,000 members worldwide. Visitors simply answer a few questions about their personal interests and preferences. When they're ready to travel (and find romance), members input their flight information and departure airport.  From there, the site tries to connect them with a suitable match.
More on MSN Living: 9 myths about men
"It's also exciting to meet someone new from another city or even country," Pasternack told us.
He adds that airport dating is a safe option, too—a significant concern amid an age of Internet dating fraud. Pasternack contends: "Where else can you meet someone that was required to show several forms of identification and then go through a full body search?"
If only we could X-ray scan all of our dates.
Earlier this year, CNN wrote about in-transit romance, presenting several stories of couples who met at the airport. There was the flight attendant who received a Facebook request from a chatty passenger, for example. Long story short, she told CNN:
"When we met, although we knew we were falling hard and fast for one another, we continued to say, 'I'm not looking for anyone right now, but we can be friends and see where it goes!'"
Several months later, the couple tied the knot.
Tell us what you think of airport dating. Would you engage in an en route romance?
Photo: ADEO/Getty Images
More Sex & Love on MSN Living:
The Essence most eligible bachelors
15 (guy approved!) ways to have the best first date ever
50 signs he's not that into you
20 'annoying' girl things he secretly loves about you
love: friendships, dating, sex & marriage
Spending the holidays with your guy's family for the first time is a huge relationship milestone. But between your nerves, the usual family tension, and your weird Uncle Sal's inappropriate stories, it's also a prime opportunity for total disaster. Read on for 10 of our readers' most embarrassing meet-the-parents moments.

Want a classic round stone but an extra special setting? These stunning rings are not your average solitaire.

If you just got engaged, congrats! This is seriously exciting news that deserves lots of congratulatory hugs, "oohing" and "ahhing" over the ring and plenty of bubbly. To make sure you get the right response from friends, family and coworkers, avoid announcing your engagement like this…

All year long we laugh and cry along to some of the cutest, funniest and most creative proposals on the Internet. We've seen it all -- from marching bands to every kind of flash mob you can imagine. Here, we've narrowed down our favorites from this year.

John F. Kennedy reigned with his wife Jackie in the Washington golden age known as Camelot. They were young, beautiful and seemingly the perfect couple. But behind the scenes, it was a totally different story. JFK's affairs were as legendary as some of his conquests.

Persistent nagging could cause an avalanche of distrust the way an affair can.

Try these tried-and-true tricks from dating experts to detach the stage-five clinger in your life without being a heartbreaker.

We know that the winter doldrums can leave you lacking the spirit and inspiration needed to come up with steamy Saturday night plans, so we did it for you. Happy (early) holidays!

A guide to getting by and creating a productive and memorable experience.

Plus, the No. 1 reason for divorce.

Taking forever to get ready? Nagging him? See where it all ranks on the tolerable spectrum.

Looking for an afternoon delight? A dating service lists the most desirable locations for sex at work.