New trend for singles: Airport dating
Courtship in the cabin?
If you're looking for love and happen to have a layover, you might want to pay attention.
A new trend mixes two of life's most adventurous endeavors—traveling and dating. Singles are taking advantage of their travel time by looking for potential partners among their fellow passengers. And a new site is making airport dating easier than ever.
More on MSN Living: 10 men in your life you may be overlooking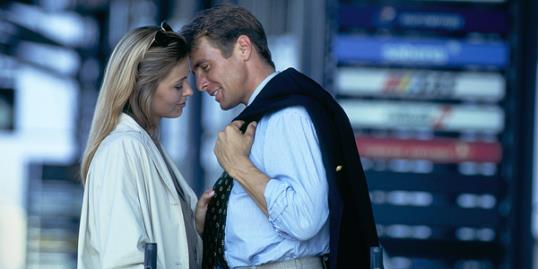 Dating site Meetattheairport.com​ allows single travelers to mingle at the gate. It was founded by Steve Pasternack, who got the idea after his flight was delayed.
"I was tired of reading a magazine or book, and there's just so many times you can watch planes take off and land," Pasternack told MSN's The Heart Beat. "I noticed how other people were gravitating toward the bars and thought it would be great to meet someone new to talk to and pass the time.  That's when I came up with the idea for a website that connects people while they're waiting for their flight."
After launching the site, Pasternack now has 20,000 members worldwide. Visitors simply answer a few questions about their personal interests and preferences. When they're ready to travel (and find romance), members input their flight information and departure airport.  From there, the site tries to connect them with a suitable match.
More on MSN Living: 9 myths about men
"It's also exciting to meet someone new from another city or even country," Pasternack told us.
He adds that airport dating is a safe option, too—a significant concern amid an age of Internet dating fraud. Pasternack contends: "Where else can you meet someone that was required to show several forms of identification and then go through a full body search?"
If only we could X-ray scan all of our dates.
Earlier this year, CNN wrote about in-transit romance, presenting several stories of couples who met at the airport. There was the flight attendant who received a Facebook request from a chatty passenger, for example. Long story short, she told CNN:
"When we met, although we knew we were falling hard and fast for one another, we continued to say, 'I'm not looking for anyone right now, but we can be friends and see where it goes!'"
Several months later, the couple tied the knot.
Tell us what you think of airport dating. Would you engage in an en route romance?
Photo: ADEO/Getty Images
More Sex & Love on MSN Living:
The Essence most eligible bachelors
15 (guy approved!) ways to have the best first date ever
50 signs he's not that into you
20 'annoying' girl things he secretly loves about you
love: friendships, dating, sex & marriage
The outlandish things we do for love have no limits; just ask these guys. Who's hugged the longest? Kissed the longest? Been on the most expensive date? Take a look below as we count down the world's most loving record-breakers.

If you just got engaged, congrats! This is seriously exciting news that deserves lots of congratulatory hugs, "oohing" and "ahhing" over the ring and plenty of bubbly. To make sure you get the right response from friends, family and coworkers, avoid announcing your engagement like this…

Ladies, give yourself the best gift of all this season: The NYC Taxi Driver 2014 Calendar. By Michelle Toglia

Pheromones may be the key to finding your perfect match.

Her partner? Wine? Downtime? Find out where it all ranks.

This time of year, we dust off our holiday traditions of special songs, stories, events and food to make our season bright. Here's a look into the traditional, unique and quirky holiday traditions of some famous couples.

Look, I looooove engagement season for obvious reasons, but even I can admit I'm like, "Really, AGAIN?" when yet ANOTHER engagement ring pops up in my news feed. Seriously, there were two this weekend. (Congrats, Gemma and Danny!)

We asked real men and women (and a few first-base experts, too) to give us the cardinal rules of kissing, tell us what makes someone a good kisser and more. So whether you're leaning in for kiss No. 1 or 1,000, read on.by Devin Tomb

Not quite sure which diamond shape suits your personality? We're here to help.

Dating can lead to all kinds of tricky situations. To help you navigate even the most awkward moments, we've compiled our 50 best dating tips—some new, some old—given to us by experts, moms, women like you, and even Justin Timberlake.

Customers as Madison's new Snuggle House can snuggle with professional cuddlers for $60 an hour.

Can you believe it was only about 15 years ago that engagement ring shopping meant a time-consuming slog from jewelry boutique to jewelry boutique? Thank goodness for the internet; nowadays, it's easy to do all that legwork online.