True love stories: Elderly gay couple marry in China
A same-sex couple in China has shared their wedding with the world.
Marriage equality is a struggle in the U.S., but in China, it's even more challenging. After all, it was just 1997 that the country decriminalized homosexuality. 
So when a gay Chinese couple decided to have a wedding ceremony and share it with the world, their story went viral.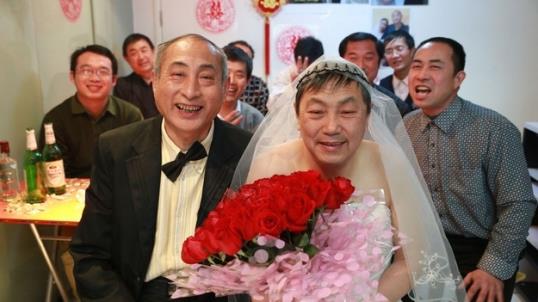 More on MSN Living: 8 signs you're too bossy in bed
The men, who refer to themselves as "Da Bao" (big treasure) and "Xiao Bao" (small treasure), posted their wedding photos on Weibo, China's version of Twitter.
"There is nothing wrong with two elderly people falling into love," the couple said on their account. "If even two old men are brave enough to love, what are you young people waiting for?"
More on MSN Living: What his sex signals really mean
Da Bao and Xiao Bao gained over 12,000 fans, but they also garnered a lot of harsh criticism.
"Being together has been tough," they admitted. "Few people support us, except a few of our older friends."
Indeed, even the couple's wedding wasn't what they hoped it would be. Da Bao's son came to the ceremony to mock the couple, kick over tables and attack guests.
"It's disappointing that outsiders can bless us but not my own son," Da Bao wrote.
Da Bao, a retired and divorced history teacher, told the South China Morning Post that he met Xiao Bao when he was delivering bottled water to him. The two fell in love, and, despite China not recognizing their union, they decided to vow their lives to each other.
"Like many retired couples, they spend their time together reading, playing board games and doing outdoor activities," the Post reports.
The couple was inspired by China's "Big Love" campaign, which was started by lawmakers and celebrities in Hong Kong to raise awareness about a new law that seeks to end discrimination based on sexual orientation.
"We won't part till we die," the couple said. "We will strive to be together no matter how hard and painful it is."
Bing: Donald Trump speaks out against gay marriage.
More from The Heart Beat:
Bride beats huge brain tumor before wedding
Study: BMW drivers more likely to cheat

Couple marries amid monsoon
Love content like this? Friend us on Facebook, follow us on Twitter and find us on Pinterest    
Photo: weibo.com via shehui.daqi.com
love: friendships, dating, sex & marriage
We know some of this may sound obvious, but these simple statements can make both of you happier.

Making your relationship more secure, connected, and intimate doesn't have to feel overwhelming. Try these expert tips and reap the rewards now—and in the long run.

For those times when nothing big and horrible happened--but nothing is feeling right either.

What's more fun than animals in weddings? We've rounded up eight of the cutest.

Your puppy is all over your Instagram, Facebook and fridge, so there's no reason not to include him in your engagement pictures too. The best engagement photos give viewers a peek into your life. If you're a dog owner, take this opportunity to show off your pooch, like these 22 couples did! And we can't thank them enough.

Our married blogger gets real about checking out other guys when you're taken.

He's confident, distinguished and anywhere from 4 to 20 years older than you. Age is just a number, but there's something about older men that we love. Here are eight reasons why being in a relationship with an older man is tops.

While a younger man may have less life experience, that doesn't mean he's not emotionally mature. Here are the eight reasons why being in a relationship with a younger man is tops.

While we do love crazy, funny and over-the-top engagements, sometimes there's just nothing like a proposal with a heartfelt story behind it (warning: you might need some tissues). We've rounded up some of the most romantic wedding proposals from couples across the country, so keep scrolling for seven of our favorites:

As much as you'd like to think your guests will love every single aspect of your wedding, the truth is you really can't please everyone. However, you can try to avoid ticking them off. Here's how.

You'd think brides and grooms who celebrate their nuptials with 50 guests have an equal shot at wedded bliss as those who invite 500, but apparently not.

Because some things are just better with a buddy (whom you happen to be dating).