True love stories: Elderly gay couple marry in China
A same-sex couple in China has shared their wedding with the world.
Marriage equality is a struggle in the U.S., but in China, it's even more challenging. After all, it was just 1997 that the country decriminalized homosexuality. 
So when a gay Chinese couple decided to have a wedding ceremony and share it with the world, their story went viral.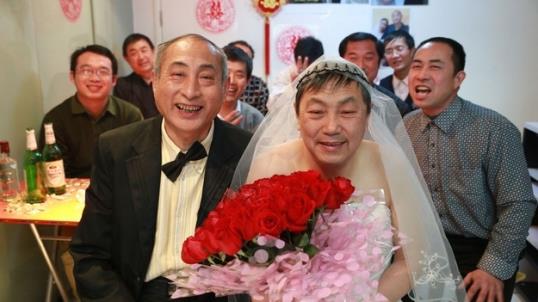 More on MSN Living: 8 signs you're too bossy in bed
The men, who refer to themselves as "Da Bao" (big treasure) and "Xiao Bao" (small treasure), posted their wedding photos on Weibo, China's version of Twitter.
"There is nothing wrong with two elderly people falling into love," the couple said on their account. "If even two old men are brave enough to love, what are you young people waiting for?"
More on MSN Living: What his sex signals really mean
Da Bao and Xiao Bao gained over 12,000 fans, but they also garnered a lot of harsh criticism.
"Being together has been tough," they admitted. "Few people support us, except a few of our older friends."
Indeed, even the couple's wedding wasn't what they hoped it would be. Da Bao's son came to the ceremony to mock the couple, kick over tables and attack guests.
"It's disappointing that outsiders can bless us but not my own son," Da Bao wrote.
Da Bao, a retired and divorced history teacher, told the South China Morning Post that he met Xiao Bao when he was delivering bottled water to him. The two fell in love, and, despite China not recognizing their union, they decided to vow their lives to each other.
"Like many retired couples, they spend their time together reading, playing board games and doing outdoor activities," the Post reports.
The couple was inspired by China's "Big Love" campaign, which was started by lawmakers and celebrities in Hong Kong to raise awareness about a new law that seeks to end discrimination based on sexual orientation.
"We won't part till we die," the couple said. "We will strive to be together no matter how hard and painful it is."
Bing: Donald Trump speaks out against gay marriage.
More from The Heart Beat:
Bride beats huge brain tumor before wedding
Study: BMW drivers more likely to cheat

Couple marries amid monsoon
Love content like this? Friend us on Facebook, follow us on Twitter and find us on Pinterest    
Photo: weibo.com via shehui.daqi.com
Are you sure you want to delete this comment?
love: friendships, dating, sex & marriage
A wedding is an exceptionally special day. Sometimes, an opportune photo flub makes the occasion even more memorable. Here are 25 awesome wedding photo bombs.

Somewhere between the first few butterfly-inducing dates and the committed-for-life stage, there's the period of wondering if you're both on the same page about how serious you feel about a future together. If you're not quite at the point of "that talk" but you're looking for a few clues you're heading in that direction, here are some signs he's in it for the long haul as your relationship progresses.

What's that sound? It's white noise blocking out the well-meaning person proclaiming groundbreaking news about where you can meet someone, asking why you're still single, or bugging you about when you're getting married already. Don't be that person. Here are 15 annoying things all single people don't want to hear.

With just a few days left before the big day, you already have a mile-long checklist of to-dos—now meet the don'ts! From impromptu skin treatments to all-night movie marathons, here are 11 things to avoid at all costs.

A new study shows that watching and discussing romantic films can drastically reduce your chance of divorce. These flicks more than fit the bill.

These seemingly innocent phrases still have the power to wound… big time.

Making "I do" last forever is one of the biggest challenges you'll ever face—and it's normal to worry about how you'll do it. But, if your connection involves any of these things, rest assured that you're in it for the long run.

Ultimately, as hard as it may seem at the beginning, a marital affair can be a turning point.

Five months after the Boston Marathon bombing, The Knot reached out to Rebekah Gregory and Pete DiMartino and offered to throw them a dream wedding. They said yes, and on April 4, 2014, the two married at the Biltmore Estate in Asheville, North Carolina. Rebekah and Pete exchanged vows on the tennis lawn amidst the cherry tree blossoms and then celebrated with all of their friends and family at a beautiful reception tent right in front of the estate. All of the details were perfectly executed by a team of talented and generous wedding industry pros, including celebrity wedding planner Marcy Blum. Here, a few highlights from Rebekah and Pete's wedding day.

Your wedding is your special day, but you want to keep your guests happy, too. Here are 20 typical wedding guest complaints and what you can do about them.

Study finds that early birds get the long-term relationships.

Receptions would take place near where raw sewage is processed.