Speed Dating Event: Size 10 Need Not Apply
Guys, do you really want to partake in a dating event that would ban Christina Hendricks?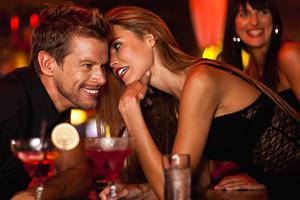 With the surplus of niche dating sites that have been popping up, singles can find quite specific matches for themselves—everythin​g from farmers to Trekkies. But earlier this month, when a NYC-based speed dating organization held an event for skinny people only, they created a bit of controversy. The event description read:
"We all have relationship 'deal-breakers', and that does not make us shallow, we're just single New Yorkers that know what we want and are attracted to."
Agreed. Having an appearance preference, when it comes to dating, doesn't make anyone shallow. But something does seem shallow about a dating event that's only focused on looks. Their rebuttal is a valid one:
"Obviously there is more to it than just height or size, but for many of us that initial 'attraction' factor is at least a starting point."
Using that logic, one might also argue—why do people chastise women who date sugar daddies? Isn't 'rich' their starting point? Seems many of the reasons we criticize women who seek rich men could also apply to men who seek skinny women. It should be mentioned that there were no apparent requirements for men at the "Skinny Minny" dating event.
There's quite a bit of defending this event, which is weird to me, because when we discussed this dating site, for "beautiful people only," the response was fairly negative. Isn't it kind of the same thing?
Perhaps the reason folks are more accepting of "skinny people only" is that the organization explains their stance and defends it, while Darwin Dating is unabashed about their "no ugly people" policy. The latter almost begs criticism.
At any rate, the "Skinny Minny" event description continues:
"Guys, no need to worry about meeting a biggie-size chick 'down-sizing' to an 8 like when you're dating online. We'll be checking labels at the door!"
Label checking? My initial reaction is that this is incredibly insulting, but hey, if you're going to subject yourself to this, I suppose you have it coming. Which also leads me to wonder about the fate of the attendees. Let's say you're a size 8, bordering a 10. You meet a guy here, hit it off, and you guys start dating. Wouldn't you be paranoid every time you had a calorie splurge? After all, his tastes were specific enough that he attended an event where one size up from you was off-limits. So what happens if your weight fluctuates?
Everyone is certainly entitled to their own preferences. But rounding people up based only on appearance? What do you think—is it vapid, or is it merely a starting point?
Photo: Hybrid Images/Getty Images
love: friendships, dating, sex & marriage
How to flag her little fibs. By Laura Tedesco

A new study on attraction may help explain why fashions change.

As a general rule, any island that offers great weather year-round is going to attract the most visitors in the winter (high season) when we're all trying to escape the snow. Once summer rolls around, many islands see a sharp drop-off in tourism since many people have beach weather right in their own backyards.

And how you can attack the issues together.

A wedding is an exceptionally special day. Sometimes, an opportune photo flub makes the occasion even more memorable. Here are 25 awesome wedding photo bombs.

Somewhere between the first few butterfly-inducing dates and the committed-for-life stage, there's the period of wondering if you're both on the same page about how serious you feel about a future together. If you're not quite at the point of "that talk" but you're looking for a few clues you're heading in that direction, here are some signs he's in it for the long haul as your relationship progresses.

What's that sound? It's white noise blocking out the well-meaning person proclaiming groundbreaking news about where you can meet someone, asking why you're still single, or bugging you about when you're getting married already. Don't be that person. Here are 15 annoying things all single people don't want to hear.

With just a few days left before the big day, you already have a mile-long checklist of to-dos—now meet the don'ts! From impromptu skin treatments to all-night movie marathons, here are 11 things to avoid at all costs.

A new study shows that watching and discussing romantic films can drastically reduce your chance of divorce. These flicks more than fit the bill.

These seemingly innocent phrases still have the power to wound… big time.

Making "I do" last forever is one of the biggest challenges you'll ever face—and it's normal to worry about how you'll do it. But, if your connection involves any of these things, rest assured that you're in it for the long run.

Ultimately, as hard as it may seem at the beginning, a marital affair can be a turning point.