Speed Dating Event: Size 10 Need Not Apply
Guys, do you really want to partake in a dating event that would ban Christina Hendricks?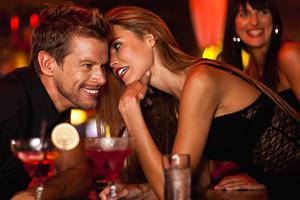 With the surplus of niche dating sites that have been popping up, singles can find quite specific matches for themselves—everythin​g from farmers to Trekkies. But earlier this month, when a NYC-based speed dating organization held an event for skinny people only, they created a bit of controversy. The event description read:
"We all have relationship 'deal-breakers', and that does not make us shallow, we're just single New Yorkers that know what we want and are attracted to."
Agreed. Having an appearance preference, when it comes to dating, doesn't make anyone shallow. But something does seem shallow about a dating event that's only focused on looks. Their rebuttal is a valid one:
"Obviously there is more to it than just height or size, but for many of us that initial 'attraction' factor is at least a starting point."
Using that logic, one might also argue—why do people chastise women who date sugar daddies? Isn't 'rich' their starting point? Seems many of the reasons we criticize women who seek rich men could also apply to men who seek skinny women. It should be mentioned that there were no apparent requirements for men at the "Skinny Minny" dating event.
There's quite a bit of defending this event, which is weird to me, because when we discussed this dating site, for "beautiful people only," the response was fairly negative. Isn't it kind of the same thing?
Perhaps the reason folks are more accepting of "skinny people only" is that the organization explains their stance and defends it, while Darwin Dating is unabashed about their "no ugly people" policy. The latter almost begs criticism.
At any rate, the "Skinny Minny" event description continues:
"Guys, no need to worry about meeting a biggie-size chick 'down-sizing' to an 8 like when you're dating online. We'll be checking labels at the door!"
Label checking? My initial reaction is that this is incredibly insulting, but hey, if you're going to subject yourself to this, I suppose you have it coming. Which also leads me to wonder about the fate of the attendees. Let's say you're a size 8, bordering a 10. You meet a guy here, hit it off, and you guys start dating. Wouldn't you be paranoid every time you had a calorie splurge? After all, his tastes were specific enough that he attended an event where one size up from you was off-limits. So what happens if your weight fluctuates?
Everyone is certainly entitled to their own preferences. But rounding people up based only on appearance? What do you think—is it vapid, or is it merely a starting point?
Photo: Hybrid Images/Getty Images
love: friendships, dating, sex & marriage
The typical wedding: A white dress, tiered cake, floral centerpieces and a cute flower girl -- you know the drill. Every once in a while, though, a couple trades in tradition for a quirky, never-seen-that-before idea. Here are a few of the most out-there wedding photos that made us do a double take.

There's a lot to love about weddings this fall, like cocktails served in copper Moscow mule mugs, industrial-inspired lighting and pheasant feather details. See what's new!

Do you have to be engaged to sport a ring with bling?

124.6 million haven't gotten hitched.

Even though the national average wedding is $29,858, that's just an average. If you live in a smaller state like Idaho where the average wedding costs $16,159, you may find yourself saving a little more than half of the national spend! Check out some of the other least expensive cities to get married in below:

Summer is winding down, but the ubiquitous summer romance lives on.

For those times when nothing big and horrible happened--but nothing is feeling right either.

He's confident, distinguished and anywhere from 4 to 20 years older than you. Age is just a number, but there's something about older men that we love. Here are eight reasons why being in a relationship with an older man is tops.

While a younger man may have less life experience, that doesn't mean he's not emotionally mature. Here are the eight reasons why being in a relationship with a younger man is tops.

Have you ever wondered what the 'other woman' was thinking?

So fall is coming and you need some romantic inspiration now that long walks on the beach are out of the question. Well look no further! From apple picking to pumpkin carving, these are some great fall date ideas from girls just like you!

Getting bored of the same dinner and movie date night? Take an adorable cue from your favorite celebs and try something new! From dancing to boxing you can't go wrong with these awesome date ideas.