Speed Dating Event: Size 10 Need Not Apply
Guys, do you really want to partake in a dating event that would ban Christina Hendricks?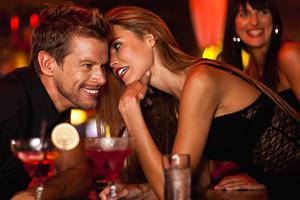 With the surplus of niche dating sites that have been popping up, singles can find quite specific matches for themselves—everythin​g from farmers to Trekkies. But earlier this month, when a NYC-based speed dating organization held an event for skinny people only, they created a bit of controversy. The event description read:
"We all have relationship 'deal-breakers', and that does not make us shallow, we're just single New Yorkers that know what we want and are attracted to."
Agreed. Having an appearance preference, when it comes to dating, doesn't make anyone shallow. But something does seem shallow about a dating event that's only focused on looks. Their rebuttal is a valid one:
"Obviously there is more to it than just height or size, but for many of us that initial 'attraction' factor is at least a starting point."
Using that logic, one might also argue—why do people chastise women who date sugar daddies? Isn't 'rich' their starting point? Seems many of the reasons we criticize women who seek rich men could also apply to men who seek skinny women. It should be mentioned that there were no apparent requirements for men at the "Skinny Minny" dating event.
There's quite a bit of defending this event, which is weird to me, because when we discussed this dating site, for "beautiful people only," the response was fairly negative. Isn't it kind of the same thing?
Perhaps the reason folks are more accepting of "skinny people only" is that the organization explains their stance and defends it, while Darwin Dating is unabashed about their "no ugly people" policy. The latter almost begs criticism.
At any rate, the "Skinny Minny" event description continues:
"Guys, no need to worry about meeting a biggie-size chick 'down-sizing' to an 8 like when you're dating online. We'll be checking labels at the door!"
Label checking? My initial reaction is that this is incredibly insulting, but hey, if you're going to subject yourself to this, I suppose you have it coming. Which also leads me to wonder about the fate of the attendees. Let's say you're a size 8, bordering a 10. You meet a guy here, hit it off, and you guys start dating. Wouldn't you be paranoid every time you had a calorie splurge? After all, his tastes were specific enough that he attended an event where one size up from you was off-limits. So what happens if your weight fluctuates?
Everyone is certainly entitled to their own preferences. But rounding people up based only on appearance? What do you think—is it vapid, or is it merely a starting point?
Photo: Hybrid Images/Getty Images
love: friendships, dating, sex & marriage
This just in: Guys over 5'10" are twice as likely to stray.

Or how to tell if you've reached THAT point in your bond.

Dating doesn't have to be a daunting task, promise. Here's how to make it fun for you and him.

This just in: A new study shows girls are warriors in the womb.

You can make a pros and cons list...but ultimately you know what works best for you.

Maggie Reyes is a life coach, writer, and the founder of ModernMarried.com. She helps newlyweds re-think what married life can be. Here, she's revealing tricks every newlywed couple needs to know.

Government-supported Vietnamese classes teach women Korean language, customs.

Whether you're into creative artists or uber-preppy bankers, there's something to be said for trying something new.

Sometimes two characters on a TV show or movie can portray being a happy couple effortlessly, or can have lots of fun playing former spouses — especially if they're married to each other in real life! Keep scrolling for six celebrity costars you probably didn't know tied the knot, even after the bloodiest and craziest story lines.

Some couples want nothing more than a laid-back, by-the-book proposal. Then there are the other couples, where the proposal not only needs to be personalized, it also has to be unique and entirely different than the typical restaurant, bended-knee idea. Sound like you? Then get inspired by some of the most creative proposal ideas we've ever seen. If you find something you like, steal it and then modify it to make your proposal something totally unforgettable.

From Nantucket all the way to Cayo Espanto, we've rounded up some of the prettiest beaches to travel to for your honeymoon.

Researchers studied the age-old stereotype that women really are more talkative than men.