Speed Dating Event: Size 10 Need Not Apply
Guys, do you really want to partake in a dating event that would ban Christina Hendricks?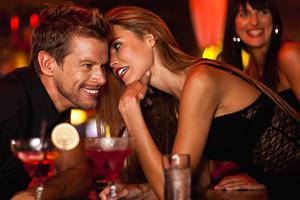 With the surplus of niche dating sites that have been popping up, singles can find quite specific matches for themselves—everythin​g from farmers to Trekkies. But earlier this month, when a NYC-based speed dating organization held an event for skinny people only, they created a bit of controversy. The event description read:
"We all have relationship 'deal-breakers', and that does not make us shallow, we're just single New Yorkers that know what we want and are attracted to."
Agreed. Having an appearance preference, when it comes to dating, doesn't make anyone shallow. But something does seem shallow about a dating event that's only focused on looks. Their rebuttal is a valid one:
"Obviously there is more to it than just height or size, but for many of us that initial 'attraction' factor is at least a starting point."
Using that logic, one might also argue—why do people chastise women who date sugar daddies? Isn't 'rich' their starting point? Seems many of the reasons we criticize women who seek rich men could also apply to men who seek skinny women. It should be mentioned that there were no apparent requirements for men at the "Skinny Minny" dating event.
There's quite a bit of defending this event, which is weird to me, because when we discussed this dating site, for "beautiful people only," the response was fairly negative. Isn't it kind of the same thing?
Perhaps the reason folks are more accepting of "skinny people only" is that the organization explains their stance and defends it, while Darwin Dating is unabashed about their "no ugly people" policy. The latter almost begs criticism.
At any rate, the "Skinny Minny" event description continues:
"Guys, no need to worry about meeting a biggie-size chick 'down-sizing' to an 8 like when you're dating online. We'll be checking labels at the door!"
Label checking? My initial reaction is that this is incredibly insulting, but hey, if you're going to subject yourself to this, I suppose you have it coming. Which also leads me to wonder about the fate of the attendees. Let's say you're a size 8, bordering a 10. You meet a guy here, hit it off, and you guys start dating. Wouldn't you be paranoid every time you had a calorie splurge? After all, his tastes were specific enough that he attended an event where one size up from you was off-limits. So what happens if your weight fluctuates?
Everyone is certainly entitled to their own preferences. But rounding people up based only on appearance? What do you think—is it vapid, or is it merely a starting point?
Photo: Hybrid Images/Getty Images
love: friendships, dating, sex & marriage
The outlandish things we do for love have no limits; just ask these guys. Who's hugged the longest? Kissed the longest? Been on the most expensive date? Take a look below as we count down the world's most loving record-breakers.

If you just got engaged, congrats! This is seriously exciting news that deserves lots of congratulatory hugs, "oohing" and "ahhing" over the ring and plenty of bubbly. To make sure you get the right response from friends, family and coworkers, avoid announcing your engagement like this…

Ladies, give yourself the best gift of all this season: The NYC Taxi Driver 2014 Calendar. By Michelle Toglia

Pheromones may be the key to finding your perfect match.

Her partner? Wine? Downtime? Find out where it all ranks.

This time of year, we dust off our holiday traditions of special songs, stories, events and food to make our season bright. Here's a look into the traditional, unique and quirky holiday traditions of some famous couples.

Look, I looooove engagement season for obvious reasons, but even I can admit I'm like, "Really, AGAIN?" when yet ANOTHER engagement ring pops up in my news feed. Seriously, there were two this weekend. (Congrats, Gemma and Danny!)

We asked real men and women (and a few first-base experts, too) to give us the cardinal rules of kissing, tell us what makes someone a good kisser and more. So whether you're leaning in for kiss No. 1 or 1,000, read on.by Devin Tomb

Not quite sure which diamond shape suits your personality? We're here to help.

Dating can lead to all kinds of tricky situations. To help you navigate even the most awkward moments, we've compiled our 50 best dating tips—some new, some old—given to us by experts, moms, women like you, and even Justin Timberlake.

Customers as Madison's new Snuggle House can snuggle with professional cuddlers for $60 an hour.

Can you believe it was only about 15 years ago that engagement ring shopping meant a time-consuming slog from jewelry boutique to jewelry boutique? Thank goodness for the internet; nowadays, it's easy to do all that legwork online.