Longest kiss ever: Couple locks lips for 58 hours
A Thai couple sets a new world record for kissing
A couple in Thailand has set a world record for making out—they locked lips for a whopping 58 hours, 35 minutes and 58 seconds. That's a long time to spend at first base.
More on MSN Living: The science behind a great marriage
Fourteen couples gathered at a shopping mall in Thailand last week, where they attempted to win a kissing competition organized by Louis Tussaud's Waxworks museum. Ekkachai Tiranarat and his wife, Laksana, outlasted everyone with their PDA.
"They were very exhausted because they did not sleep for two-and-a-half days; they had to stand all the time, so they were very weak," museum manager Somporn Naksuetrong said.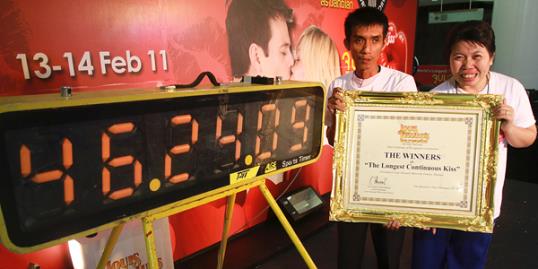 The previous kissing record, according to Guinness World Records, was set by another Thai couple in 2012. That duo lasted 50 hours. The Tiranarats managed to swap spit for over eight hours longer.
More on MSN Living: 
What his sex signals really mean
And this isn't their first rodeo. In 2011, the Tiranarats set a new standard for smooching stamina. That year, they managed to stay embraced for 46 hours—blowing the previous record holders out of the water by over 14 hours.
According to the rules, couples' lips could not part at any time. Drinks had to be consumed through a straw during the kiss. Bathroom breaks were allowed, but lips had to remain locked during these trips, and yes, contest monitors were present to enforce this rule. There was no sitting or sleeping allowed. Last year, one woman fainted half an hour into the contest.
"We want to show that love is meaningful and powerful," Somporn told the Telegraph. "It's not easy to stand there and kiss for that long. They really have to help each other and support each other."
Although the record must still be verified by officials from Guinness, the couple won more than $9,000 in cash and prizes.
But really, having a spouse willing to kiss you for two days straight is a prize in and of itself.
More from The Heart Beat:
Women feel unsafe in a town overrun by men
Romance fades three and a half years into marriage
Is make-up sex unhealthy?
Love content like this? Friend us on Facebook, follow us on Twitter and find us on Pinterest.
Bing: The longest cat in the world
Photo: Couple has longest kiss / Chaiwat Subprasom/Reuters
love: friendships, dating, sex & marriage
The typical wedding: A white dress, tiered cake, floral centerpieces and a cute flower girl -- you know the drill. Every once in a while, though, a couple trades in tradition for a quirky, never-seen-that-before idea. Here are a few of the most out-there wedding photos that made us do a double take.

There's a lot to love about weddings this fall, like cocktails served in copper Moscow mule mugs, industrial-inspired lighting and pheasant feather details. See what's new!

Do you have to be engaged to sport a ring with bling?

124.6 million haven't gotten hitched.

Even though the national average wedding is $29,858, that's just an average. If you live in a smaller state like Idaho where the average wedding costs $16,159, you may find yourself saving a little more than half of the national spend! Check out some of the other least expensive cities to get married in below:

Summer is winding down, but the ubiquitous summer romance lives on.

For those times when nothing big and horrible happened--but nothing is feeling right either.

He's confident, distinguished and anywhere from 4 to 20 years older than you. Age is just a number, but there's something about older men that we love. Here are eight reasons why being in a relationship with an older man is tops.

While a younger man may have less life experience, that doesn't mean he's not emotionally mature. Here are the eight reasons why being in a relationship with a younger man is tops.

Have you ever wondered what the 'other woman' was thinking?

So fall is coming and you need some romantic inspiration now that long walks on the beach are out of the question. Well look no further! From apple picking to pumpkin carving, these are some great fall date ideas from girls just like you!

Getting bored of the same dinner and movie date night? Take an adorable cue from your favorite celebs and try something new! From dancing to boxing you can't go wrong with these awesome date ideas.