Longest kiss ever: Couple locks lips for 58 hours
A Thai couple sets a new world record for kissing
A couple in Thailand has set a world record for making out—they locked lips for a whopping 58 hours, 35 minutes and 58 seconds. That's a long time to spend at first base.
More on MSN Living: The science behind a great marriage
Fourteen couples gathered at a shopping mall in Thailand last week, where they attempted to win a kissing competition organized by Louis Tussaud's Waxworks museum. Ekkachai Tiranarat and his wife, Laksana, outlasted everyone with their PDA.
"They were very exhausted because they did not sleep for two-and-a-half days; they had to stand all the time, so they were very weak," museum manager Somporn Naksuetrong said.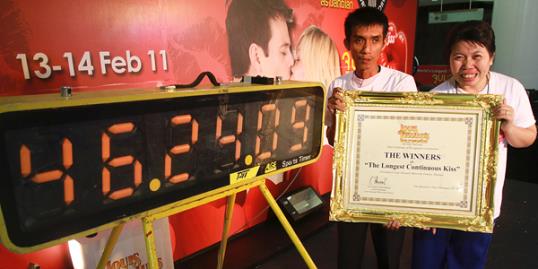 The previous kissing record, according to Guinness World Records, was set by another Thai couple in 2012. That duo lasted 50 hours. The Tiranarats managed to swap spit for over eight hours longer.
More on MSN Living: 
What his sex signals really mean
And this isn't their first rodeo. In 2011, the Tiranarats set a new standard for smooching stamina. That year, they managed to stay embraced for 46 hours—blowing the previous record holders out of the water by over 14 hours.
According to the rules, couples' lips could not part at any time. Drinks had to be consumed through a straw during the kiss. Bathroom breaks were allowed, but lips had to remain locked during these trips, and yes, contest monitors were present to enforce this rule. There was no sitting or sleeping allowed. Last year, one woman fainted half an hour into the contest.
"We want to show that love is meaningful and powerful," Somporn told the Telegraph. "It's not easy to stand there and kiss for that long. They really have to help each other and support each other."
Although the record must still be verified by officials from Guinness, the couple won more than $9,000 in cash and prizes.
But really, having a spouse willing to kiss you for two days straight is a prize in and of itself.
More from The Heart Beat:
Women feel unsafe in a town overrun by men
Romance fades three and a half years into marriage
Is make-up sex unhealthy?
Love content like this? Friend us on Facebook, follow us on Twitter and find us on Pinterest.
Bing: The longest cat in the world
Photo: Couple has longest kiss / Chaiwat Subprasom/Reuters
love: friendships, dating, sex & marriage
Brad Pitt and Angelina Jolie finally took the plunge, but marriage isn't always a good choice for everyone.

Learn how these surprising tactics can really improve your relationship.

Use these tips to up your chances of finding love.

Find out how paired-off ladies might feel lacking—and how you can make your relationship satisfying.

These signals are seriously subtle, but they can give you real insight into what's going through your husband's mind.

Check which changes are necessary to stay happy together.

We know some of this may sound obvious, but these simple statements can make both of you happier.

Making your relationship more secure, connected, and intimate doesn't have to feel overwhelming. Try these expert tips and reap the rewards now—and in the long run.

For those times when nothing big and horrible happened--but nothing is feeling right either.

What's more fun than animals in weddings? We've rounded up eight of the cutest.

Your puppy is all over your Instagram, Facebook and fridge, so there's no reason not to include him in your engagement pictures too. The best engagement photos give viewers a peek into your life. If you're a dog owner, take this opportunity to show off your pooch, like these 22 couples did! And we can't thank them enough.

Our married blogger gets real about checking out other guys when you're taken.