Longest kiss ever: Couple locks lips for 58 hours
A Thai couple sets a new world record for kissing
A couple in Thailand has set a world record for making out—they locked lips for a whopping 58 hours, 35 minutes and 58 seconds. That's a long time to spend at first base.
More on MSN Living: The science behind a great marriage
Fourteen couples gathered at a shopping mall in Thailand last week, where they attempted to win a kissing competition organized by Louis Tussaud's Waxworks museum. Ekkachai Tiranarat and his wife, Laksana, outlasted everyone with their PDA.
"They were very exhausted because they did not sleep for two-and-a-half days; they had to stand all the time, so they were very weak," museum manager Somporn Naksuetrong said.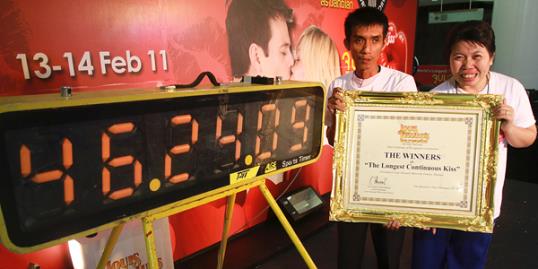 The previous kissing record, according to Guinness World Records, was set by another Thai couple in 2012. That duo lasted 50 hours. The Tiranarats managed to swap spit for over eight hours longer.
More on MSN Living: 
What his sex signals really mean
And this isn't their first rodeo. In 2011, the Tiranarats set a new standard for smooching stamina. That year, they managed to stay embraced for 46 hours—blowing the previous record holders out of the water by over 14 hours.
According to the rules, couples' lips could not part at any time. Drinks had to be consumed through a straw during the kiss. Bathroom breaks were allowed, but lips had to remain locked during these trips, and yes, contest monitors were present to enforce this rule. There was no sitting or sleeping allowed. Last year, one woman fainted half an hour into the contest.
"We want to show that love is meaningful and powerful," Somporn told the Telegraph. "It's not easy to stand there and kiss for that long. They really have to help each other and support each other."
Although the record must still be verified by officials from Guinness, the couple won more than $9,000 in cash and prizes.
But really, having a spouse willing to kiss you for two days straight is a prize in and of itself.
More from The Heart Beat:
Women feel unsafe in a town overrun by men
Romance fades three and a half years into marriage
Is make-up sex unhealthy?
Love content like this? Friend us on Facebook, follow us on Twitter and find us on Pinterest.
Bing: The longest cat in the world
Photo: Couple has longest kiss / Chaiwat Subprasom/Reuters
love: friendships, dating, sex & marriage
No sense in wasting your time on someone who will never commit.

There he is, the man of your dreams. He's sitting across from you at the coffee shop or standing at the opposite side of the bar. His eyes meet yours, a quick glance, and then it's back to his drink. Was he giving you a signal?

Remember that time on "30 Rock" when Liz Lemon and her eventual-husband Criss went shopping at Ikea, only to end up in a major fight? We know it couldn't be closer to the truth because we've all been there. In honor of the irritation that can be Ikea, here are the top fights you'll likely encounter.

Love it or hate it, the selfie wields much power.

Dating doesn't have to be a daunting task, promise. Here's how to make it fun for you and him.

One woman's honest journey to divorce will break your heart and inspire you at the same time.

Want to send your date running? Try one these moves.

Two guests arrested in New Jersey.

Celebrities certainly know how to travel in style, so if you're struggling to select a honeymoon destination, look no further than these star-approved hotspots. To make it even easier, we're providing you with hotel recommendations, packing essentials, and tips on what to do and see! So channel your inner celeb at one of these U.S. destinations for an unforgettable vacation!

Tall Twitter users named Wayne, we're on to you!

Should little girls be dreaming of a different kind of "I do"?

Need a reason to pack your bags and get the hell out of here?