Longest kiss ever: Couple locks lips for 58 hours
A Thai couple sets a new world record for kissing
A couple in Thailand has set a world record for making out—they locked lips for a whopping 58 hours, 35 minutes and 58 seconds. That's a long time to spend at first base.
More on MSN Living: The science behind a great marriage
Fourteen couples gathered at a shopping mall in Thailand last week, where they attempted to win a kissing competition organized by Louis Tussaud's Waxworks museum. Ekkachai Tiranarat and his wife, Laksana, outlasted everyone with their PDA.
"They were very exhausted because they did not sleep for two-and-a-half days; they had to stand all the time, so they were very weak," museum manager Somporn Naksuetrong said.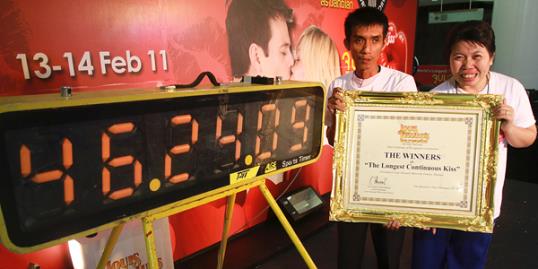 The previous kissing record, according to Guinness World Records, was set by another Thai couple in 2012. That duo lasted 50 hours. The Tiranarats managed to swap spit for over eight hours longer.
More on MSN Living: 
What his sex signals really mean
And this isn't their first rodeo. In 2011, the Tiranarats set a new standard for smooching stamina. That year, they managed to stay embraced for 46 hours—blowing the previous record holders out of the water by over 14 hours.
According to the rules, couples' lips could not part at any time. Drinks had to be consumed through a straw during the kiss. Bathroom breaks were allowed, but lips had to remain locked during these trips, and yes, contest monitors were present to enforce this rule. There was no sitting or sleeping allowed. Last year, one woman fainted half an hour into the contest.
"We want to show that love is meaningful and powerful," Somporn told the Telegraph. "It's not easy to stand there and kiss for that long. They really have to help each other and support each other."
Although the record must still be verified by officials from Guinness, the couple won more than $9,000 in cash and prizes.
But really, having a spouse willing to kiss you for two days straight is a prize in and of itself.
More from The Heart Beat:
Women feel unsafe in a town overrun by men
Romance fades three and a half years into marriage
Is make-up sex unhealthy?
Love content like this? Friend us on Facebook, follow us on Twitter and find us on Pinterest.
Bing: The longest cat in the world
Photo: Couple has longest kiss / Chaiwat Subprasom/Reuters
love: friendships, dating, sex & marriage
A wedding is an exceptionally special day. Sometimes, an opportune photo flub makes the occasion even more memorable. Here are 25 awesome wedding photo bombs.

Somewhere between the first few butterfly-inducing dates and the committed-for-life stage, there's the period of wondering if you're both on the same page about how serious you feel about a future together. If you're not quite at the point of "that talk" but you're looking for a few clues you're heading in that direction, here are some signs he's in it for the long haul as your relationship progresses.

What's that sound? It's white noise blocking out the well-meaning person proclaiming groundbreaking news about where you can meet someone, asking why you're still single, or bugging you about when you're getting married already. Don't be that person. Here are 15 annoying things all single people don't want to hear.

With just a few days left before the big day, you already have a mile-long checklist of to-dos—now meet the don'ts! From impromptu skin treatments to all-night movie marathons, here are 11 things to avoid at all costs.

A new study shows that watching and discussing romantic films can drastically reduce your chance of divorce. These flicks more than fit the bill.

These seemingly innocent phrases still have the power to wound… big time.

Making "I do" last forever is one of the biggest challenges you'll ever face—and it's normal to worry about how you'll do it. But, if your connection involves any of these things, rest assured that you're in it for the long run.

Ultimately, as hard as it may seem at the beginning, a marital affair can be a turning point.

Five months after the Boston Marathon bombing, The Knot reached out to Rebekah Gregory and Pete DiMartino and offered to throw them a dream wedding. They said yes, and on April 4, 2014, the two married at the Biltmore Estate in Asheville, North Carolina. Rebekah and Pete exchanged vows on the tennis lawn amidst the cherry tree blossoms and then celebrated with all of their friends and family at a beautiful reception tent right in front of the estate. All of the details were perfectly executed by a team of talented and generous wedding industry pros, including celebrity wedding planner Marcy Blum. Here, a few highlights from Rebekah and Pete's wedding day.

Your wedding is your special day, but you want to keep your guests happy, too. Here are 20 typical wedding guest complaints and what you can do about them.

Study finds that early birds get the long-term relationships.

Receptions would take place near where raw sewage is processed.