Bride beats huge brain tumor before wedding
Stephanie Parr was forced to cancel her original wedding plans after doctors discovered a three-inch tumor in her brain.
Stephanie and Neil Parr met in 2011, and they hit it off immediately. Within three months, they'd moved in together, and five months after that, Neil proposed. They were planning an April wedding.
But one night, Neil woke up to hear Stephanie making an unusual sound.
"He tried to wake me up but he couldn't," Stephanie told the Telegraph. "So he called an ambulance and I was taken to the Royal Derby Hospital. The doctors there said it looked like I'd suffered a seizure."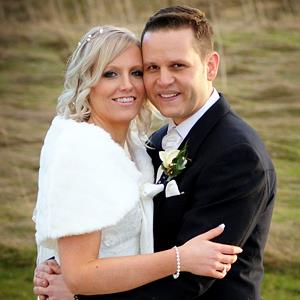 More on MSN Living: 8 signs you're too bossy in bed
From there, Stephanie underwent a series of tests, and finally, she was ordered to undergo a brain scan.
"When I got there, they asked who was with me. I said 'Mum' and I suddenly knew something was up."
Stephanie found out she had a tennis ball-sized tumor in her brain.
"I saw the fact that I just found the person I really loved, I saw the fact that we were set to be married and have children and, in one second, I knew it was all gone, finished. I was devastated."
More on MSN Living: What his sex signals really mean
Doctors explained that the tumor had been in Stephanie's head for years. She was given two options: "watch and wait" or undergo a risky surgery to have the tumor removed. She chose the latter, even though the surgery was scheduled just weeks before her wedding. Forced to cancel her nuptials, Stephanie was in intensive care on the day of her would-be ceremony.
But after Stephanie spent some time recovering from the surgery, she and Neil rescheduled. They tied the knot over the weekend.
"I'm so happy we've been able to get married and be together," Stephanie said. "This wedding is even more special because of what has happened."
Although the removal was a success, Stephanie is still awaiting an update from her doctors:
"It's not like it's gone forever now. It can come back and it never quite leaves the back of my mind."
But that's not keeping her from enjoying her newlywed status. She and Neil are now honeymooning in Mexico.
"I've learned so much over the past year, not the least of which is that every second of this life is precious," she said.
More from The Heart Beat:
97-year-old woman weds
Study: Couples cuddle eight times a week
True love stories: Couple to wed at 2013 Super Bowl
Love content like this? Friend us on Facebook, follow us on Twitter and find us on Pinterest
Photo: Caters News
love: friendships, dating, sex & marriage
Government-supported Vietnamese classes teach women Korean language, customs.

Whether you're into creative artists or uber-preppy bankers, there's something to be said for trying something new.

Sometimes two characters on a TV show or movie can portray being a happy couple effortlessly, or can have lots of fun playing former spouses — especially if they're married to each other in real life! Keep scrolling for six celebrity costars you probably didn't know tied the knot, even after the bloodiest and craziest story lines.

Some couples want nothing more than a laid-back, by-the-book proposal. Then there are the other couples, where the proposal not only needs to be personalized, it also has to be unique and entirely different than the typical restaurant, bended-knee idea. Sound like you? Then get inspired by some of the most creative proposal ideas we've ever seen. If you find something you like, steal it and then modify it to make your proposal something totally unforgettable.

From Nantucket all the way to Cayo Espanto, we've rounded up some of the prettiest beaches to travel to for your honeymoon.

Researchers studied the age-old stereotype that women really are more talkative than men.

'There is a science behind attraction,' SingldOut says.

One minute you're happy and in love, the next he's delivering the "It's not you, it's me" speech. Why? We have the scoop on the real reasons most couples split up.

Want to keep your wedding budget in check? Start by checking out this list of the 10 things that could end up costing you a lot more than you anticipated.

Brace yourself, this is uncomfortable.

The proposal-filled site How He Asked has shared its top 10 most emotional proposal photos with us, so have your tissues handy. We're suckers for a good proposal story, and these ones are truly tear-worthy. Check them out now, and watch your heart grow (at least) three sizes!

How to do weddings: Yet another foreign (and expensive) aspect of adulthood that you have to learn the hard way. But have no fear! Click through for some must-have wedding tips.