New app lets you review your dates
Girls-only app Lulu lets you review guys to help other girls.
Have you ever gotten halfway through a date with a guy and thought, "I wish someone had warned me that he (insert off-putting habit or quality he possesses here)"? There's now an app that can give you that warning you wish you'd had!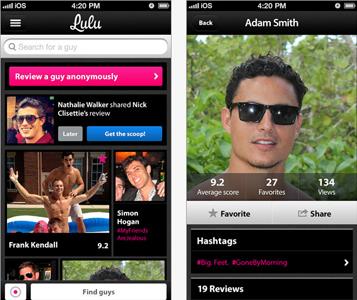 Lulu is an app that lets you review your exes or past hookups to let other girls know what they're like so that they're ready for what's in store for them. 
Alexandra Chong said she created this app because even though some of the guys she's been with in the past weren't for her, they could be right for someone else. Lulu isn't the place to totally trash your ex and make sure he never gets a girlfriend, though. It's supposed to be a place to recommend guys to other women, and do so in a lighthearted, not cruel, way.
Lulu is a "No Boys Allowed" zone -- you can use the app only if you identify yourself as female on Facebook. Then, Lulu gives you a list of all of the guys you're Facebook friends with, so you can review anybody you've been with and can see the reviews of anyone you haven't been with. All of the reviews are totally anonymous, too, so no worries there!
Guys are rated on assets such as their appearance, sense of humor, level of commitment and all of their best and worst qualities. You have to choose your ratings from a dropdown menu rather than just typing in your thoughts, which keeps things from getting too personal or vindictive. Options include positive things like #SmartIsSexy, #RespectsWomen and #CallsOnTime, and not-so-positive things like #Boring, #CheaperThanABigMac and #WearsEdHardy. 
Give it a try and download the Lulu app today.
Read the rest of the article on HerCampus.com here.
More from HerCampus.com:
11 things you should never say mid-hookup
7 scientifically proven ways to make him fall for you
Getting back together with an ex: Is it ever a good idea?
Boy friend or boyfriend?: How to know if your guy friend likes you
Love content like this? Friend us on Facebook, follow us on Twitter and find us on Pinterest.   
Photo: New app let's you review your dates / Lulu

Really weird... even something that could be positive can be phrased negatively, and that negative phrasing impacts how it's then perceived. After all, what's negative to one person might be positive to me, and vice versa. Can't girls just get to know a guy themselves? I ended up with the most amazing boyfriend, we've been together for over five years, and I'm pretty sure none of his exes would've had anything good to say about him.

Are you sure you want to delete this comment?
love: friendships, dating, sex & marriage
While we do love crazy, funny and over-the-top engagements, sometimes there's just nothing like a proposal with a heartfelt story behind it (warning: you might need some tissues). We've rounded up some of the most romantic wedding proposals from couples across the country, so keep scrolling for seven of our favorites:

As much as you'd like to think your guests will love every single aspect of your wedding, the truth is you really can't please everyone. However, you can try to avoid ticking them off. Here's how.

You'd think brides and grooms who celebrate their nuptials with 50 guests have an equal shot at wedded bliss as those who invite 500, but apparently not.

Because some things are just better with a buddy (whom you happen to be dating).

They're smart, funny, and adorable, but are you a good match?

Fight the urge to sign her up for OkCupid and read this instead.

We know you have good intentions, but...please...stop.

You can't say we didn't warn you. Every month is Movember when you're dating a guy with a beard. And while the scruffy look can be hot, there are some very real, err, challenges that come with the territory. Don't believe us? Well…

Follow these steps to slash your wedding budget—not your fun—in half.

It won't all be cake and flowers, but it can be the best year of your life together so far.

Expert tips on moving past those oh-so-familiar arguments.