New app lets you review your dates
Girls-only app Lulu lets you review guys to help other girls.
Have you ever gotten halfway through a date with a guy and thought, "I wish someone had warned me that he (insert off-putting habit or quality he possesses here)"? There's now an app that can give you that warning you wish you'd had!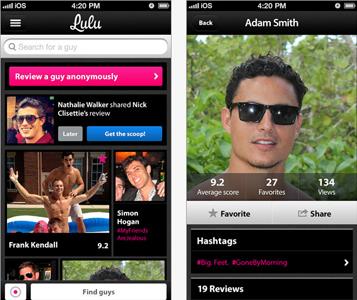 Lulu is an app that lets you review your exes or past hookups to let other girls know what they're like so that they're ready for what's in store for them. 
Alexandra Chong said she created this app because even though some of the guys she's been with in the past weren't for her, they could be right for someone else. Lulu isn't the place to totally trash your ex and make sure he never gets a girlfriend, though. It's supposed to be a place to recommend guys to other women, and do so in a lighthearted, not cruel, way.
Lulu is a "No Boys Allowed" zone -- you can use the app only if you identify yourself as female on Facebook. Then, Lulu gives you a list of all of the guys you're Facebook friends with, so you can review anybody you've been with and can see the reviews of anyone you haven't been with. All of the reviews are totally anonymous, too, so no worries there!
Guys are rated on assets such as their appearance, sense of humor, level of commitment and all of their best and worst qualities. You have to choose your ratings from a dropdown menu rather than just typing in your thoughts, which keeps things from getting too personal or vindictive. Options include positive things like #SmartIsSexy, #RespectsWomen and #CallsOnTime, and not-so-positive things like #Boring, #CheaperThanABigMac and #WearsEdHardy. 
Give it a try and download the Lulu app today.
Read the rest of the article on HerCampus.com here.
More from HerCampus.com:
11 things you should never say mid-hookup
7 scientifically proven ways to make him fall for you
Getting back together with an ex: Is it ever a good idea?
Boy friend or boyfriend?: How to know if your guy friend likes you
Love content like this? Friend us on Facebook, follow us on Twitter and find us on Pinterest.   
Photo: New app let's you review your dates / Lulu

Really weird... even something that could be positive can be phrased negatively, and that negative phrasing impacts how it's then perceived. After all, what's negative to one person might be positive to me, and vice versa. Can't girls just get to know a guy themselves? I ended up with the most amazing boyfriend, we've been together for over five years, and I'm pretty sure none of his exes would've had anything good to say about him.

Are you sure you want to delete this comment?
love: friendships, dating, sex & marriage
This just in: A new study shows girls are warriors in the womb.

You can make a pros and cons list...but ultimately you know what works best for you.

Maggie Reyes is a life coach, writer, and the founder of ModernMarried.com. She helps newlyweds re-think what married life can be. Here, she's revealing tricks every newlywed couple needs to know.

Government-supported Vietnamese classes teach women Korean language, customs.

Whether you're into creative artists or uber-preppy bankers, there's something to be said for trying something new.

Sometimes two characters on a TV show or movie can portray being a happy couple effortlessly, or can have lots of fun playing former spouses — especially if they're married to each other in real life! Keep scrolling for six celebrity costars you probably didn't know tied the knot, even after the bloodiest and craziest story lines.

Some couples want nothing more than a laid-back, by-the-book proposal. Then there are the other couples, where the proposal not only needs to be personalized, it also has to be unique and entirely different than the typical restaurant, bended-knee idea. Sound like you? Then get inspired by some of the most creative proposal ideas we've ever seen. If you find something you like, steal it and then modify it to make your proposal something totally unforgettable.

From Nantucket all the way to Cayo Espanto, we've rounded up some of the prettiest beaches to travel to for your honeymoon.

Researchers studied the age-old stereotype that women really are more talkative than men.

'There is a science behind attraction,' SingldOut says.

One minute you're happy and in love, the next he's delivering the "It's not you, it's me" speech. Why? We have the scoop on the real reasons most couples split up.

Want to keep your wedding budget in check? Start by checking out this list of the 10 things that could end up costing you a lot more than you anticipated.