New app lets you review your dates
Girls-only app Lulu lets you review guys to help other girls.
Have you ever gotten halfway through a date with a guy and thought, "I wish someone had warned me that he (insert off-putting habit or quality he possesses here)"? There's now an app that can give you that warning you wish you'd had!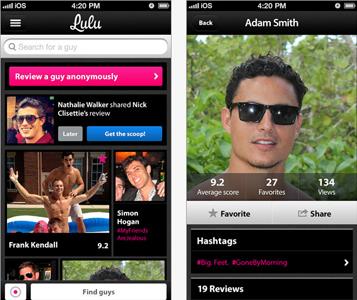 Lulu is an app that lets you review your exes or past hookups to let other girls know what they're like so that they're ready for what's in store for them. 
Alexandra Chong said she created this app because even though some of the guys she's been with in the past weren't for her, they could be right for someone else. Lulu isn't the place to totally trash your ex and make sure he never gets a girlfriend, though. It's supposed to be a place to recommend guys to other women, and do so in a lighthearted, not cruel, way.
Lulu is a "No Boys Allowed" zone -- you can use the app only if you identify yourself as female on Facebook. Then, Lulu gives you a list of all of the guys you're Facebook friends with, so you can review anybody you've been with and can see the reviews of anyone you haven't been with. All of the reviews are totally anonymous, too, so no worries there!
Guys are rated on assets such as their appearance, sense of humor, level of commitment and all of their best and worst qualities. You have to choose your ratings from a dropdown menu rather than just typing in your thoughts, which keeps things from getting too personal or vindictive. Options include positive things like #SmartIsSexy, #RespectsWomen and #CallsOnTime, and not-so-positive things like #Boring, #CheaperThanABigMac and #WearsEdHardy. 
Give it a try and download the Lulu app today.
Read the rest of the article on HerCampus.com here.
More from HerCampus.com:
11 things you should never say mid-hookup
7 scientifically proven ways to make him fall for you
Getting back together with an ex: Is it ever a good idea?
Boy friend or boyfriend?: How to know if your guy friend likes you
Love content like this? Friend us on Facebook, follow us on Twitter and find us on Pinterest.   
Photo: New app let's you review your dates / Lulu

Really weird... even something that could be positive can be phrased negatively, and that negative phrasing impacts how it's then perceived. After all, what's negative to one person might be positive to me, and vice versa. Can't girls just get to know a guy themselves? I ended up with the most amazing boyfriend, we've been together for over five years, and I'm pretty sure none of his exes would've had anything good to say about him.

Are you sure you want to delete this comment?
love: friendships, dating, sex & marriage
Can you believe it was only about 15 years ago that engagement ring shopping meant a time-consuming slog from jewelry boutique to jewelry boutique? Thank goodness for the internet; nowadays, it's easy to do all that legwork online.

The holiday season, with all its twinkly lights and fireplaces and cold nights perfect for snuggling, is most definitely for lovers—but "The Single Woman" author Mandy Hale is here to remind you that it's also for singles, too.

Studies show that being satisfied with your romantic relationship is one of the best predictors of happiness -- even more important than education, income, or having a high-status job. Resolve to make 2014 your happiest year yet with these bond-strengthening pledges.

This winter, it's all about mixing unexpected seasonal elements with elegant neutral details and a hint of sparkle and sequins. Take a look.

Here's why dudes without hair make the best boyfriends.

What do you wish you appreciated more when you were flying solo?

"If you're so busy tweeting and Instagraming, you're not paying attention," New York wedding planner Marcy Blum said. "It's almost a cosmic faux pas. People want your energy with them and focused on what they're doing."

The wedding favor, that little thank-you-for-coming gift, has risen to new heights with the bride and groom giving guests a wide range of favors that are meaningful to them.

Generations ago, planning a wedding was 100 percent the bride's job, but in today's age of gender equity, it's a mere 99 percent.

For all the self-help books and advice columns out there (um, keeping reading my advice anyway, please!), there's one tool we all already have in our arsenal for picking a partner that will keep us happy: our gut instincts.

According to a new study from the University of Texas and the University of California, Los Angeles, both men and women have regrets when it comes to sex, but the genders vary greatly when it comes to what they regret specifically.

Spending time alone with your guy is easy, but going public with your plus-one is another thing entirely. Whether it's your crazy relatives at Thanksgiving dinner or awkward convos with your boss at the holiday party, possible pitfalls are everywhere. Keep reading for tips on how to make his grand entrance into your social life a good thing.