New app lets you review your dates
Girls-only app Lulu lets you review guys to help other girls.
Have you ever gotten halfway through a date with a guy and thought, "I wish someone had warned me that he (insert off-putting habit or quality he possesses here)"? There's now an app that can give you that warning you wish you'd had!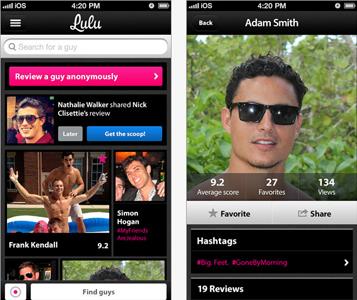 Lulu is an app that lets you review your exes or past hookups to let other girls know what they're like so that they're ready for what's in store for them. 
Alexandra Chong said she created this app because even though some of the guys she's been with in the past weren't for her, they could be right for someone else. Lulu isn't the place to totally trash your ex and make sure he never gets a girlfriend, though. It's supposed to be a place to recommend guys to other women, and do so in a lighthearted, not cruel, way.
Lulu is a "No Boys Allowed" zone -- you can use the app only if you identify yourself as female on Facebook. Then, Lulu gives you a list of all of the guys you're Facebook friends with, so you can review anybody you've been with and can see the reviews of anyone you haven't been with. All of the reviews are totally anonymous, too, so no worries there!
Guys are rated on assets such as their appearance, sense of humor, level of commitment and all of their best and worst qualities. You have to choose your ratings from a dropdown menu rather than just typing in your thoughts, which keeps things from getting too personal or vindictive. Options include positive things like #SmartIsSexy, #RespectsWomen and #CallsOnTime, and not-so-positive things like #Boring, #CheaperThanABigMac and #WearsEdHardy. 
Give it a try and download the Lulu app today.
Read the rest of the article on HerCampus.com here.
More from HerCampus.com:
11 things you should never say mid-hookup
7 scientifically proven ways to make him fall for you
Getting back together with an ex: Is it ever a good idea?
Boy friend or boyfriend?: How to know if your guy friend likes you
Love content like this? Friend us on Facebook, follow us on Twitter and find us on Pinterest.   
Photo: New app let's you review your dates / Lulu

Really weird... even something that could be positive can be phrased negatively, and that negative phrasing impacts how it's then perceived. After all, what's negative to one person might be positive to me, and vice versa. Can't girls just get to know a guy themselves? I ended up with the most amazing boyfriend, we've been together for over five years, and I'm pretty sure none of his exes would've had anything good to say about him.

Are you sure you want to delete this comment?
love: friendships, dating, sex & marriage
The typical wedding: A white dress, tiered cake, floral centerpieces and a cute flower girl -- you know the drill. Every once in a while, though, a couple trades in tradition for a quirky, never-seen-that-before idea. Here are a few of the most out-there wedding photos that made us do a double take.

There's a lot to love about weddings this fall, like cocktails served in copper Moscow mule mugs, industrial-inspired lighting and pheasant feather details. See what's new!

Do you have to be engaged to sport a ring with bling?

124.6 million haven't gotten hitched.

Even though the national average wedding is $29,858, that's just an average. If you live in a smaller state like Idaho where the average wedding costs $16,159, you may find yourself saving a little more than half of the national spend! Check out some of the other least expensive cities to get married in below:

Summer is winding down, but the ubiquitous summer romance lives on.

For those times when nothing big and horrible happened--but nothing is feeling right either.

He's confident, distinguished and anywhere from 4 to 20 years older than you. Age is just a number, but there's something about older men that we love. Here are eight reasons why being in a relationship with an older man is tops.

While a younger man may have less life experience, that doesn't mean he's not emotionally mature. Here are the eight reasons why being in a relationship with a younger man is tops.

Have you ever wondered what the 'other woman' was thinking?

So fall is coming and you need some romantic inspiration now that long walks on the beach are out of the question. Well look no further! From apple picking to pumpkin carving, these are some great fall date ideas from girls just like you!

Getting bored of the same dinner and movie date night? Take an adorable cue from your favorite celebs and try something new! From dancing to boxing you can't go wrong with these awesome date ideas.