Who's more jealous: Men or women?
Research says men and women get jealous for different reasons.
A new study from the University of Alabama found that women are a little more jealous than men, at least when it comes to social media. 
Researchers asked 226 college-level men and women how they would feel after seeing a photo of their significant other with someone of the opposite sex on Facebook.  On a scale of one to nine, women admitted a jealousy level of six. Men, on the other hand, reported a jealousy level of four.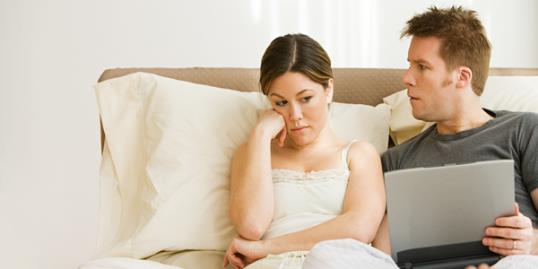 More on MSN Living: 18 biggest things married couples complain about
But guys aren't getting off the hook that easy.
The results vary. A poll from iVillage, for example, found that husbands are significantly more distrusting than their wives. In their 2013 Married Sex survey, the site found that 34 percent of men have checked their wife's cellphone for evidence of cheating. Only 20 percent of wives have done the same. Maybe men are more jealous, or maybe they're just more willing to do something about it — either way, the answer's not that simple.
 More on MSN Living: 30 of the most romantic celebrity social posts
In a report for Scientific American, Christine Nicholson explains that when it comes to sex differences in jealousy, it's not so much about levels as it is types of jealousy:
"Studies from around the world have reported that men are more jealous of sexual infidelity than emotional infidelity," Nicholson explains. "And women are the opposite — they're more jealous of emotional cheating than sexual cheating."
As with many behavioral traits, we have evolution to thank:
"Experts often lean on an evolutionary cause for this gender difference: Men can never be sure they are the baby-daddy and women are most concerned with securing a genuinely loyal father to care for the children."
But a 2010 study in Psychological Science examined not only sex differences in jealousy but also personality differences. Researchers tested subjects to measure their attachment style in relationships.
They found that "dismissive women were four times more likely to report greater sexual jealousy than securely committed women," Nicholson explains of the study.
But for dismissive men, that number jumped to 50:
"…dismissive men were 50 times more likely to report sexual jealousy than securely committed men."
Based on these findings, it seems that dismissive women fare better than men when it comes to jealousy.
But overall, it's difficult to study our biological differences without also considering personality and even cultural impact. Individual history is also a hugely important factor — if you've been burned in the past, you're more susceptible to trust issues down the road.
What do you think — does jealousy vary between the sexes? Do men and women get jealous for different reasons? 
More from The Heart Beat:

5 most vital relationship upkeep tips
Scorned exes get digital revenge
Is make-up sex unhealthy?
Love content like this? Friend us on Facebook, follow us on Twitter and find us on Pinterest.
Photo: Image Source/Getty Images
love: friendships, dating, sex & marriage
This winter, it's all about mixing unexpected seasonal elements with elegant neutral details and a hint of sparkle and sequins. Take a look.

Here's why dudes without hair make the best boyfriends.

What do you wish you appreciated more when you were flying solo?

"If you're so busy tweeting and Instagraming, you're not paying attention," New York wedding planner Marcy Blum said. "It's almost a cosmic faux pas. People want your energy with them and focused on what they're doing."

The wedding favor, that little thank-you-for-coming gift, has risen to new heights with the bride and groom giving guests a wide range of favors that are meaningful to them.

Generations ago, planning a wedding was 100 percent the bride's job, but in today's age of gender equity, it's a mere 99 percent.

For all the self-help books and advice columns out there (um, keeping reading my advice anyway, please!), there's one tool we all already have in our arsenal for picking a partner that will keep us happy: our gut instincts.

According to a new study from the University of Texas and the University of California, Los Angeles, both men and women have regrets when it comes to sex, but the genders vary greatly when it comes to what they regret specifically.

Spending time alone with your guy is easy, but going public with your plus-one is another thing entirely. Whether it's your crazy relatives at Thanksgiving dinner or awkward convos with your boss at the holiday party, possible pitfalls are everywhere. Keep reading for tips on how to make his grand entrance into your social life a good thing.

Match.com survey reveals the day you're least likely to get spruced up for a date.

Drinking and relationships seem to go hand in hand in a lot of ways. But only in moderation!

Many men will tell you that they have no clue what their wives are thinking.