Who's more jealous: Men or women?
Research says men and women get jealous for different reasons.
A new study from the University of Alabama found that women are a little more jealous than men, at least when it comes to social media. 
Researchers asked 226 college-level men and women how they would feel after seeing a photo of their significant other with someone of the opposite sex on Facebook.  On a scale of one to nine, women admitted a jealousy level of six. Men, on the other hand, reported a jealousy level of four.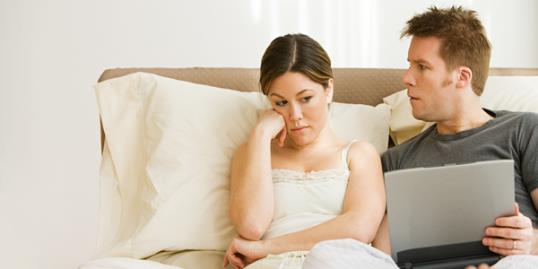 More on MSN Living: 18 biggest things married couples complain about
But guys aren't getting off the hook that easy.
The results vary. A poll from iVillage, for example, found that husbands are significantly more distrusting than their wives. In their 2013 Married Sex survey, the site found that 34 percent of men have checked their wife's cellphone for evidence of cheating. Only 20 percent of wives have done the same. Maybe men are more jealous, or maybe they're just more willing to do something about it — either way, the answer's not that simple.
 More on MSN Living: 30 of the most romantic celebrity social posts
In a report for Scientific American, Christine Nicholson explains that when it comes to sex differences in jealousy, it's not so much about levels as it is types of jealousy:
"Studies from around the world have reported that men are more jealous of sexual infidelity than emotional infidelity," Nicholson explains. "And women are the opposite — they're more jealous of emotional cheating than sexual cheating."
As with many behavioral traits, we have evolution to thank:
"Experts often lean on an evolutionary cause for this gender difference: Men can never be sure they are the baby-daddy and women are most concerned with securing a genuinely loyal father to care for the children."
But a 2010 study in Psychological Science examined not only sex differences in jealousy but also personality differences. Researchers tested subjects to measure their attachment style in relationships.
They found that "dismissive women were four times more likely to report greater sexual jealousy than securely committed women," Nicholson explains of the study.
But for dismissive men, that number jumped to 50:
"…dismissive men were 50 times more likely to report sexual jealousy than securely committed men."
Based on these findings, it seems that dismissive women fare better than men when it comes to jealousy.
But overall, it's difficult to study our biological differences without also considering personality and even cultural impact. Individual history is also a hugely important factor — if you've been burned in the past, you're more susceptible to trust issues down the road.
What do you think — does jealousy vary between the sexes? Do men and women get jealous for different reasons? 
More from The Heart Beat:

5 most vital relationship upkeep tips
Scorned exes get digital revenge
Is make-up sex unhealthy?
Love content like this? Friend us on Facebook, follow us on Twitter and find us on Pinterest.
Photo: Image Source/Getty Images
love: friendship, dating, sex & marriage
The perfect wedding toast is a work of oratory art. It can't be too short (cheers!) and it can't drone on and on. It has to be funny but it also has to be sentimental. So if you've been tasked with toasting the newlyweds, prepare to prep -- and whatever you do, avoid these toasting faux pas!

We've made picking your palette a breeze! Just find your favorite hue and choose one of the cool combos below.

Get inspired with these twelve ideas for a fantastic, fun summer wedding!

What's worse than getting snubbed while proposing? Having your heart broken in front of countless strangers.

Want your I do's to be totally you? From pre-wedding cocktails to Mad Lib vows, here are 25 ways to make your ceremony as unforgettable as your reception.

Summer love can be sweet. But it tends to be fast, feverish and often fleeting. In a season where emotions run hot, here are some rules to help avoid heartbreak.

We asked brides on TheKnot.com to tell all -- and they did. Here, five of the most likely culprits and advice for how to deal with your drama-causing guests along the way.

This short course in flirting will not only teach you how to flirt better but also how to tell when someone is flirting with you—and how to respond. Have fun.

Gatsby glamour doesn't have to just live on the big screen! Embrace the trendy (yet timeless) art deco style with sequins, pearls, feathers and geometric patterns. Check out these art deco ideas and achieve the feel of 1920s decadence. By the way, all of these are affordable, except for the $600 hairpiece which is a splurge, but a knockout. Shop the look!

Who says a special outing with the hubby has to empty your wallet? These fresh, fun activities require no cash at all, so work your way down the list.

Wondering if your summer love will last? Here are 15 signs if your seasonal love is fleeting or for real.

Sixteen years after "Titanic's" release—and 101 years after the historic ship's notorious sinking—our hearts still go on for star-crossed lovers Rose DeWitt Bukater (Kate Winslet) and Jack Dawson (Leonardo DiCaprio). We rounded up some of our favorite ill-fated, but oh-so-romantic affairs on film, from "Gone with the Wind" to "Moulin Rouge!".