Poll: Couples Who Argue Have Happier Relationships
Another poll shows that fighting can be good for relationships.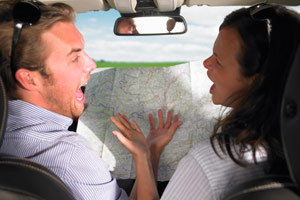 Most couples argue. Sometimes it can get ugly, but if they argue effectively, fighting is a way of getting to know each other and showing one's investment in the relationship. Sometimes, confrontation can actually be pretty healthy.
And according to findings from a recent survey, couples who argue are actually happier in their relationships than couples who simply sweep their issues under the rug.  And the difference is substantial.
Joseph Grenny, co-author of New York Times bestseller Crucial Conversations, polled 976 people and found that couples who argue effectively are 10 times more likely to report being in a happy relationship than couples who keep their issues to themselves. The key word here: effectively.
This certainly isn't the first poll to discover that couples who fight stay tight. A recent not-so-scientific (but still interesting) study accumulated the habits of people in happy relationships. The study found that, on average, a happy couple has two deep, meaningful conversations per week and one healthy argument per week.
So what about the couples who hold it in? At times, couples may avoid arguments simply because confrontation is unpleasant, or perhaps the issue seems petty. But often, even the pettiest of issues can mutate into something worse. Once, after weeks of ignoring my boyfriend's aversion to chores, I argued that his not taking out the trash meant he didn't care about me. And I genuinely believed it at the time. A serious but possibly unfounded discussion about the future of your relationship can often be avoided by addressing a simple, petty issue.
A lack of fighting in a relationship can also be evidence of a lack of communication. Grenny tells the Wall Street Journal:
"What we don't talk out, we eventually act out. We need to consider the risks of not speaking up just as heavily as the risks of speaking up."
Specifically, Grenny found that the three most difficult topics for couples to discuss are sex, finances and annoying habits. Interestingly, four out of five of those surveyed said that poor communication was a cause of their last failed relationship.
In order to communicate effectively, Grenny advises couples to think rationally about their issues with their partner. Then, before you begin the argument, start with an affirmation. If I've learned anything from Men Are from Mars, it's that men really don't like to feel that they're responsible for their partner's unhappiness, because it makes them feel like they've failed. So a compliment and a bit of reassurance is a great way to get that ugly ball of an argument rolling. 
Additionally, Grenny suggests being factual over accusatory. It's also important to encourage your partner to share his or her thoughts.
So go ahead and quarrel, lovers. Just make sure you do it effectively. 
Photo: Aurelie and Morgan David de Lossy/Getty Images
More on love & sex from MSN Living:
The Most Amazing Wedding Venues in the World
12 Fourth of July Wedding Ideas
How to Determine If He's Marriage Material
love: friendships, dating, sex & marriage
The typical wedding: A white dress, tiered cake, floral centerpieces and a cute flower girl -- you know the drill. Every once in a while, though, a couple trades in tradition for a quirky, never-seen-that-before idea. Here are a few of the most out-there wedding photos that made us do a double take.

There's a lot to love about weddings this fall, like cocktails served in copper Moscow mule mugs, industrial-inspired lighting and pheasant feather details. See what's new!

Do you have to be engaged to sport a ring with bling?

124.6 million haven't gotten hitched.

Even though the national average wedding is $29,858, that's just an average. If you live in a smaller state like Idaho where the average wedding costs $16,159, you may find yourself saving a little more than half of the national spend! Check out some of the other least expensive cities to get married in below:

Summer is winding down, but the ubiquitous summer romance lives on.

For those times when nothing big and horrible happened--but nothing is feeling right either.

He's confident, distinguished and anywhere from 4 to 20 years older than you. Age is just a number, but there's something about older men that we love. Here are eight reasons why being in a relationship with an older man is tops.

While a younger man may have less life experience, that doesn't mean he's not emotionally mature. Here are the eight reasons why being in a relationship with a younger man is tops.

Have you ever wondered what the 'other woman' was thinking?

So fall is coming and you need some romantic inspiration now that long walks on the beach are out of the question. Well look no further! From apple picking to pumpkin carving, these are some great fall date ideas from girls just like you!

Getting bored of the same dinner and movie date night? Take an adorable cue from your favorite celebs and try something new! From dancing to boxing you can't go wrong with these awesome date ideas.