Poll: Couples Who Argue Have Happier Relationships
Another poll shows that fighting can be good for relationships.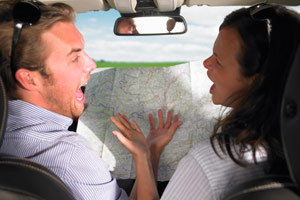 Most couples argue. Sometimes it can get ugly, but if they argue effectively, fighting is a way of getting to know each other and showing one's investment in the relationship. Sometimes, confrontation can actually be pretty healthy.
And according to findings from a recent survey, couples who argue are actually happier in their relationships than couples who simply sweep their issues under the rug.  And the difference is substantial.
Joseph Grenny, co-author of New York Times bestseller Crucial Conversations, polled 976 people and found that couples who argue effectively are 10 times more likely to report being in a happy relationship than couples who keep their issues to themselves. The key word here: effectively.
This certainly isn't the first poll to discover that couples who fight stay tight. A recent not-so-scientific (but still interesting) study accumulated the habits of people in happy relationships. The study found that, on average, a happy couple has two deep, meaningful conversations per week and one healthy argument per week.
So what about the couples who hold it in? At times, couples may avoid arguments simply because confrontation is unpleasant, or perhaps the issue seems petty. But often, even the pettiest of issues can mutate into something worse. Once, after weeks of ignoring my boyfriend's aversion to chores, I argued that his not taking out the trash meant he didn't care about me. And I genuinely believed it at the time. A serious but possibly unfounded discussion about the future of your relationship can often be avoided by addressing a simple, petty issue.
A lack of fighting in a relationship can also be evidence of a lack of communication. Grenny tells the Wall Street Journal:
"What we don't talk out, we eventually act out. We need to consider the risks of not speaking up just as heavily as the risks of speaking up."
Specifically, Grenny found that the three most difficult topics for couples to discuss are sex, finances and annoying habits. Interestingly, four out of five of those surveyed said that poor communication was a cause of their last failed relationship.
In order to communicate effectively, Grenny advises couples to think rationally about their issues with their partner. Then, before you begin the argument, start with an affirmation. If I've learned anything from Men Are from Mars, it's that men really don't like to feel that they're responsible for their partner's unhappiness, because it makes them feel like they've failed. So a compliment and a bit of reassurance is a great way to get that ugly ball of an argument rolling. 
Additionally, Grenny suggests being factual over accusatory. It's also important to encourage your partner to share his or her thoughts.
So go ahead and quarrel, lovers. Just make sure you do it effectively. 
Photo: Aurelie and Morgan David de Lossy/Getty Images
More on love & sex from MSN Living:
The Most Amazing Wedding Venues in the World
12 Fourth of July Wedding Ideas
How to Determine If He's Marriage Material
love: friendships, dating, sex & marriage
A wedding is an exceptionally special day. Sometimes, an opportune photo flub makes the occasion even more memorable. Here are 25 awesome wedding photo bombs.

Somewhere between the first few butterfly-inducing dates and the committed-for-life stage, there's the period of wondering if you're both on the same page about how serious you feel about a future together. If you're not quite at the point of "that talk" but you're looking for a few clues you're heading in that direction, here are some signs he's in it for the long haul as your relationship progresses.

What's that sound? It's white noise blocking out the well-meaning person proclaiming groundbreaking news about where you can meet someone, asking why you're still single, or bugging you about when you're getting married already. Don't be that person. Here are 15 annoying things all single people don't want to hear.

With just a few days left before the big day, you already have a mile-long checklist of to-dos—now meet the don'ts! From impromptu skin treatments to all-night movie marathons, here are 11 things to avoid at all costs.

A new study shows that watching and discussing romantic films can drastically reduce your chance of divorce. These flicks more than fit the bill.

These seemingly innocent phrases still have the power to wound… big time.

Making "I do" last forever is one of the biggest challenges you'll ever face—and it's normal to worry about how you'll do it. But, if your connection involves any of these things, rest assured that you're in it for the long run.

Ultimately, as hard as it may seem at the beginning, a marital affair can be a turning point.

Five months after the Boston Marathon bombing, The Knot reached out to Rebekah Gregory and Pete DiMartino and offered to throw them a dream wedding. They said yes, and on April 4, 2014, the two married at the Biltmore Estate in Asheville, North Carolina. Rebekah and Pete exchanged vows on the tennis lawn amidst the cherry tree blossoms and then celebrated with all of their friends and family at a beautiful reception tent right in front of the estate. All of the details were perfectly executed by a team of talented and generous wedding industry pros, including celebrity wedding planner Marcy Blum. Here, a few highlights from Rebekah and Pete's wedding day.

Your wedding is your special day, but you want to keep your guests happy, too. Here are 20 typical wedding guest complaints and what you can do about them.

Study finds that early birds get the long-term relationships.

Receptions would take place near where raw sewage is processed.