Poll: Couples Who Argue Have Happier Relationships
Another poll shows that fighting can be good for relationships.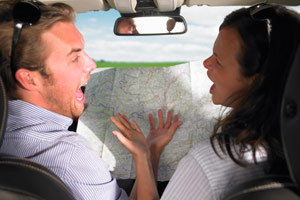 Most couples argue. Sometimes it can get ugly, but if they argue effectively, fighting is a way of getting to know each other and showing one's investment in the relationship. Sometimes, confrontation can actually be pretty healthy.
And according to findings from a recent survey, couples who argue are actually happier in their relationships than couples who simply sweep their issues under the rug.  And the difference is substantial.
Joseph Grenny, co-author of New York Times bestseller Crucial Conversations, polled 976 people and found that couples who argue effectively are 10 times more likely to report being in a happy relationship than couples who keep their issues to themselves. The key word here: effectively.
This certainly isn't the first poll to discover that couples who fight stay tight. A recent not-so-scientific (but still interesting) study accumulated the habits of people in happy relationships. The study found that, on average, a happy couple has two deep, meaningful conversations per week and one healthy argument per week.
So what about the couples who hold it in? At times, couples may avoid arguments simply because confrontation is unpleasant, or perhaps the issue seems petty. But often, even the pettiest of issues can mutate into something worse. Once, after weeks of ignoring my boyfriend's aversion to chores, I argued that his not taking out the trash meant he didn't care about me. And I genuinely believed it at the time. A serious but possibly unfounded discussion about the future of your relationship can often be avoided by addressing a simple, petty issue.
A lack of fighting in a relationship can also be evidence of a lack of communication. Grenny tells the Wall Street Journal:
"What we don't talk out, we eventually act out. We need to consider the risks of not speaking up just as heavily as the risks of speaking up."
Specifically, Grenny found that the three most difficult topics for couples to discuss are sex, finances and annoying habits. Interestingly, four out of five of those surveyed said that poor communication was a cause of their last failed relationship.
In order to communicate effectively, Grenny advises couples to think rationally about their issues with their partner. Then, before you begin the argument, start with an affirmation. If I've learned anything from Men Are from Mars, it's that men really don't like to feel that they're responsible for their partner's unhappiness, because it makes them feel like they've failed. So a compliment and a bit of reassurance is a great way to get that ugly ball of an argument rolling. 
Additionally, Grenny suggests being factual over accusatory. It's also important to encourage your partner to share his or her thoughts.
So go ahead and quarrel, lovers. Just make sure you do it effectively. 
Photo: Aurelie and Morgan David de Lossy/Getty Images
More on love & sex from MSN Living:
The Most Amazing Wedding Venues in the World
12 Fourth of July Wedding Ideas
How to Determine If He's Marriage Material
love: friendships, dating, sex & marriage
5 steps to being happy together in the long run.

We're willing to bet that if you're not already grappling with these wedding-related snags, you will be soon.

Pull out the tissues for these personalized wedding vows.

Forgotten what love is all about? Read this note, and remember.

And a few that aren't so shocking.

If you find yourself doing any of these things, consider changing your behavior or counseling.

From pineapple sculptures made out of sunflowers to bold graphic printed tablecloths, ten trendsetters in the wedding industry shared 100 days' worth of inspiring new wedding details. See The Knot editors' top picks for the coolest and most awe-worthy ideas from the wedding experts.

Those Facebook friends who seem to have perfect lives with flawless mates whom they adore at all times? Even they face tough times like these.

How to flag her little fibs. By Laura Tedesco

A new study on attraction may help explain why fashions change.

As a general rule, any island that offers great weather year-round is going to attract the most visitors in the winter (high season) when we're all trying to escape the snow. Once summer rolls around, many islands see a sharp drop-off in tourism since many people have beach weather right in their own backyards.

And how you can attack the issues together.