Poll: Couples Who Argue Have Happier Relationships
Another poll shows that fighting can be good for relationships.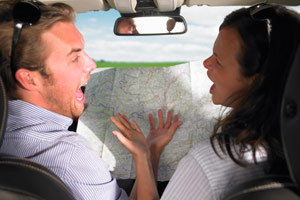 Most couples argue. Sometimes it can get ugly, but if they argue effectively, fighting is a way of getting to know each other and showing one's investment in the relationship. Sometimes, confrontation can actually be pretty healthy.
And according to findings from a recent survey, couples who argue are actually happier in their relationships than couples who simply sweep their issues under the rug.  And the difference is substantial.
Joseph Grenny, co-author of New York Times bestseller Crucial Conversations, polled 976 people and found that couples who argue effectively are 10 times more likely to report being in a happy relationship than couples who keep their issues to themselves. The key word here: effectively.
This certainly isn't the first poll to discover that couples who fight stay tight. A recent not-so-scientific (but still interesting) study accumulated the habits of people in happy relationships. The study found that, on average, a happy couple has two deep, meaningful conversations per week and one healthy argument per week.
So what about the couples who hold it in? At times, couples may avoid arguments simply because confrontation is unpleasant, or perhaps the issue seems petty. But often, even the pettiest of issues can mutate into something worse. Once, after weeks of ignoring my boyfriend's aversion to chores, I argued that his not taking out the trash meant he didn't care about me. And I genuinely believed it at the time. A serious but possibly unfounded discussion about the future of your relationship can often be avoided by addressing a simple, petty issue.
A lack of fighting in a relationship can also be evidence of a lack of communication. Grenny tells the Wall Street Journal:
"What we don't talk out, we eventually act out. We need to consider the risks of not speaking up just as heavily as the risks of speaking up."
Specifically, Grenny found that the three most difficult topics for couples to discuss are sex, finances and annoying habits. Interestingly, four out of five of those surveyed said that poor communication was a cause of their last failed relationship.
In order to communicate effectively, Grenny advises couples to think rationally about their issues with their partner. Then, before you begin the argument, start with an affirmation. If I've learned anything from Men Are from Mars, it's that men really don't like to feel that they're responsible for their partner's unhappiness, because it makes them feel like they've failed. So a compliment and a bit of reassurance is a great way to get that ugly ball of an argument rolling. 
Additionally, Grenny suggests being factual over accusatory. It's also important to encourage your partner to share his or her thoughts.
So go ahead and quarrel, lovers. Just make sure you do it effectively. 
Photo: Aurelie and Morgan David de Lossy/Getty Images
More on love & sex from MSN Living:
The Most Amazing Wedding Venues in the World
12 Fourth of July Wedding Ideas
How to Determine If He's Marriage Material
love: friendships, dating, sex & marriage
This winter, it's all about mixing unexpected seasonal elements with elegant neutral details and a hint of sparkle and sequins. Take a look.

Here's why dudes without hair make the best boyfriends.

What do you wish you appreciated more when you were flying solo?

"If you're so busy tweeting and Instagraming, you're not paying attention," New York wedding planner Marcy Blum said. "It's almost a cosmic faux pas. People want your energy with them and focused on what they're doing."

The wedding favor, that little thank-you-for-coming gift, has risen to new heights with the bride and groom giving guests a wide range of favors that are meaningful to them.

Generations ago, planning a wedding was 100 percent the bride's job, but in today's age of gender equity, it's a mere 99 percent.

For all the self-help books and advice columns out there (um, keeping reading my advice anyway, please!), there's one tool we all already have in our arsenal for picking a partner that will keep us happy: our gut instincts.

According to a new study from the University of Texas and the University of California, Los Angeles, both men and women have regrets when it comes to sex, but the genders vary greatly when it comes to what they regret specifically.

Spending time alone with your guy is easy, but going public with your plus-one is another thing entirely. Whether it's your crazy relatives at Thanksgiving dinner or awkward convos with your boss at the holiday party, possible pitfalls are everywhere. Keep reading for tips on how to make his grand entrance into your social life a good thing.

Match.com survey reveals the day you're least likely to get spruced up for a date.

Drinking and relationships seem to go hand in hand in a lot of ways. But only in moderation!

Many men will tell you that they have no clue what their wives are thinking.