7 little-known benefits of being single
Single? Here's why you should be jumping up and down.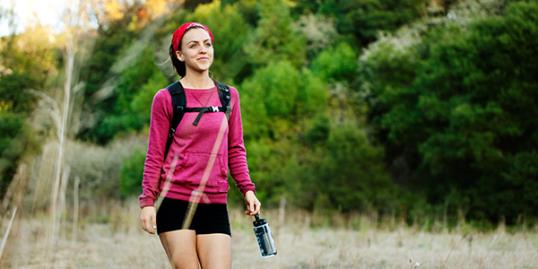 Despite what the rom-coms might have us believe, living the single life isn't always such a cakewalk. You eat your feelings in chocolate while watching "The Bachelor," it seems like all of your friends are getting engaged and flashing their rings in your face (or newsfeed), you're tired of the annoyingly concerned looks you get from your grandma when you show up to another holiday without a steady boyfriend, and I won't even get started on all the stark statistics about couples who are allegedly leading these healthy, love-filled lives.
More from Your Tango: 10 Dating Tips I Wish I'd Followed While I Was Single
But when you stop and think about it, there are undeniable perks to being single. We've rounded up some little-known (study-backed) benefits of swinging solo that will have you rejoicing over your hiatus from the dating pool
1. You stay trim and fit
When we get comfortable in our relationships, we tend to get a little too comfortable in our diets. In a U.K. study, 62 percent of couples surveyed said they gained weight after committing to a serious relationship. Guess all those dinner dates and cuddle seshes pack on the pounds. Meanwhile, you're at the night club impressing that cute stranger with your dance moves. Which sounds better to you?
More from Your Tango: 7 Dating Websites You Won't Believe Exist
2. You have a healthier social life
We've all had that friend who ditched us for their newly-nabbed significant other. Annoying, right? Well, it turns out you may be better off unattached. It's no secret that couples can have a hard time making new friends and research shows that married people are less attentive to their family, friends and neighbors. In fact, in a Journal of Marriage and Family study published last year, researchers found that both men and women spent less time with friends and family than they did when they were single. So don't ditch your girls on singles night at the karaoke bar!
More from Your Tango: 31 Funny Love Quotes From Comedians Who Totally Get You
3. You're less likely to drink
Think all of those fruity cocktails on Singles Night with the girls are taking their toll on you? You might be surprised to hear that you're more likely to drink married than you are solo. At least, that's what one study claims: married women consumed more drinks than long-term divorced or recently widowed women.
4. You have a better sex life
Being in a committed relationship doesn't always guarantee intimacy. Surprisingly, singles have been found to work harder to build a good sex life with a partner than married couples. According to Match.com's third annual Singles In America Single study, 68 percent of single women are more likely to talk out intimacy concerns versus 59 percent of married women. And close to 20 percent of married women (versus 11 percent of single women) would do nothing if they're not satisfied with their sexual relationship. So, feel free to speak up in the bedroom!
5. You have a better shot at that new job (and are less likely to be overworked)
If you're in the job market, your unattached status may give your application a boost! According to CNNMoney, companies are snagging up more singles. Unattached Americans recovered 90 percent of the 5 million jobs lost during the recession. Married people? A significantly less impressive 22 percent of 6 million jobs. And when you do earn that position, you're less likely to be overworked. You're more willing to endure a crazy commute, long meetings and even longer hours, when you have a spouse (and possibly, kids) who are depending on you. According to Match.com's  Singles In America Single study, married people work more overtime than single people (33 percent vs. 26 percent). In particular, 43 percent of married men work over 40 hours in a week compared to 29 percent of single men and 24 percent of single women.
6. You can get a good night's sleep
The jury is still out on whether couples are better off sleeping together or apart, but sleeping alone has its benefits! A Better Sleep Council survey found that one in four Americans in a relationship would rather sleep alone. That's right. No waking up to loud snores, sheet-stealing, sleep-walking or late night-snacking. Just you and your sweet dreams of Ryan Gosling.
7. You have fewer money worries
It's true that you don't have a dual income and the benefits of tax breaks being single, but any relationship is an investment. Think about it: all those dinners dates, anniversary getaways, and a walk down the aisle — along with flowers, catering and booking the venue — will run you thousands of dollars easily. And finances have been proven to be one of the biggest cause of fights among couples, according to a survey from the American Institute of CPAs. When you're unattached, so is your wallet. So go ahead: buy that pair of designer heels.
More from Your Tango:
How To Get A Boyfriend: Stop Trying!
Boyfriend Quotes We Don't Know If We Love Or Hate
Subscribe to The Heart Beat | Friend us on Facebook, follow us on Twitter and find us on Pinterest
Photo: Cavan Images/Getty Images
love: friendships, dating, sex & marriage
Here are 15 signs we've been on "The Bachelor" bandwagon—all 27 seasons of it—for (possibly) longer than we'd care to admit.

In the grand tradition of celebrating love, we've chosen some of the mushiest, sweetest, and most memorable scenes to hit the big or small screen. From marriage proposals to unexpected serenades, these moments will make you believe in love (and want someone to cuddle up with, stat).

How to flag her little fibs. By Laura Tedesco

Revealr is a new iPhone app that allows those looking for love to hear their possible matches before they see them.

A new poll reveals 59 percent of the country supports same-sex marriage.

Celebrity engagements are so much fun to follow because every detail is bound to be over-the-top — from the proposal (like when Kanye rented out an entire stadium to propose to Kim) to the huge, sparkly engagement ring and, of course, the wedding. Plus, as trendsetters, celebs can be a source of inspiration even if you can't afford a million dollar ring. Here are our celebrity wedding predictions for 2014.

If you've ever been to a club—like, ever, even once—you are not going to be shocked to hear that women get a lot of unwanted, aggressive attention. But when you read the findings of this study on how often and why it happens, it might make you feel downright sick to your stomach.

Hopeless romantics and cringe-worthy chick flicks would tell you that it doesn't matter what you do on the date, as long as you're together. But they're wrong. Dead wrong. Women use your date ideas to size you up, says matchmaker Rachel DeAlto, author of "Flirt Fearlessly." "You absolutely will be judged based on the date you plan. There are so many subconscious impressions that we take in while dating." Gulp. Here are 10 terrible ideas that can land you on the no-lay list—and simple swaps to keep her happy. By K. Aleisha Fetters

No matter your current relationship status or past relationship fails, get a fresh start this month, with these tips for spring cleaning your love life.

Forget the rules you've always heard—it's time to start making your own.

Are you in an affair without knowing it? Unless you're a swinger, having sex with someone else counts as cheating. But then there's the fuzzy area between friendship and infidelity—and chances are, your girlfriend sees those shades of gray as more black and white than you do. "Men aren't as attuned to identifying ambiguous behaviors as cheating as women are," says Daniel Kruger, Ph.D., a University of Michigan psychologist, who's studied gender differences in definitions of infidelity. In other words, what you consider totally innocent could be her deal breaker.

We spoke with relationship therapist Rachel A. Sussman, author of "The Breakup Bible," for her tips on how regular girls can survive a split like an A-lister.