The Exact Time Women Crave Sex: 11 p.m., Saturday
Bad news if you're in bed by 10.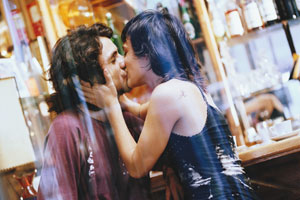 Mark your calendars: a new study in the United Kingdom revealed that women's sexual appetite peaks at 11 p.m. on Saturdays.
Makes sense for a lot of us. The stresses of the workweek are gone, and by that time, you've probably had a glass of wine or two.
Women's Health surveyed 1,000 women and found that more than three quarters of them were satisfied with their sex lives, but a great deal of them also blamed their busy work schedules for ruining the mood.
But they seem to be enjoying coitus one way or another—and not just in the bedroom. Forty percent of women said they took their lovemaking to the great outdoors, saying it was the "most exciting" way to enjoy sex.
According to The Huffington Post, Women's Health editor Farrah Storr said:
"It is great to see that the majority of British women are satisfied between the sheets, or outside, as our Women's Health sex survey reveals."
So how does this study compare with other research?
Russian website Pravada reported that the best time for women to feed their sexual appetites is between 8 p.m. and 10 p.m. They wrote:
"A woman is full of energy (if she ate her dinner well) and ready to act on her own initiative."
They add that, by midnight, women's melatonin levels go up dramatically, and she's ready for bed.
But why doesn't age come in to play in these studies? Because a few years ago, I was up and kicking until the crack of dawn on the weekends. These days, my melatonin levels go up right around the opening credits of Saturday Night Live.
Men are known to enjoy lovemaking first thing in the morning, with sex therapist Arlene Goldman, PhD, confirming the stereotype. She told Cosmopolitan:
"Many men are at their horniest first thing in the morning."
Thanks, doc.
But Pravada says a wake and shake doesn't work for most women.
"The melatonin level (the sleep hormone) is still too high while her body temperature has not yet gone up."
Last year, the London School of Economics reported that Thursday morning is the best day and time for couples to have sex. Researchers said that was the time when natural cortisol energy levels, which stimulate sex hormones, are at their peak.
But schedules vary, so obviously, these studies don't speak for all of us.
Photo: Chris Clinton/Lifesize/Get​ty Images
Tell us on Facebook: When do you feel your friskiest?
More on sex from MSN Living:
7 Sexy Surprises He'll Love
13 Things Men Find Sexiest About a Woman
10 Signs Your Sex Life Needs a Makeover
Turn Her On When She's Feeling...
love: friendships, dating, sex & marriage
After your return from your honeymoon, your marriage officially starts and with that come some changes. It's not to say that the honeymoon phase is over, but you'll have to get some things situated in order to have your marriage start off on the right foot. We tapped the expert advice of wedding planner and reality TV star David Tutera and love and career coach Charreah Jackson to dish on six things you must do to have a successful first month of marriage — from wedding-related logistics to wrap up to relationship rules to set.

Owner of Weddings in Vieques, a destination-wedding planning company off the coast of Puerto Rico, Sandy Malone has helped countless couples plan their big day since 2007. Here, the veteran planner is sharing some expert advice for free: She's sharing the top eight things you have to do right after you get engaged.

Is the idea of a big bridal bash just not your thing? Or perhaps you and your fiancé are just the super spontaneous type, so why not make your next beach vacation your nuptials as well? If you're thinking of eloping but have questions on the mind, we're here to help. We tapped elopement and wedding planner Lindsey Nickel, founder of Events, Etc., for her top dos and don'ts for getting hitched on the sly.

Easy everyday ways to keep the love alive.

Expert tips on moving past those oh-so-familiar arguments.

Sometimes you have to do things you don't want to do, like hang out with his lame friends. You're not always in the mood to nurse a beer silently while he and his boys argue about who's going to die next on "Game of Thrones" — but tomorrow he's sitting through a seven-girl brunch. So.

Why holding on to your partner's mistakes will end up hurting you.

A little extra effort, will power and research can help your marriage bloom well into old age.

These are the conversations all betrothed couples should take the time to have before they get hitched.

Brace yourself, this is uncomfortable.

There's nothing wrong with grabbing Italian food and alternating between watching action films and romantic comedies, but shaking up your going-out routine with an extreme date night can be the ultimate turn on and the best way to keep your relationship exciting.

This just in: Guys over 5'10" are twice as likely to stray.