The Exact Time Women Crave Sex: 11 p.m., Saturday
Bad news if you're in bed by 10.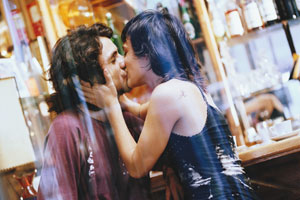 Mark your calendars: a new study in the United Kingdom revealed that women's sexual appetite peaks at 11 p.m. on Saturdays.
Makes sense for a lot of us. The stresses of the workweek are gone, and by that time, you've probably had a glass of wine or two.
Women's Health surveyed 1,000 women and found that more than three quarters of them were satisfied with their sex lives, but a great deal of them also blamed their busy work schedules for ruining the mood.
But they seem to be enjoying coitus one way or another—and not just in the bedroom. Forty percent of women said they took their lovemaking to the great outdoors, saying it was the "most exciting" way to enjoy sex.
According to The Huffington Post, Women's Health editor Farrah Storr said:
"It is great to see that the majority of British women are satisfied between the sheets, or outside, as our Women's Health sex survey reveals."
So how does this study compare with other research?
Russian website Pravada reported that the best time for women to feed their sexual appetites is between 8 p.m. and 10 p.m. They wrote:
"A woman is full of energy (if she ate her dinner well) and ready to act on her own initiative."
They add that, by midnight, women's melatonin levels go up dramatically, and she's ready for bed.
But why doesn't age come in to play in these studies? Because a few years ago, I was up and kicking until the crack of dawn on the weekends. These days, my melatonin levels go up right around the opening credits of Saturday Night Live.
Men are known to enjoy lovemaking first thing in the morning, with sex therapist Arlene Goldman, PhD, confirming the stereotype. She told Cosmopolitan:
"Many men are at their horniest first thing in the morning."
Thanks, doc.
But Pravada says a wake and shake doesn't work for most women.
"The melatonin level (the sleep hormone) is still too high while her body temperature has not yet gone up."
Last year, the London School of Economics reported that Thursday morning is the best day and time for couples to have sex. Researchers said that was the time when natural cortisol energy levels, which stimulate sex hormones, are at their peak.
But schedules vary, so obviously, these studies don't speak for all of us.
Photo: Chris Clinton/Lifesize/Get​ty Images
Tell us on Facebook: When do you feel your friskiest?
More on sex from MSN Living:
7 Sexy Surprises He'll Love
13 Things Men Find Sexiest About a Woman
10 Signs Your Sex Life Needs a Makeover
Turn Her On When She's Feeling...
love: friendships, dating, sex & marriage
A wedding is an exceptionally special day. Sometimes, an opportune photo flub makes the occasion even more memorable. Here are 25 awesome wedding photo bombs.

Somewhere between the first few butterfly-inducing dates and the committed-for-life stage, there's the period of wondering if you're both on the same page about how serious you feel about a future together. If you're not quite at the point of "that talk" but you're looking for a few clues you're heading in that direction, here are some signs he's in it for the long haul as your relationship progresses.

What's that sound? It's white noise blocking out the well-meaning person proclaiming groundbreaking news about where you can meet someone, asking why you're still single, or bugging you about when you're getting married already. Don't be that person. Here are 15 annoying things all single people don't want to hear.

With just a few days left before the big day, you already have a mile-long checklist of to-dos—now meet the don'ts! From impromptu skin treatments to all-night movie marathons, here are 11 things to avoid at all costs.

A new study shows that watching and discussing romantic films can drastically reduce your chance of divorce. These flicks more than fit the bill.

These seemingly innocent phrases still have the power to wound… big time.

Making "I do" last forever is one of the biggest challenges you'll ever face—and it's normal to worry about how you'll do it. But, if your connection involves any of these things, rest assured that you're in it for the long run.

Ultimately, as hard as it may seem at the beginning, a marital affair can be a turning point.

Five months after the Boston Marathon bombing, The Knot reached out to Rebekah Gregory and Pete DiMartino and offered to throw them a dream wedding. They said yes, and on April 4, 2014, the two married at the Biltmore Estate in Asheville, North Carolina. Rebekah and Pete exchanged vows on the tennis lawn amidst the cherry tree blossoms and then celebrated with all of their friends and family at a beautiful reception tent right in front of the estate. All of the details were perfectly executed by a team of talented and generous wedding industry pros, including celebrity wedding planner Marcy Blum. Here, a few highlights from Rebekah and Pete's wedding day.

Your wedding is your special day, but you want to keep your guests happy, too. Here are 20 typical wedding guest complaints and what you can do about them.

Study finds that early birds get the long-term relationships.

Receptions would take place near where raw sewage is processed.