The Exact Time Women Crave Sex: 11 p.m., Saturday
Bad news if you're in bed by 10.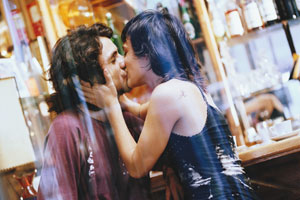 Mark your calendars: a new study in the United Kingdom revealed that women's sexual appetite peaks at 11 p.m. on Saturdays.
Makes sense for a lot of us. The stresses of the workweek are gone, and by that time, you've probably had a glass of wine or two.
Women's Health surveyed 1,000 women and found that more than three quarters of them were satisfied with their sex lives, but a great deal of them also blamed their busy work schedules for ruining the mood.
But they seem to be enjoying coitus one way or another—and not just in the bedroom. Forty percent of women said they took their lovemaking to the great outdoors, saying it was the "most exciting" way to enjoy sex.
According to The Huffington Post, Women's Health editor Farrah Storr said:
"It is great to see that the majority of British women are satisfied between the sheets, or outside, as our Women's Health sex survey reveals."
So how does this study compare with other research?
Russian website Pravada reported that the best time for women to feed their sexual appetites is between 8 p.m. and 10 p.m. They wrote:
"A woman is full of energy (if she ate her dinner well) and ready to act on her own initiative."
They add that, by midnight, women's melatonin levels go up dramatically, and she's ready for bed.
But why doesn't age come in to play in these studies? Because a few years ago, I was up and kicking until the crack of dawn on the weekends. These days, my melatonin levels go up right around the opening credits of Saturday Night Live.
Men are known to enjoy lovemaking first thing in the morning, with sex therapist Arlene Goldman, PhD, confirming the stereotype. She told Cosmopolitan:
"Many men are at their horniest first thing in the morning."
Thanks, doc.
But Pravada says a wake and shake doesn't work for most women.
"The melatonin level (the sleep hormone) is still too high while her body temperature has not yet gone up."
Last year, the London School of Economics reported that Thursday morning is the best day and time for couples to have sex. Researchers said that was the time when natural cortisol energy levels, which stimulate sex hormones, are at their peak.
But schedules vary, so obviously, these studies don't speak for all of us.
Photo: Chris Clinton/Lifesize/Get​ty Images
Tell us on Facebook: When do you feel your friskiest?
More on sex from MSN Living:
7 Sexy Surprises He'll Love
13 Things Men Find Sexiest About a Woman
10 Signs Your Sex Life Needs a Makeover
Turn Her On When She's Feeling...
love: friendships, dating, sex & marriage
Revealr is a new iPhone app that allows those looking for love to hear their possible matches before they see them.

A new poll reveals 59 percent of the country supports same-sex marriage.

Celebrity engagements are so much fun to follow because every detail is bound to be over-the-top — from the proposal (like when Kanye rented out an entire stadium to propose to Kim) to the huge, sparkly engagement ring and, of course, the wedding. Plus, as trendsetters, celebs can be a source of inspiration even if you can't afford a million dollar ring. Here are our celebrity wedding predictions for 2014.

If you've ever been to a club—like, ever, even once—you are not going to be shocked to hear that women get a lot of unwanted, aggressive attention. But when you read the findings of this study on how often and why it happens, it might make you feel downright sick to your stomach.

Hopeless romantics and cringe-worthy chick flicks would tell you that it doesn't matter what you do on the date, as long as you're together. But they're wrong. Dead wrong. Women use your date ideas to size you up, says matchmaker Rachel DeAlto, author of "Flirt Fearlessly." "You absolutely will be judged based on the date you plan. There are so many subconscious impressions that we take in while dating." Gulp. Here are 10 terrible ideas that can land you on the no-lay list—and simple swaps to keep her happy. By K. Aleisha Fetters

No matter your current relationship status or past relationship fails, get a fresh start this month, with these tips for spring cleaning your love life.

Forget the rules you've always heard—it's time to start making your own.

Are you in an affair without knowing it? Unless you're a swinger, having sex with someone else counts as cheating. But then there's the fuzzy area between friendship and infidelity—and chances are, your girlfriend sees those shades of gray as more black and white than you do. "Men aren't as attuned to identifying ambiguous behaviors as cheating as women are," says Daniel Kruger, Ph.D., a University of Michigan psychologist, who's studied gender differences in definitions of infidelity. In other words, what you consider totally innocent could be her deal breaker.

We spoke with relationship therapist Rachel A. Sussman, author of "The Breakup Bible," for her tips on how regular girls can survive a split like an A-lister.

A researcher from Texas Tech University has found that people who use the same kind of "function words" are more likely to get together.

Check out these five celebrity stunners.

And by weird, we really mean friggin' awesome.