The Exact Time Women Crave Sex: 11 p.m., Saturday
Bad news if you're in bed by 10.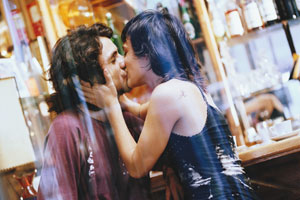 Mark your calendars: a new study in the United Kingdom revealed that women's sexual appetite peaks at 11 p.m. on Saturdays.
Makes sense for a lot of us. The stresses of the workweek are gone, and by that time, you've probably had a glass of wine or two.
Women's Health surveyed 1,000 women and found that more than three quarters of them were satisfied with their sex lives, but a great deal of them also blamed their busy work schedules for ruining the mood.
But they seem to be enjoying coitus one way or another—and not just in the bedroom. Forty percent of women said they took their lovemaking to the great outdoors, saying it was the "most exciting" way to enjoy sex.
According to The Huffington Post, Women's Health editor Farrah Storr said:
"It is great to see that the majority of British women are satisfied between the sheets, or outside, as our Women's Health sex survey reveals."
So how does this study compare with other research?
Russian website Pravada reported that the best time for women to feed their sexual appetites is between 8 p.m. and 10 p.m. They wrote:
"A woman is full of energy (if she ate her dinner well) and ready to act on her own initiative."
They add that, by midnight, women's melatonin levels go up dramatically, and she's ready for bed.
But why doesn't age come in to play in these studies? Because a few years ago, I was up and kicking until the crack of dawn on the weekends. These days, my melatonin levels go up right around the opening credits of Saturday Night Live.
Men are known to enjoy lovemaking first thing in the morning, with sex therapist Arlene Goldman, PhD, confirming the stereotype. She told Cosmopolitan:
"Many men are at their horniest first thing in the morning."
Thanks, doc.
But Pravada says a wake and shake doesn't work for most women.
"The melatonin level (the sleep hormone) is still too high while her body temperature has not yet gone up."
Last year, the London School of Economics reported that Thursday morning is the best day and time for couples to have sex. Researchers said that was the time when natural cortisol energy levels, which stimulate sex hormones, are at their peak.
But schedules vary, so obviously, these studies don't speak for all of us.
Photo: Chris Clinton/Lifesize/Get​ty Images
Tell us on Facebook: When do you feel your friskiest?
More on sex from MSN Living:
7 Sexy Surprises He'll Love
13 Things Men Find Sexiest About a Woman
10 Signs Your Sex Life Needs a Makeover
Turn Her On When She's Feeling...
love: friendships, dating, sex & marriage
New research shows they get divorced at vastly lower rates.

Brad Pitt and Angelina Jolie finally took the plunge, but marriage isn't always a good choice for everyone.

Learn how these surprising tactics can really improve your relationship.

Use these tips to up your chances of finding love.

Find out how paired-off ladies might feel lacking—and how you can make your relationship satisfying.

These signals are seriously subtle, but they can give you real insight into what's going through your husband's mind.

Check which changes are necessary to stay happy together.

We know some of this may sound obvious, but these simple statements can make both of you happier.

Making your relationship more secure, connected, and intimate doesn't have to feel overwhelming. Try these expert tips and reap the rewards now—and in the long run.

For those times when nothing big and horrible happened--but nothing is feeling right either.

What's more fun than animals in weddings? We've rounded up eight of the cutest.

Your puppy is all over your Instagram, Facebook and fridge, so there's no reason not to include him in your engagement pictures too. The best engagement photos give viewers a peek into your life. If you're a dog owner, take this opportunity to show off your pooch, like these 22 couples did! And we can't thank them enough.