What Does the Typical Cheating Husband Look Like?
Spoiler alert: He works in IT.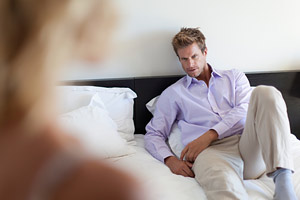 We all know that infidelity has less to do with demographics and more to do with behavioral traits. But a new survey from AshleyMadison.com—a dating/cheating site for married people—reveals just what the typical cheating husband looks like. Just for kicks, let's see what they found, shall we?
According to AshleyMadison, if your husband is an engineer, there's a greater chance he's sneaking around. Of the 11,453 men they surveyed, the highest percentage work in the IT/Engineering industry. They also found that the typical cheating husband is in his 40s, has been married for more than 10 years and has two children over 10 years old. Men who worked in the financial industry and education also made the list, as did doctors and lawyers.
The site took a similar survey of women, polling 2,865 of their married female members. The typical cheating wife, they found, is in her 30s, has been married for five years or less and has a daughter under the age of three. Her occupation? She's either a stay-at-home mom or works in the medical industry, according to AshleyMadison.
Of course, the site only commissioned the less-than-scientific​ survey on its members, so it's less about what the typical cheating husband looks like and more what the typical cheating husband on AshleyMadison looks like.
But according to Time, previous research has found that there are certain demographics that are associated with infidelity. Cheaters are more likely to have higher incomes and more education, Time reports. They're also less likely to be religious.
And one study from Cornell University found that men who earn less than their wives are also more likely to cheat. Oh, but if that's not bad enough, they'll also cheat if they earn significantly more than their wives. Christin Munsch, the sociologist who led the study, said:
"At one end of the spectrum, making less money than a female partner may threaten men's gender identity by calling into question the traditional notion of men as breadwinners.  At the other end of the spectrum, men who make a lot more money than their partners may be in jobs that offer more opportunities for cheating…"
So, ladies, according to researchers, the solution is to make sure you earn 25 percent less than your husbands. Apparently, as that gap narrows, men are more likely to be unfaithful.
But again, cheating is really more about behavioral traits than demographics. Researchers from Indiana University and the University of Guelph sought to find what those traits were. In their study of 506 men and 412 women, they found that sexual incompatibility, poor sexual functioning and performance anxiety were strongly associated with cheating. They also found that participants who had more one-night stands in their lifetimes were more likely to be unfaithful.
Robin Milhausen, a professor and sexuality researcher at Guelph, concluded:
"This research shows that demographic variables may not influence decision-making as much as previously thought — that personality matters more, especially for men."
Good news for 40 year-old engineers.
Photo: Hybrid Images/Getty Images
More on love & sex from MSN Living:
How to Determine If He's Marriage Material
8 Secret Guy Insecurities

On Location: A New Orleans Wedding
Are you sure you want to delete this comment?
love: friendships, dating, sex & marriage
Do not get him a dopp kit, a money clip, a tie (seriously?), cufflinks or a bunch of candy that you will eat after he opens. Get him this stuff instead. He'll be surprised—but more importantly, he'll be happy. These gifts are good.

It might be time to let go of our general assumption that long-distance relationships are pure torture.

Researchers in a recent study conclude that men are better at focusing on one task, while women are more attuned to multi-task.

Experts say a meaningful gift is an extension of a healthy relationship (no pressure, though!).

It's normal to want to be accepted by your in-laws. But feeling that you need to be accepted can bring complications, causing you to be uncomfortable and unnatural around them.

One New York couple breaks down the highs and lows of their year together and even asks friends and family to weigh in.

Okay, prepare the tissues. We've rounded up the top ten viral love stories of the year. These stories are the ones that tugged at our heartstrings and went wild on the internet. And for good reason! These stories set the internet on fire and nearly crashed our computers, all because they revolve around the most important emotion in the world: love.

Man's best friend might have just become his mortal enemy due to stealing his woman.

Can a long-term union be happy without sex? One 34-year-old mom says yes. She anonymously shares all the not-so-dirty details of why not getting busy led to her wedded bliss.

Gluten-free? Mac lover? Pixie? There's a dating site for you.

Dating can lead to all kinds of tricky situations. To help you navigate even the most awkward moments, we've compiled our 50 best dating tips—some new, some old—given to us by experts, moms, women like you, and even Justin Timberlake.

This time of year, we dust off our holiday traditions of special songs, stories, events and food to make our season bright. Here's a look into the traditional, unique and quirky holiday traditions of some famous couples.