What Does the Typical Cheating Husband Look Like?
Spoiler alert: He works in IT.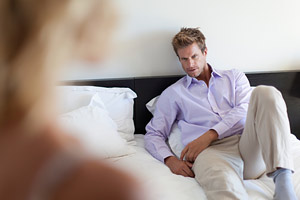 We all know that infidelity has less to do with demographics and more to do with behavioral traits. But a new survey from AshleyMadison.com—a dating/cheating site for married people—reveals just what the typical cheating husband looks like. Just for kicks, let's see what they found, shall we?
According to AshleyMadison, if your husband is an engineer, there's a greater chance he's sneaking around. Of the 11,453 men they surveyed, the highest percentage work in the IT/Engineering industry. They also found that the typical cheating husband is in his 40s, has been married for more than 10 years and has two children over 10 years old. Men who worked in the financial industry and education also made the list, as did doctors and lawyers.
The site took a similar survey of women, polling 2,865 of their married female members. The typical cheating wife, they found, is in her 30s, has been married for five years or less and has a daughter under the age of three. Her occupation? She's either a stay-at-home mom or works in the medical industry, according to AshleyMadison.
Of course, the site only commissioned the less-than-scientific​ survey on its members, so it's less about what the typical cheating husband looks like and more what the typical cheating husband on AshleyMadison looks like.
But according to Time, previous research has found that there are certain demographics that are associated with infidelity. Cheaters are more likely to have higher incomes and more education, Time reports. They're also less likely to be religious.
And one study from Cornell University found that men who earn less than their wives are also more likely to cheat. Oh, but if that's not bad enough, they'll also cheat if they earn significantly more than their wives. Christin Munsch, the sociologist who led the study, said:
"At one end of the spectrum, making less money than a female partner may threaten men's gender identity by calling into question the traditional notion of men as breadwinners.  At the other end of the spectrum, men who make a lot more money than their partners may be in jobs that offer more opportunities for cheating…"
So, ladies, according to researchers, the solution is to make sure you earn 25 percent less than your husbands. Apparently, as that gap narrows, men are more likely to be unfaithful.
But again, cheating is really more about behavioral traits than demographics. Researchers from Indiana University and the University of Guelph sought to find what those traits were. In their study of 506 men and 412 women, they found that sexual incompatibility, poor sexual functioning and performance anxiety were strongly associated with cheating. They also found that participants who had more one-night stands in their lifetimes were more likely to be unfaithful.
Robin Milhausen, a professor and sexuality researcher at Guelph, concluded:
"This research shows that demographic variables may not influence decision-making as much as previously thought — that personality matters more, especially for men."
Good news for 40 year-old engineers.
Photo: Hybrid Images/Getty Images
More on love & sex from MSN Living:
How to Determine If He's Marriage Material
8 Secret Guy Insecurities

On Location: A New Orleans Wedding
Are you sure you want to delete this comment?
love: friendships, dating, sex & marriage
No sense in wasting your time on someone who will never commit.

There he is, the man of your dreams. He's sitting across from you at the coffee shop or standing at the opposite side of the bar. His eyes meet yours, a quick glance, and then it's back to his drink. Was he giving you a signal?

Remember that time on "30 Rock" when Liz Lemon and her eventual-husband Criss went shopping at Ikea, only to end up in a major fight? We know it couldn't be closer to the truth because we've all been there. In honor of the irritation that can be Ikea, here are the top fights you'll likely encounter.

Love it or hate it, the selfie wields much power.

Dating doesn't have to be a daunting task, promise. Here's how to make it fun for you and him.

One woman's honest journey to divorce will break your heart and inspire you at the same time.

Want to send your date running? Try one these moves.

Two guests arrested in New Jersey.

Celebrities certainly know how to travel in style, so if you're struggling to select a honeymoon destination, look no further than these star-approved hotspots. To make it even easier, we're providing you with hotel recommendations, packing essentials, and tips on what to do and see! So channel your inner celeb at one of these U.S. destinations for an unforgettable vacation!

Tall Twitter users named Wayne, we're on to you!

Should little girls be dreaming of a different kind of "I do"?

Need a reason to pack your bags and get the hell out of here?