What Does the Typical Cheating Husband Look Like?
Spoiler alert: He works in IT.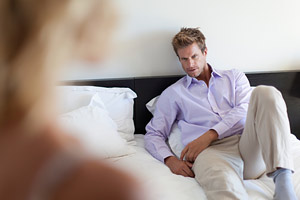 We all know that infidelity has less to do with demographics and more to do with behavioral traits. But a new survey from AshleyMadison.com—a dating/cheating site for married people—reveals just what the typical cheating husband looks like. Just for kicks, let's see what they found, shall we?
According to AshleyMadison, if your husband is an engineer, there's a greater chance he's sneaking around. Of the 11,453 men they surveyed, the highest percentage work in the IT/Engineering industry. They also found that the typical cheating husband is in his 40s, has been married for more than 10 years and has two children over 10 years old. Men who worked in the financial industry and education also made the list, as did doctors and lawyers.
The site took a similar survey of women, polling 2,865 of their married female members. The typical cheating wife, they found, is in her 30s, has been married for five years or less and has a daughter under the age of three. Her occupation? She's either a stay-at-home mom or works in the medical industry, according to AshleyMadison.
Of course, the site only commissioned the less-than-scientific​ survey on its members, so it's less about what the typical cheating husband looks like and more what the typical cheating husband on AshleyMadison looks like.
But according to Time, previous research has found that there are certain demographics that are associated with infidelity. Cheaters are more likely to have higher incomes and more education, Time reports. They're also less likely to be religious.
And one study from Cornell University found that men who earn less than their wives are also more likely to cheat. Oh, but if that's not bad enough, they'll also cheat if they earn significantly more than their wives. Christin Munsch, the sociologist who led the study, said:
"At one end of the spectrum, making less money than a female partner may threaten men's gender identity by calling into question the traditional notion of men as breadwinners.  At the other end of the spectrum, men who make a lot more money than their partners may be in jobs that offer more opportunities for cheating…"
So, ladies, according to researchers, the solution is to make sure you earn 25 percent less than your husbands. Apparently, as that gap narrows, men are more likely to be unfaithful.
But again, cheating is really more about behavioral traits than demographics. Researchers from Indiana University and the University of Guelph sought to find what those traits were. In their study of 506 men and 412 women, they found that sexual incompatibility, poor sexual functioning and performance anxiety were strongly associated with cheating. They also found that participants who had more one-night stands in their lifetimes were more likely to be unfaithful.
Robin Milhausen, a professor and sexuality researcher at Guelph, concluded:
"This research shows that demographic variables may not influence decision-making as much as previously thought — that personality matters more, especially for men."
Good news for 40 year-old engineers.
Photo: Hybrid Images/Getty Images
More on love & sex from MSN Living:
How to Determine If He's Marriage Material
8 Secret Guy Insecurities

On Location: A New Orleans Wedding
Are you sure you want to delete this comment?
love: friendships, dating, sex & marriage
A wedding is an exceptionally special day. Sometimes, an opportune photo flub makes the occasion even more memorable. Here are 25 awesome wedding photo bombs.

Somewhere between the first few butterfly-inducing dates and the committed-for-life stage, there's the period of wondering if you're both on the same page about how serious you feel about a future together. If you're not quite at the point of "that talk" but you're looking for a few clues you're heading in that direction, here are some signs he's in it for the long haul as your relationship progresses.

What's that sound? It's white noise blocking out the well-meaning person proclaiming groundbreaking news about where you can meet someone, asking why you're still single, or bugging you about when you're getting married already. Don't be that person. Here are 15 annoying things all single people don't want to hear.

With just a few days left before the big day, you already have a mile-long checklist of to-dos—now meet the don'ts! From impromptu skin treatments to all-night movie marathons, here are 11 things to avoid at all costs.

A new study shows that watching and discussing romantic films can drastically reduce your chance of divorce. These flicks more than fit the bill.

These seemingly innocent phrases still have the power to wound… big time.

Making "I do" last forever is one of the biggest challenges you'll ever face—and it's normal to worry about how you'll do it. But, if your connection involves any of these things, rest assured that you're in it for the long run.

Ultimately, as hard as it may seem at the beginning, a marital affair can be a turning point.

Five months after the Boston Marathon bombing, The Knot reached out to Rebekah Gregory and Pete DiMartino and offered to throw them a dream wedding. They said yes, and on April 4, 2014, the two married at the Biltmore Estate in Asheville, North Carolina. Rebekah and Pete exchanged vows on the tennis lawn amidst the cherry tree blossoms and then celebrated with all of their friends and family at a beautiful reception tent right in front of the estate. All of the details were perfectly executed by a team of talented and generous wedding industry pros, including celebrity wedding planner Marcy Blum. Here, a few highlights from Rebekah and Pete's wedding day.

Your wedding is your special day, but you want to keep your guests happy, too. Here are 20 typical wedding guest complaints and what you can do about them.

Study finds that early birds get the long-term relationships.

Receptions would take place near where raw sewage is processed.