Are weddings the best places to meet singles?
Survey says: Nearly half of women and three-quarters of men put out the vibe at wedding ceremonies.
Looking for love? A wedding may just be your best bet. According to a new survey from dating site Cupid.com, wedding ceremonies are popular places for nabbing dates.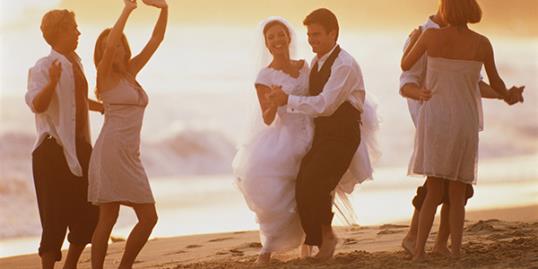 MSN Living: Women, Here's the Best Place to Find a Man
Forty-six percent of single women and 74 percent of single men say they search for other singles as soon as they arrive at a wedding venue. Of the 1,000 people surveyed, 28 percent named weddings as the best social gathering for finding love.
MSN Living: New trend for singles: Airport dating
What's more, 92 percent of women say they love seeing men cry at weddings. You know you were going to choke up, anyway — let it out.
Bing: Best places to meet people
More from The Heart Beat: 
5 reasons women stay with men who cheat
Map shows where all the single people live
Banning cellphones at weddings: Too much? 
love: friendships, dating, sex & marriage
Because some things are just better with a buddy (whom you happen to be dating).

They're smart, funny, and adorable, but are you a good match?

Fight the urge to sign her up for OkCupid and read this instead.

We know you have good intentions, but...please...stop.

You can't say we didn't warn you. Every month is Movember when you're dating a guy with a beard. And while the scruffy look can be hot, there are some very real, err, challenges that come with the territory. Don't believe us? Well…

Follow these steps to slash your wedding budget—not your fun—in half.

It won't all be cake and flowers, but it can be the best year of your life together so far.

Expert tips on moving past those oh-so-familiar arguments.

Grow as a couple by sharing adventures.

For many married couples, falling in love and saying "I do" was the easy part. Living happily ever after is the part that takes a whole lot of work.

Is your relationship headed for splitsville? Here are some tell-tale signs of a pending breakup.