Are weddings the best places to meet singles?
Survey says: Nearly half of women and three-quarters of men put out the vibe at wedding ceremonies.
Looking for love? A wedding may just be your best bet. According to a new survey from dating site Cupid.com, wedding ceremonies are popular places for nabbing dates.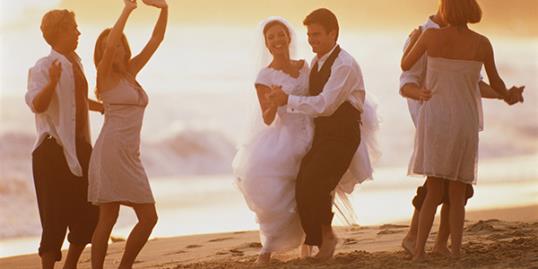 MSN Living: Women, Here's the Best Place to Find a Man
Forty-six percent of single women and 74 percent of single men say they search for other singles as soon as they arrive at a wedding venue. Of the 1,000 people surveyed, 28 percent named weddings as the best social gathering for finding love.
MSN Living: New trend for singles: Airport dating
What's more, 92 percent of women say they love seeing men cry at weddings. You know you were going to choke up, anyway — let it out.
Bing: Best places to meet people
More from The Heart Beat: 
5 reasons women stay with men who cheat
Map shows where all the single people live
Banning cellphones at weddings: Too much? 
love: friendships, dating, sex & marriage
Two steps forward, one giant fight afterward?

If you've been hiding any of this stuff, it's time to fess up.

The outlandish things we do for love have no limits; just ask these guys. Who's hugged the longest? Kissed the longest? Been on the most expensive date? Take a look below as we count down the world's most loving record-breakers.

If you just got engaged, congrats! This is seriously exciting news that deserves lots of congratulatory hugs, "oohing" and "ahhing" over the ring and plenty of bubbly. To make sure you get the right response from friends, family and coworkers, avoid announcing your engagement like this…

Ladies, give yourself the best gift of all this season: The NYC Taxi Driver 2014 Calendar. By Michelle Toglia

Pheromones may be the key to finding your perfect match.

Her partner? Wine? Downtime? Find out where it all ranks.

This time of year, we dust off our holiday traditions of special songs, stories, events and food to make our season bright. Here's a look into the traditional, unique and quirky holiday traditions of some famous couples.

Look, I looooove engagement season for obvious reasons, but even I can admit I'm like, "Really, AGAIN?" when yet ANOTHER engagement ring pops up in my news feed. Seriously, there were two this weekend. (Congrats, Gemma and Danny!)

We asked real men and women (and a few first-base experts, too) to give us the cardinal rules of kissing, tell us what makes someone a good kisser and more. So whether you're leaning in for kiss No. 1 or 1,000, read on.by Devin Tomb

Not quite sure which diamond shape suits your personality? We're here to help.

Dating can lead to all kinds of tricky situations. To help you navigate even the most awkward moments, we've compiled our 50 best dating tips—some new, some old—given to us by experts, moms, women like you, and even Justin Timberlake.