US remarriage rate plunges
Americans choose cohabitation over retying the knot.
Over the past 20 years, the remarriage rate in the United States has dropped 40 percent. The finding comes from a new analysis of data from Bowling Green State University.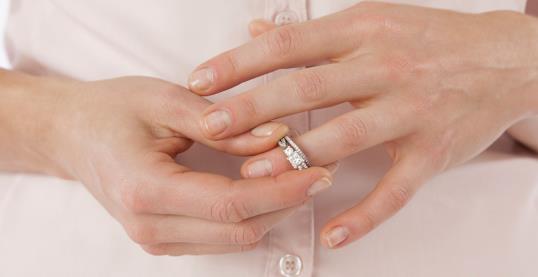 MSN Living: The 10 habits that keep marriages strong
According to USA Today, only 29 of every 1,000 divorced or widowed Americans decided to remarry in 2011, compared with 50 per 1,000 in 1990.
Bing: States with highest divorce rates
So why the gradual but drastic drop? Clearly, the decline in the remarriage rate echoes the overall decline in the marriage rate. But sociologist Susan Brown, who led the analysis, also pointed to cohabitation:
"Cohabitation has opened up options for people that weren't there 20 years ago. It affords the benefits of marriage without the legal constraints."
MSN Living: Sudden divorce syndrome
The greatest drop in the remarriage rate is among the under-35 crowd. There's been a 54 percent decrease among ages 20-24, and a 40 percent drop among ages 25-34.
Check out the rest of the findings here.
More from The Heart Beat: 
Love letter delivered after nearly 70 years
More couples get married without God
Heartbroken bride finds another groom at wedding
Subscribe to The Heart Beat | Friend us on Facebook, follow us on Twitter and find us on Pinterest.
Photo: Vstock LLC/Getty Images
love: friendships, dating, sex & marriage
We know some of this may sound obvious, but these simple statements can make both of you happier.

Making your relationship more secure, connected, and intimate doesn't have to feel overwhelming. Try these expert tips and reap the rewards now—and in the long run.

For those times when nothing big and horrible happened--but nothing is feeling right either.

What's more fun than animals in weddings? We've rounded up eight of the cutest.

Your puppy is all over your Instagram, Facebook and fridge, so there's no reason not to include him in your engagement pictures too. The best engagement photos give viewers a peek into your life. If you're a dog owner, take this opportunity to show off your pooch, like these 22 couples did! And we can't thank them enough.

Our married blogger gets real about checking out other guys when you're taken.

He's confident, distinguished and anywhere from 4 to 20 years older than you. Age is just a number, but there's something about older men that we love. Here are eight reasons why being in a relationship with an older man is tops.

While a younger man may have less life experience, that doesn't mean he's not emotionally mature. Here are the eight reasons why being in a relationship with a younger man is tops.

While we do love crazy, funny and over-the-top engagements, sometimes there's just nothing like a proposal with a heartfelt story behind it (warning: you might need some tissues). We've rounded up some of the most romantic wedding proposals from couples across the country, so keep scrolling for seven of our favorites:

As much as you'd like to think your guests will love every single aspect of your wedding, the truth is you really can't please everyone. However, you can try to avoid ticking them off. Here's how.

You'd think brides and grooms who celebrate their nuptials with 50 guests have an equal shot at wedded bliss as those who invite 500, but apparently not.

Because some things are just better with a buddy (whom you happen to be dating).