Motivated couples have better sex lives
There may not be a universally 'right' amount of sex in a long-term relationship, but some people do seem to keep their love lives active long after others have cooled their bedroom activity.
Don't we all want to be the kind of couple who have a rich sex life after years, even though, of course, things will change over time? What's their secret?
As it turns out, the couples who keep having more sex have a fairly simple and obvious trait in common: They are motivated to meet each other's needs.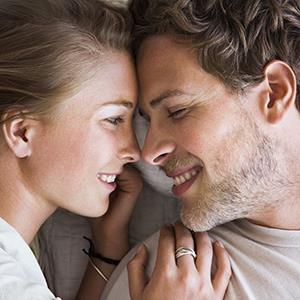 In a 21-day study of 44 long-term and cohabiting couples, researchers identified those with a strong motivation to fulfill their partner's needs without getting something in return, particularly their partner's sexual needs.
More from Glamour: Cringe worthy fashion DON'Ts
Those participants also reported higher levels of daily desire, and continued to have that desire in a four-month follow-up period. Those people who were less committed to fulfilling their partner's needs had lower desire to begin with, which continued to decline in the follow-up. This was the case across different ages, relationship durations and, most surprisingly (in my opinion), whether or not the couple had children.
More from Glamour: 8 easy ways to get glowing skin
It's a small sample of people, and worth noting that it wasn't very racially diverse, but it's hard to argue that couples who are more in tune with responding to each other's needs would have better sex lives — and a better relationship in general, I would guess.
Bing: Get the spark back in your relationship
Tell us in the comments: Do you think you and your guy make every effort to fulfill each other's needs?
More from Glamour:
30 reasons being a woman is awesome
How to ace the most stressful job ever
30 spring outfit ideas, modeled by Glamour editors
Photo: Happy couple / Dimitri Vervitsiotis/Getty Images
love: friendships, dating, sex & marriage
Why holding on to your partner's mistakes will end up hurting you.

A little extra effort, will power and research can help your marriage bloom well into old age.

These are the conversations all betrothed couples should take the time to have before they get hitched.

Brace yourself, this is uncomfortable.

There's nothing wrong with grabbing Italian food and alternating between watching action films and romantic comedies, but shaking up your going-out routine with an extreme date night can be the ultimate turn on and the best way to keep your relationship exciting.

This just in: Guys over 5'10" are twice as likely to stray.

Or how to tell if you've reached THAT point in your bond.

Dating doesn't have to be a daunting task, promise. Here's how to make it fun for you and him.

This just in: A new study shows girls are warriors in the womb.

You can make a pros and cons list...but ultimately you know what works best for you.

Maggie Reyes is a life coach, writer, and the founder of ModernMarried.com. She helps newlyweds re-think what married life can be. Here, she's revealing tricks every newlywed couple needs to know.

Government-supported Vietnamese classes teach women Korean language, customs.