5 confusing texts guys send & how to respond
Ever driven yourself nuts trying to decode a guy's text? We know what they mean!
Since the day SMS was born, women everywhere have spent countless hours poring over their cellphones with girlfriends, attempting to decode, analyze and just plain figure out a response to all the vague and flat-out confusing text messages they've received from men.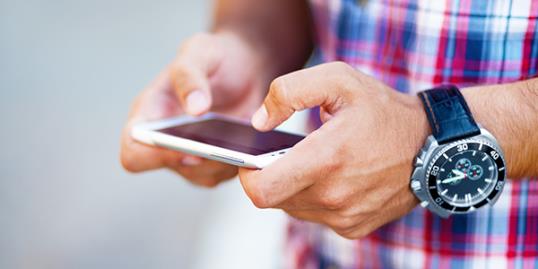 Websites such as HeTexted.com have even been devoted to the art. No matter how many texts you've worked your way through, though, there will always be messages that make you pause and exclaim, "What does he even mean by that?!"
Luckily for you, we recruited those who know best to weigh in on the issue. With the help of some awesome relationship experts, Her Campus is here to decode some of the most common types of confusing text messages!
1. The Noncommittal Text
"I might be going."
"I haven't decided yet."
"I'll let you know."
Is he simply indecisive, or does he have you on the back burner?
What it means: When a guy is evasive about what he's doing later, it usually isn't because he has so many plans and just can't decide. It's you he can't make his mind up about. According to Patrick Wanis, a human behavior and relationship expert, "often when someone hasn't made up their mind, it doesn't necessary mean that they're noncommittal; it really could imply something worse, such as, 'I'm waiting for the bigger, better offer.'"
Dr. Carole Lieberman, a psychiatrist and author of "Bad Girls: Why Men Love Them & How Good Girls Can Learn Their Secrets," agrees. "What he really means is that he's hoping for a better opportunity to come up," she says. "If he doesn't find another girl to do something with (who he likes better), he'll settle for you."
How to respond: Attempt to make the non-committer commit. Say, "Let me know when you figure it out!" or even ask, "What else do you have going on tonight?" Assertive, yes, but it's the best way to coax a direct answer from the evasive texter. And if he still won't give you a specific answer, don't waste your time on him.
2. The Rain Check Text
"Sorry, can't tonight."
"Too much work to do."
"Maybe next week?"
What it means: He really could have too much work to do. Or he really could be out of town visiting his grandparents. Or he really might be way too tired after work to see a movie.
"But, on the other hand, he's being particularly vague about making future plans, so he's not all that enthusiastic about seeing you," Lieberman points out.
If we've learned anything about men, it's that when a guy wants to see you, he will go well out of his way to ensure that it happens. So while not all hope is lost when a guy can't keep a date, this type of message should make you wary.
How to respond: According to Wanis, "The best way to respond to this is to say, 'OK, I'm available Wednesday or Thursday, which day [works for you]?' What you're doing is responding in a masculine manner by being direct and clear, and you're now giving him an option." If your guy is interested, he'll willingly agree to make alternative plans and, this time, he'll (hopefully) keep them.
3. The Flake-Out Text
"Sorry I missed your text!"
What it means: You texted. He didn't reply. But now he's apologizing for it. Is it sincere, or was his oversight intentional? With all the emails and texts and tweets and wall posts we're flooded with on a daily basis, there is a chance your text escaped his notice. But if seeing your name on his phone doesn't immediately grab his attention, chances are good that he doesn't regard you as a top priority.
The fact that he acknowledged his lack of response shows that he does have some courtesy, but only enough to respond when it's convenient for him. It's more likely that, instead of truly missing your text, your guy was avoiding a conversation he didn't feel like having at the time -- or didn't want to have altogether -- and claimed to have "missed" your text as a handy excuse.
How to respond: Play it cool. If he can't make your conversation a priority, then make sure he knows that he's not a priority of yours: "Oh, don't worry about it. I forgot I even texted you!" Your flippancy might just make your guy step up his game (and pay better attention to his phone).
4. The One-Worded Text:
"Cool."
"Good."
"K"
What it means: What does it mean when a guy has suddenly morphed into an inarticulate caveman? Wanis says there are three reasons a guy might send this type of message: "One, the guy is sincerely busy. Two, he's stressed out. Three, he doesn't really care that much."
While Lieberman points out that there are occasions when one word will suffice, especially if your guy is in the middle of something else, "it could [also] mean that he just doesn't think you're worth the effort of texting more."
How to respond: Instead of trying to pull teeth to get your guy to talk, the best way to deal with this message is to take the hint. Wrap up the convo and try him again later when he's a little less distracted and, with any luck, a little more talkative. 
5. The Overly Complimentary Text
"You were definitely the most beautiful girl at the bar tonight."
"You look unbelievably sexy when you're working out."
"That dress makes you look just like Beyoncé -- but hotter."
What it means: Beautiful, sexy, hotter than Beyoncé . . . how could this guy not be infatuated with you? Unless it's all a bunch of BS from a practiced player. Whether he's sincere or not, two things are certain: This guy is very confident, and he's very interested in you. It's just a question of whether he's interested in a relationship with you, or just a quick hook-up.
"He could be really hot for you and not afraid to tell you," says Lieberman. "Or he could just be trying to get you to go to bed with him as quickly as possible, and hopes that flattery will make you believe that he wants a relationship with you, not just a hook-up."
Wanis says the most important things to consider with every text message are the context and your existing relationship with the sender.
"If you're already friends, he might be trying to take the friendship to another level," he said.
How to respond: Don't let his flattery blind you. Respond with playful quip, so your guy knows he can't take you for a ride: "Oh, stop, I'm blushing," or, "Oh yeah, nothing sexier than a girl sweating her face off on a treadmill." Put that guy in his place and he'll know in the future not to set off your BS detector.
To read about what three more confusing texts from guys mean and to get more love advice, check out HerCampus.com!
More from The Heart Beat:
Guy leaves note for cheater's boyfriend
What past popes have said about homosexuality
Divorce announced with popular stick figure decals
Subscribe to The Heart Beat | Friend us on Facebook, follow us on Twitter and find us on Pinterest.
Photo: Geber86/Getty Images

love: friendships, dating, sex & marriage
The typical wedding: A white dress, tiered cake, floral centerpieces and a cute flower girl -- you know the drill. Every once in a while, though, a couple trades in tradition for a quirky, never-seen-that-before idea. Here are a few of the most out-there wedding photos that made us do a double take.

There's a lot to love about weddings this fall, like cocktails served in copper Moscow mule mugs, industrial-inspired lighting and pheasant feather details. See what's new!

Do you have to be engaged to sport a ring with bling?

124.6 million haven't gotten hitched.

Even though the national average wedding is $29,858, that's just an average. If you live in a smaller state like Idaho where the average wedding costs $16,159, you may find yourself saving a little more than half of the national spend! Check out some of the other least expensive cities to get married in below:

Summer is winding down, but the ubiquitous summer romance lives on.

For those times when nothing big and horrible happened--but nothing is feeling right either.

He's confident, distinguished and anywhere from 4 to 20 years older than you. Age is just a number, but there's something about older men that we love. Here are eight reasons why being in a relationship with an older man is tops.

While a younger man may have less life experience, that doesn't mean he's not emotionally mature. Here are the eight reasons why being in a relationship with a younger man is tops.

Have you ever wondered what the 'other woman' was thinking?

So fall is coming and you need some romantic inspiration now that long walks on the beach are out of the question. Well look no further! From apple picking to pumpkin carving, these are some great fall date ideas from girls just like you!

Getting bored of the same dinner and movie date night? Take an adorable cue from your favorite celebs and try something new! From dancing to boxing you can't go wrong with these awesome date ideas.