Woman's Marriage to 'Corporation' Ends
Why couldn't these two work it out?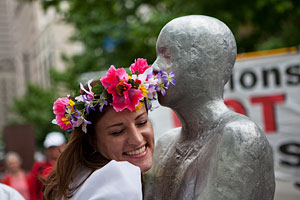 Angela Marie Vogel tied the knot earlier this week, but only a day later, the county voided her nuptials. The problem? Her husband was an art installation.
Angela's husband-for-a-day was a statue from a downtown Seattle art installation. The marriage was a publicity stunt in protest of the Citizens United decision—the U.S. Supreme Court's recognition of corporations as people.
On Tuesday, Angela and about 40 others headed to the courthouse to convince the clerk to produce a marriage license for her beloved, whom they named "Corporate Person." It worked, and Angela had a ceremony staged by activist group Envision Seattle. The ceremony was even conducted by an actual pastor.
But Seattle's King County soon realized the error and nullified the marriage. A spokesperson for the county told Seattle's KPLU:
"There was a lot of confusion and (the clerk) was not able to get a hold of her direct supervisor nor the Department of Health, so just in the interest of just trying to resolve the situation she erroneously took the license application."
Envision Seattle seeks to put an end to
corporate personhood
, which allows corporations to make political contributions during elections. The staged marriage was intended to show the absurdity in giving corporations the same rights as people.
In the end, though, Angela's marriage to "Corporate Person" didn't fall through because he isn't a person. Apparently, he's underage:
"King County said that we couldn't be married because 'Corporate Person' isn't old enough to be married," Angela joked.
Angela told KPLU she has no plans to restore her marriage to the art installation.
I guess they'll just have to settle for a long-term, committed relationship.
Photo: © Alex Garland Photography
More on love & sex from MSN Living:
25 Secrets Men Keep From Women
25 Secrets Women Keep From Men
The DOs and DON'Ts of Dating More Than One Guy at a Time
love: friendships, dating, sex & marriage
No sense in wasting your time on someone who will never commit.

There he is, the man of your dreams. He's sitting across from you at the coffee shop or standing at the opposite side of the bar. His eyes meet yours, a quick glance, and then it's back to his drink. Was he giving you a signal?

Remember that time on "30 Rock" when Liz Lemon and her eventual-husband Criss went shopping at Ikea, only to end up in a major fight? We know it couldn't be closer to the truth because we've all been there. In honor of the irritation that can be Ikea, here are the top fights you'll likely encounter.

Love it or hate it, the selfie wields much power.

Dating doesn't have to be a daunting task, promise. Here's how to make it fun for you and him.

One woman's honest journey to divorce will break your heart and inspire you at the same time.

Want to send your date running? Try one these moves.

Two guests arrested in New Jersey.

Celebrities certainly know how to travel in style, so if you're struggling to select a honeymoon destination, look no further than these star-approved hotspots. To make it even easier, we're providing you with hotel recommendations, packing essentials, and tips on what to do and see! So channel your inner celeb at one of these U.S. destinations for an unforgettable vacation!

Tall Twitter users named Wayne, we're on to you!

Should little girls be dreaming of a different kind of "I do"?

Need a reason to pack your bags and get the hell out of here?