Woman's Marriage to 'Corporation' Ends
Why couldn't these two work it out?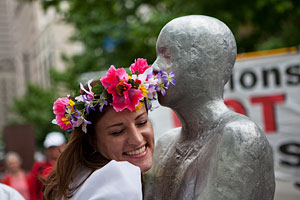 Angela Marie Vogel tied the knot earlier this week, but only a day later, the county voided her nuptials. The problem? Her husband was an art installation.
Angela's husband-for-a-day was a statue from a downtown Seattle art installation. The marriage was a publicity stunt in protest of the Citizens United decision—the U.S. Supreme Court's recognition of corporations as people.
On Tuesday, Angela and about 40 others headed to the courthouse to convince the clerk to produce a marriage license for her beloved, whom they named "Corporate Person." It worked, and Angela had a ceremony staged by activist group Envision Seattle. The ceremony was even conducted by an actual pastor.
But Seattle's King County soon realized the error and nullified the marriage. A spokesperson for the county told Seattle's KPLU:
"There was a lot of confusion and (the clerk) was not able to get a hold of her direct supervisor nor the Department of Health, so just in the interest of just trying to resolve the situation she erroneously took the license application."
Envision Seattle seeks to put an end to
corporate personhood
, which allows corporations to make political contributions during elections. The staged marriage was intended to show the absurdity in giving corporations the same rights as people.
In the end, though, Angela's marriage to "Corporate Person" didn't fall through because he isn't a person. Apparently, he's underage:
"King County said that we couldn't be married because 'Corporate Person' isn't old enough to be married," Angela joked.
Angela told KPLU she has no plans to restore her marriage to the art installation.
I guess they'll just have to settle for a long-term, committed relationship.
Photo: © Alex Garland Photography
More on love & sex from MSN Living:
25 Secrets Men Keep From Women
25 Secrets Women Keep From Men
The DOs and DON'Ts of Dating More Than One Guy at a Time
love: friendships, dating, sex & marriage
Or how to tell if you've reached THAT point in your bond.

Dating doesn't have to be a daunting task, promise. Here's how to make it fun for you and him.

This just in: A new study shows girls are warriors in the womb.

You can make a pros and cons list...but ultimately you know what works best for you.

Maggie Reyes is a life coach, writer, and the founder of ModernMarried.com. She helps newlyweds re-think what married life can be. Here, she's revealing tricks every newlywed couple needs to know.

Government-supported Vietnamese classes teach women Korean language, customs.

Whether you're into creative artists or uber-preppy bankers, there's something to be said for trying something new.

Sometimes two characters on a TV show or movie can portray being a happy couple effortlessly, or can have lots of fun playing former spouses — especially if they're married to each other in real life! Keep scrolling for six celebrity costars you probably didn't know tied the knot, even after the bloodiest and craziest story lines.

Some couples want nothing more than a laid-back, by-the-book proposal. Then there are the other couples, where the proposal not only needs to be personalized, it also has to be unique and entirely different than the typical restaurant, bended-knee idea. Sound like you? Then get inspired by some of the most creative proposal ideas we've ever seen. If you find something you like, steal it and then modify it to make your proposal something totally unforgettable.

From Nantucket all the way to Cayo Espanto, we've rounded up some of the prettiest beaches to travel to for your honeymoon.

Researchers studied the age-old stereotype that women really are more talkative than men.

'There is a science behind attraction,' SingldOut says.