Woman's Marriage to 'Corporation' Ends
Why couldn't these two work it out?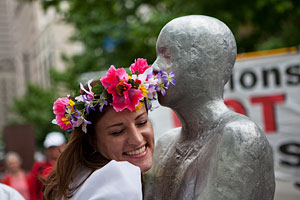 Angela Marie Vogel tied the knot earlier this week, but only a day later, the county voided her nuptials. The problem? Her husband was an art installation.
Angela's husband-for-a-day was a statue from a downtown Seattle art installation. The marriage was a publicity stunt in protest of the Citizens United decision—the U.S. Supreme Court's recognition of corporations as people.
On Tuesday, Angela and about 40 others headed to the courthouse to convince the clerk to produce a marriage license for her beloved, whom they named "Corporate Person." It worked, and Angela had a ceremony staged by activist group Envision Seattle. The ceremony was even conducted by an actual pastor.
But Seattle's King County soon realized the error and nullified the marriage. A spokesperson for the county told Seattle's KPLU:
"There was a lot of confusion and (the clerk) was not able to get a hold of her direct supervisor nor the Department of Health, so just in the interest of just trying to resolve the situation she erroneously took the license application."
Envision Seattle seeks to put an end to
corporate personhood
, which allows corporations to make political contributions during elections. The staged marriage was intended to show the absurdity in giving corporations the same rights as people.
In the end, though, Angela's marriage to "Corporate Person" didn't fall through because he isn't a person. Apparently, he's underage:
"King County said that we couldn't be married because 'Corporate Person' isn't old enough to be married," Angela joked.
Angela told KPLU she has no plans to restore her marriage to the art installation.
I guess they'll just have to settle for a long-term, committed relationship.
Photo: © Alex Garland Photography
More on love & sex from MSN Living:
25 Secrets Men Keep From Women
25 Secrets Women Keep From Men
The DOs and DON'Ts of Dating More Than One Guy at a Time
love: friendships, dating, sex & marriage
This winter, it's all about mixing unexpected seasonal elements with elegant neutral details and a hint of sparkle and sequins. Take a look.

Here's why dudes without hair make the best boyfriends.

What do you wish you appreciated more when you were flying solo?

"If you're so busy tweeting and Instagraming, you're not paying attention," New York wedding planner Marcy Blum said. "It's almost a cosmic faux pas. People want your energy with them and focused on what they're doing."

The wedding favor, that little thank-you-for-coming gift, has risen to new heights with the bride and groom giving guests a wide range of favors that are meaningful to them.

Generations ago, planning a wedding was 100 percent the bride's job, but in today's age of gender equity, it's a mere 99 percent.

For all the self-help books and advice columns out there (um, keeping reading my advice anyway, please!), there's one tool we all already have in our arsenal for picking a partner that will keep us happy: our gut instincts.

According to a new study from the University of Texas and the University of California, Los Angeles, both men and women have regrets when it comes to sex, but the genders vary greatly when it comes to what they regret specifically.

Spending time alone with your guy is easy, but going public with your plus-one is another thing entirely. Whether it's your crazy relatives at Thanksgiving dinner or awkward convos with your boss at the holiday party, possible pitfalls are everywhere. Keep reading for tips on how to make his grand entrance into your social life a good thing.

Match.com survey reveals the day you're least likely to get spruced up for a date.

Drinking and relationships seem to go hand in hand in a lot of ways. But only in moderation!

Many men will tell you that they have no clue what their wives are thinking.