Woman's Marriage to 'Corporation' Ends
Why couldn't these two work it out?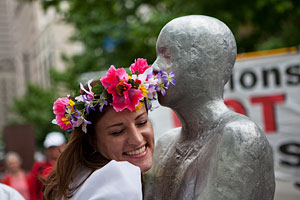 Angela Marie Vogel tied the knot earlier this week, but only a day later, the county voided her nuptials. The problem? Her husband was an art installation.
Angela's husband-for-a-day was a statue from a downtown Seattle art installation. The marriage was a publicity stunt in protest of the Citizens United decision—the U.S. Supreme Court's recognition of corporations as people.
On Tuesday, Angela and about 40 others headed to the courthouse to convince the clerk to produce a marriage license for her beloved, whom they named "Corporate Person." It worked, and Angela had a ceremony staged by activist group Envision Seattle. The ceremony was even conducted by an actual pastor.
But Seattle's King County soon realized the error and nullified the marriage. A spokesperson for the county told Seattle's KPLU:
"There was a lot of confusion and (the clerk) was not able to get a hold of her direct supervisor nor the Department of Health, so just in the interest of just trying to resolve the situation she erroneously took the license application."
Envision Seattle seeks to put an end to
corporate personhood
, which allows corporations to make political contributions during elections. The staged marriage was intended to show the absurdity in giving corporations the same rights as people.
In the end, though, Angela's marriage to "Corporate Person" didn't fall through because he isn't a person. Apparently, he's underage:
"King County said that we couldn't be married because 'Corporate Person' isn't old enough to be married," Angela joked.
Angela told KPLU she has no plans to restore her marriage to the art installation.
I guess they'll just have to settle for a long-term, committed relationship.
Photo: © Alex Garland Photography
More on love & sex from MSN Living:
25 Secrets Men Keep From Women
25 Secrets Women Keep From Men
The DOs and DON'Ts of Dating More Than One Guy at a Time
love: friendships, dating, sex & marriage
The typical wedding: A white dress, tiered cake, floral centerpieces and a cute flower girl -- you know the drill. Every once in a while, though, a couple trades in tradition for a quirky, never-seen-that-before idea. Here are a few of the most out-there wedding photos that made us do a double take.

There's a lot to love about weddings this fall, like cocktails served in copper Moscow mule mugs, industrial-inspired lighting and pheasant feather details. See what's new!

Do you have to be engaged to sport a ring with bling?

124.6 million haven't gotten hitched.

Even though the national average wedding is $29,858, that's just an average. If you live in a smaller state like Idaho where the average wedding costs $16,159, you may find yourself saving a little more than half of the national spend! Check out some of the other least expensive cities to get married in below:

Summer is winding down, but the ubiquitous summer romance lives on.

For those times when nothing big and horrible happened--but nothing is feeling right either.

He's confident, distinguished and anywhere from 4 to 20 years older than you. Age is just a number, but there's something about older men that we love. Here are eight reasons why being in a relationship with an older man is tops.

While a younger man may have less life experience, that doesn't mean he's not emotionally mature. Here are the eight reasons why being in a relationship with a younger man is tops.

Have you ever wondered what the 'other woman' was thinking?

So fall is coming and you need some romantic inspiration now that long walks on the beach are out of the question. Well look no further! From apple picking to pumpkin carving, these are some great fall date ideas from girls just like you!

Getting bored of the same dinner and movie date night? Take an adorable cue from your favorite celebs and try something new! From dancing to boxing you can't go wrong with these awesome date ideas.