Thinking of divorce? One expert recommends a 'consorce'
Is it possible to stay together during your separation?
In recent years, researchers have been exploring the link between the economic downturn and the rate of divorce, and at least one study shows that divorce rates are lower during a recession.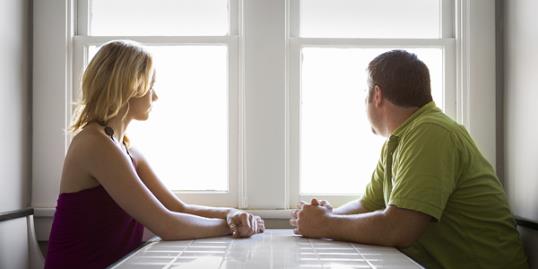 Many couples decide to stay in an unhappy marriage rather than pay for a costly divorce and risk financial ruin. But one expert says he has a solution for couples who want to split but also want to "avoid the myriad costs of divorce." It's been dubbed a consorce, and essentially, it involves estranged couples cohabitating for the sake of their finances—and children.
More on MSN Living: Most common holiday arguments—and how to avoid them
In an article for Fox News, psychiatrist Dr. Keith Ablow writes:
"The idea of married couples deciding on a 'consorce,' rather than a divorce, is this: Why should a couple split up the family funds, maintain two dwellings, involve the courts in their lives, hire attorneys and cause each other months or years of suffering when they could simply agree that the romantic part of their marriage has ended and that they will remain married and live together as friends and partners, in order to maintain a level of consistency for their children?" 
Ablow goes so far as to suggest couples that can still sleep in the same bedroom "without sexual contact expected by either individual." 
The obvious issue with this arrangement is, if you're contemplating divorce, you probably want a separate life from your partner. But Ablow argues that it's beneficial to turn the marriage into a friendship and essentially become roommates. 
More on MSN Living: The biggest rocks of 2012
A consorce isn't an open marriage, either. Couples agree to adopt a "Don't ask; Don't tell" policy regarding their separate sex lives. 
Psychologically, Ablow says a consorce relieves couples from the pressure and expectation of being with their partner forever—romantically​ and sexually. 
"[Consorce] allows them to maintain their households and become very reliable partners to one another and very close friends," he writes. 
Obviously, this isn't a solution for every marital situation. 
But what do you think—if you were contemplating divorce, would you first try a consorce?
Photo: stevecoleimages/Gett​y Images
Bing: What time of year do divorce rates rise?
More Sex & Love on MSN Living:
10 places to meet a man for the holidays
7 strategies to divorce-proof marriages
The way to his heart after 1, 5 and 10 years of marriage
What does your engagement ring say about you

Sounds more civil than an expensive court battle but I bet a potential new BF or GF would have a hard time believing someone who said, "I live with my spouse and we sleep in the same bed, but we're not sexually active." If you and your spouse can remain friends and living under one roof with the kids is your number one priority, I say go for it (just don't expect to kick off a fantastic dating life on the side). I, for one, wanted to move on with my life after my divorce and I couldn't get out of there fast enough!
Are you sure you want to delete this comment?
love: friendships, dating, sex & marriage
The outlandish things we do for love have no limits; just ask these guys. Who's hugged the longest? Kissed the longest? Been on the most expensive date? Take a look below as we count down the world's most loving record-breakers.

If you just got engaged, congrats! This is seriously exciting news that deserves lots of congratulatory hugs, "oohing" and "ahhing" over the ring and plenty of bubbly. To make sure you get the right response from friends, family and coworkers, avoid announcing your engagement like this…

Ladies, give yourself the best gift of all this season: The NYC Taxi Driver 2014 Calendar. By Michelle Toglia

Pheromones may be the key to finding your perfect match.

Her partner? Wine? Downtime? Find out where it all ranks.

This time of year, we dust off our holiday traditions of special songs, stories, events and food to make our season bright. Here's a look into the traditional, unique and quirky holiday traditions of some famous couples.

Look, I looooove engagement season for obvious reasons, but even I can admit I'm like, "Really, AGAIN?" when yet ANOTHER engagement ring pops up in my news feed. Seriously, there were two this weekend. (Congrats, Gemma and Danny!)

We asked real men and women (and a few first-base experts, too) to give us the cardinal rules of kissing, tell us what makes someone a good kisser and more. So whether you're leaning in for kiss No. 1 or 1,000, read on.by Devin Tomb

Not quite sure which diamond shape suits your personality? We're here to help.

Dating can lead to all kinds of tricky situations. To help you navigate even the most awkward moments, we've compiled our 50 best dating tips—some new, some old—given to us by experts, moms, women like you, and even Justin Timberlake.

Customers as Madison's new Snuggle House can snuggle with professional cuddlers for $60 an hour.

Can you believe it was only about 15 years ago that engagement ring shopping meant a time-consuming slog from jewelry boutique to jewelry boutique? Thank goodness for the internet; nowadays, it's easy to do all that legwork online.