Thinking of divorce? One expert recommends a 'consorce'
Is it possible to stay together during your separation?
In recent years, researchers have been exploring the link between the economic downturn and the rate of divorce, and at least one study shows that divorce rates are lower during a recession.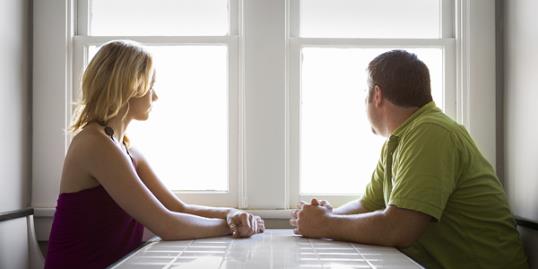 Many couples decide to stay in an unhappy marriage rather than pay for a costly divorce and risk financial ruin. But one expert says he has a solution for couples who want to split but also want to "avoid the myriad costs of divorce." It's been dubbed a consorce, and essentially, it involves estranged couples cohabitating for the sake of their finances—and children.
More on MSN Living: Most common holiday arguments—and how to avoid them
In an article for Fox News, psychiatrist Dr. Keith Ablow writes:
"The idea of married couples deciding on a 'consorce,' rather than a divorce, is this: Why should a couple split up the family funds, maintain two dwellings, involve the courts in their lives, hire attorneys and cause each other months or years of suffering when they could simply agree that the romantic part of their marriage has ended and that they will remain married and live together as friends and partners, in order to maintain a level of consistency for their children?" 
Ablow goes so far as to suggest couples that can still sleep in the same bedroom "without sexual contact expected by either individual." 
The obvious issue with this arrangement is, if you're contemplating divorce, you probably want a separate life from your partner. But Ablow argues that it's beneficial to turn the marriage into a friendship and essentially become roommates. 
More on MSN Living: The biggest rocks of 2012
A consorce isn't an open marriage, either. Couples agree to adopt a "Don't ask; Don't tell" policy regarding their separate sex lives. 
Psychologically, Ablow says a consorce relieves couples from the pressure and expectation of being with their partner forever—romantically​ and sexually. 
"[Consorce] allows them to maintain their households and become very reliable partners to one another and very close friends," he writes. 
Obviously, this isn't a solution for every marital situation. 
But what do you think—if you were contemplating divorce, would you first try a consorce?
Photo: stevecoleimages/Gett​y Images
Bing: What time of year do divorce rates rise?
More Sex & Love on MSN Living:
10 places to meet a man for the holidays
7 strategies to divorce-proof marriages
The way to his heart after 1, 5 and 10 years of marriage
What does your engagement ring say about you

Sounds more civil than an expensive court battle but I bet a potential new BF or GF would have a hard time believing someone who said, "I live with my spouse and we sleep in the same bed, but we're not sexually active." If you and your spouse can remain friends and living under one roof with the kids is your number one priority, I say go for it (just don't expect to kick off a fantastic dating life on the side). I, for one, wanted to move on with my life after my divorce and I couldn't get out of there fast enough!
Are you sure you want to delete this comment?
love: friendships, dating, sex & marriage
Brad Pitt and Angelina Jolie finally took the plunge, but marriage isn't always a good choice for everyone.

Learn how these surprising tactics can really improve your relationship.

Use these tips to up your chances of finding love.

Find out how paired-off ladies might feel lacking—and how you can make your relationship satisfying.

These signals are seriously subtle, but they can give you real insight into what's going through your husband's mind.

Check which changes are necessary to stay happy together.

We know some of this may sound obvious, but these simple statements can make both of you happier.

Making your relationship more secure, connected, and intimate doesn't have to feel overwhelming. Try these expert tips and reap the rewards now—and in the long run.

For those times when nothing big and horrible happened--but nothing is feeling right either.

What's more fun than animals in weddings? We've rounded up eight of the cutest.

Your puppy is all over your Instagram, Facebook and fridge, so there's no reason not to include him in your engagement pictures too. The best engagement photos give viewers a peek into your life. If you're a dog owner, take this opportunity to show off your pooch, like these 22 couples did! And we can't thank them enough.

Our married blogger gets real about checking out other guys when you're taken.