Thinking of divorce? One expert recommends a 'consorce'
Is it possible to stay together during your separation?
In recent years, researchers have been exploring the link between the economic downturn and the rate of divorce, and at least one study shows that divorce rates are lower during a recession.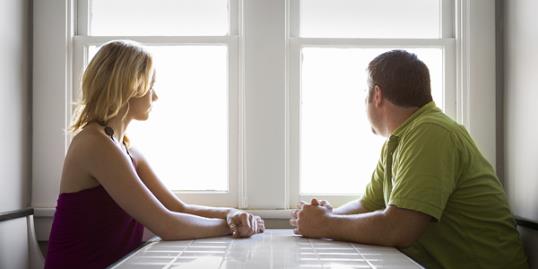 Many couples decide to stay in an unhappy marriage rather than pay for a costly divorce and risk financial ruin. But one expert says he has a solution for couples who want to split but also want to "avoid the myriad costs of divorce." It's been dubbed a consorce, and essentially, it involves estranged couples cohabitating for the sake of their finances—and children.
More on MSN Living: Most common holiday arguments—and how to avoid them
In an article for Fox News, psychiatrist Dr. Keith Ablow writes:
"The idea of married couples deciding on a 'consorce,' rather than a divorce, is this: Why should a couple split up the family funds, maintain two dwellings, involve the courts in their lives, hire attorneys and cause each other months or years of suffering when they could simply agree that the romantic part of their marriage has ended and that they will remain married and live together as friends and partners, in order to maintain a level of consistency for their children?" 
Ablow goes so far as to suggest couples that can still sleep in the same bedroom "without sexual contact expected by either individual." 
The obvious issue with this arrangement is, if you're contemplating divorce, you probably want a separate life from your partner. But Ablow argues that it's beneficial to turn the marriage into a friendship and essentially become roommates. 
More on MSN Living: The biggest rocks of 2012
A consorce isn't an open marriage, either. Couples agree to adopt a "Don't ask; Don't tell" policy regarding their separate sex lives. 
Psychologically, Ablow says a consorce relieves couples from the pressure and expectation of being with their partner forever—romantically​ and sexually. 
"[Consorce] allows them to maintain their households and become very reliable partners to one another and very close friends," he writes. 
Obviously, this isn't a solution for every marital situation. 
But what do you think—if you were contemplating divorce, would you first try a consorce?
Photo: stevecoleimages/Gett​y Images
Bing: What time of year do divorce rates rise?
More Sex & Love on MSN Living:
10 places to meet a man for the holidays
7 strategies to divorce-proof marriages
The way to his heart after 1, 5 and 10 years of marriage
What does your engagement ring say about you

Sounds more civil than an expensive court battle but I bet a potential new BF or GF would have a hard time believing someone who said, "I live with my spouse and we sleep in the same bed, but we're not sexually active." If you and your spouse can remain friends and living under one roof with the kids is your number one priority, I say go for it (just don't expect to kick off a fantastic dating life on the side). I, for one, wanted to move on with my life after my divorce and I couldn't get out of there fast enough!
Are you sure you want to delete this comment?
love: friendships, dating, sex & marriage
One woman's honest journey to divorce will break your heart and inspire you at the same time.

Want to send your date running? Try one these moves.

Two guests arrested in New Jersey.

Celebrities certainly know how to travel in style, so if you're struggling to select a honeymoon destination, look no further than these star-approved hotspots. To make it even easier, we're providing you with hotel recommendations, packing essentials, and tips on what to do and see! So channel your inner celeb at one of these U.S. destinations for an unforgettable vacation!

Tall Twitter users named Wayne, we're on to you!

Should little girls be dreaming of a different kind of "I do"?

Need a reason to pack your bags and get the hell out of here?

After your return from your honeymoon, your marriage officially starts and with that come some changes. It's not to say that the honeymoon phase is over, but you'll have to get some things situated in order to have your marriage start off on the right foot. We tapped the expert advice of wedding planner and reality TV star David Tutera and love and career coach Charreah Jackson to dish on six things you must do to have a successful first month of marriage — from wedding-related logistics to wrap up to relationship rules to set.

Owner of Weddings in Vieques, a destination-wedding planning company off the coast of Puerto Rico, Sandy Malone has helped countless couples plan their big day since 2007. Here, the veteran planner is sharing some expert advice for free: She's sharing the top eight things you have to do right after you get engaged.

Is the idea of a big bridal bash just not your thing? Or perhaps you and your fiancé are just the super spontaneous type, so why not make your next beach vacation your nuptials as well? If you're thinking of eloping but have questions on the mind, we're here to help. We tapped elopement and wedding planner Lindsey Nickel, founder of Events, Etc., for her top dos and don'ts for getting hitched on the sly.

Easy everyday ways to keep the love alive.

Expert tips on moving past those oh-so-familiar arguments.