Dating Site Reveals Men's Top Complaints About Women
The ladies are going to love this one.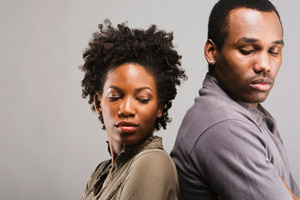 The popular dating site eHarmony revealed a list of men's 10 biggest complaints about women when it comes to dating. As one may expect, it caused some controversy, with many feeling like the complaints were simply antiquated stereotypes. In fact, the list hit such a nerve, some users vowed to revoke their eHarmony membership altogether.
So let's jump right in, shall we?
The list, compiled by eHarmony's Director of Communication, Grant Langston, is written in second person, with the intended reader being a woman. Langston kicks the list off with: "You see us as projects you can 'fix.'" He writes:
"Women see potential. They see rough edges, and they want to sand them off. This makes us crazy. We don't want to change. We have chosen our car, hair, friends, home and hobbies because we enjoy them."
While my initial thought is to brush this off as hogwash, I'll admit that I can think of one instance in which a female friend of mine tried to drastically change her boyfriend, but I can't think of one case of the reverse. This is the only item on the list that even remotely rings true in my experience.
Another complaint Langston makes is that women's expectations "are set by Hollywood and sky high." He complains that, because we women have it in our heads that George Clooney is going to come and sweep us away, we don't care when (non-celebrity) men do something nice for us.
"When a REAL act of love comes down the pike, he notices that the tread on your tires is low and buys a new set, it hardly even registers," Langston writes.
Firstly, I find it hard to imagine a woman getting a four hundred dollar set of new tires only to cross her arms, stick her nose in the air and pout, "Fine. But you're still not George Clooney." I suppose Langston's point is that women can be unappreciative, but come on—men can be just as rude and ungrateful. It has nothing to do with gender.
Overall, the list does seem to reinforce a handful of outdated stereotypes. Case in point, this complaint: "you don't understand and/or like our need for alone time." Not only do women understand, we actually need more alone time than men.
Other highlights include: "You like to play coy," "You use your emotions as a weapon," and my personal favorite, "You have a tendency to be too critical."
Hey, we're not the ones who just put a list together.
Actually, Lindy West of Jezebel did put a list together, but only after reading eHarmony's. She responded to the complaints with her own list, titled:  "Women's Ten Biggest Complaints About Men's Ten Biggest Complaints About Women." Lindy makes a sensible point:
"…really, the main problem with most of these complaints isn't that they're unreasonable—it's that they're the kind of sh-tty things that all people do in relationships sometimes."
And as one eHarmony commenter summed it up:

"The author has apparently missed the huge irony of complaining about women trying to change men... in a list written by a man of the 10 things women must change if they are to be happy in a relationship."
We all have things we could change when it comes to dating, and the advice in this list shouldn't be exclusive to women. Enjoy the moment, appreciate each other, and give each other space—decent relationship tips for us all.
At any rate, below is a full list of what Langston believes are men's biggest complaints about women:
You see us as projects you can fix.
Your expectations are set by Hollywood and sky high.
You're always looking down the road.
You use your emotions as a weapon.
You have a tendency to be critical.
You like to play coy.
You fixate on what we're thinking, when you should be watching what we're doing.
You don't understand and/or like our need for alone time.
You have a complicated set of double standards.
You want us to change, and then lose respect for us when we do.
Photo: Hill Street Studios/Getty Images
More on love & sex from MSN Living:
13 Signs You're Ready to Move In Together
His 10 Biggest Love Lies
10 Non-Traditional Celebrity Engagement Rings
love: friendships, dating, sex & marriage
Brad Pitt and Angelina Jolie finally took the plunge, but marriage isn't always a good choice for everyone.

Learn how these surprising tactics can really improve your relationship.

Use these tips to up your chances of finding love.

Find out how paired-off ladies might feel lacking—and how you can make your relationship satisfying.

These signals are seriously subtle, but they can give you real insight into what's going through your husband's mind.

Check which changes are necessary to stay happy together.

We know some of this may sound obvious, but these simple statements can make both of you happier.

Making your relationship more secure, connected, and intimate doesn't have to feel overwhelming. Try these expert tips and reap the rewards now—and in the long run.

For those times when nothing big and horrible happened--but nothing is feeling right either.

What's more fun than animals in weddings? We've rounded up eight of the cutest.

Your puppy is all over your Instagram, Facebook and fridge, so there's no reason not to include him in your engagement pictures too. The best engagement photos give viewers a peek into your life. If you're a dog owner, take this opportunity to show off your pooch, like these 22 couples did! And we can't thank them enough.

Our married blogger gets real about checking out other guys when you're taken.