Dating Site Reveals Men's Top Complaints About Women
The ladies are going to love this one.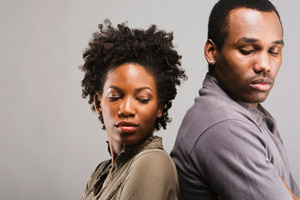 The popular dating site eHarmony revealed a list of men's 10 biggest complaints about women when it comes to dating. As one may expect, it caused some controversy, with many feeling like the complaints were simply antiquated stereotypes. In fact, the list hit such a nerve, some users vowed to revoke their eHarmony membership altogether.
So let's jump right in, shall we?
The list, compiled by eHarmony's Director of Communication, Grant Langston, is written in second person, with the intended reader being a woman. Langston kicks the list off with: "You see us as projects you can 'fix.'" He writes:
"Women see potential. They see rough edges, and they want to sand them off. This makes us crazy. We don't want to change. We have chosen our car, hair, friends, home and hobbies because we enjoy them."
While my initial thought is to brush this off as hogwash, I'll admit that I can think of one instance in which a female friend of mine tried to drastically change her boyfriend, but I can't think of one case of the reverse. This is the only item on the list that even remotely rings true in my experience.
Another complaint Langston makes is that women's expectations "are set by Hollywood and sky high." He complains that, because we women have it in our heads that George Clooney is going to come and sweep us away, we don't care when (non-celebrity) men do something nice for us.
"When a REAL act of love comes down the pike, he notices that the tread on your tires is low and buys a new set, it hardly even registers," Langston writes.
Firstly, I find it hard to imagine a woman getting a four hundred dollar set of new tires only to cross her arms, stick her nose in the air and pout, "Fine. But you're still not George Clooney." I suppose Langston's point is that women can be unappreciative, but come on—men can be just as rude and ungrateful. It has nothing to do with gender.
Overall, the list does seem to reinforce a handful of outdated stereotypes. Case in point, this complaint: "you don't understand and/or like our need for alone time." Not only do women understand, we actually need more alone time than men.
Other highlights include: "You like to play coy," "You use your emotions as a weapon," and my personal favorite, "You have a tendency to be too critical."
Hey, we're not the ones who just put a list together.
Actually, Lindy West of Jezebel did put a list together, but only after reading eHarmony's. She responded to the complaints with her own list, titled:  "Women's Ten Biggest Complaints About Men's Ten Biggest Complaints About Women." Lindy makes a sensible point:
"…really, the main problem with most of these complaints isn't that they're unreasonable—it's that they're the kind of sh-tty things that all people do in relationships sometimes."
And as one eHarmony commenter summed it up:

"The author has apparently missed the huge irony of complaining about women trying to change men... in a list written by a man of the 10 things women must change if they are to be happy in a relationship."
We all have things we could change when it comes to dating, and the advice in this list shouldn't be exclusive to women. Enjoy the moment, appreciate each other, and give each other space—decent relationship tips for us all.
At any rate, below is a full list of what Langston believes are men's biggest complaints about women:
You see us as projects you can fix.
Your expectations are set by Hollywood and sky high.
You're always looking down the road.
You use your emotions as a weapon.
You have a tendency to be critical.
You like to play coy.
You fixate on what we're thinking, when you should be watching what we're doing.
You don't understand and/or like our need for alone time.
You have a complicated set of double standards.
You want us to change, and then lose respect for us when we do.
Photo: Hill Street Studios/Getty Images
More on love & sex from MSN Living:
13 Signs You're Ready to Move In Together
His 10 Biggest Love Lies
10 Non-Traditional Celebrity Engagement Rings
love: friendships, dating, sex & marriage
As a general rule, any island that offers great weather year-round is going to attract the most visitors in the winter (high season) when we're all trying to escape the snow. Once summer rolls around, many islands see a sharp drop-off in tourism since many people have beach weather right in their own backyards.

And how you can attack the issues together.

A wedding is an exceptionally special day. Sometimes, an opportune photo flub makes the occasion even more memorable. Here are 25 awesome wedding photo bombs.

Somewhere between the first few butterfly-inducing dates and the committed-for-life stage, there's the period of wondering if you're both on the same page about how serious you feel about a future together. If you're not quite at the point of "that talk" but you're looking for a few clues you're heading in that direction, here are some signs he's in it for the long haul as your relationship progresses.

What's that sound? It's white noise blocking out the well-meaning person proclaiming groundbreaking news about where you can meet someone, asking why you're still single, or bugging you about when you're getting married already. Don't be that person. Here are 15 annoying things all single people don't want to hear.

With just a few days left before the big day, you already have a mile-long checklist of to-dos—now meet the don'ts! From impromptu skin treatments to all-night movie marathons, here are 11 things to avoid at all costs.

A new study shows that watching and discussing romantic films can drastically reduce your chance of divorce. These flicks more than fit the bill.

These seemingly innocent phrases still have the power to wound… big time.

Making "I do" last forever is one of the biggest challenges you'll ever face—and it's normal to worry about how you'll do it. But, if your connection involves any of these things, rest assured that you're in it for the long run.

Ultimately, as hard as it may seem at the beginning, a marital affair can be a turning point.

Five months after the Boston Marathon bombing, The Knot reached out to Rebekah Gregory and Pete DiMartino and offered to throw them a dream wedding. They said yes, and on April 4, 2014, the two married at the Biltmore Estate in Asheville, North Carolina. Rebekah and Pete exchanged vows on the tennis lawn amidst the cherry tree blossoms and then celebrated with all of their friends and family at a beautiful reception tent right in front of the estate. All of the details were perfectly executed by a team of talented and generous wedding industry pros, including celebrity wedding planner Marcy Blum. Here, a few highlights from Rebekah and Pete's wedding day.

Your wedding is your special day, but you want to keep your guests happy, too. Here are 20 typical wedding guest complaints and what you can do about them.