Dating Site Reveals Men's Top Complaints About Women
The ladies are going to love this one.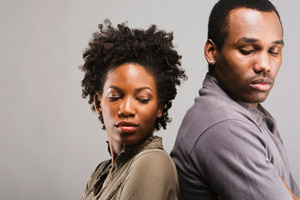 The popular dating site eHarmony revealed a list of men's 10 biggest complaints about women when it comes to dating. As one may expect, it caused some controversy, with many feeling like the complaints were simply antiquated stereotypes. In fact, the list hit such a nerve, some users vowed to revoke their eHarmony membership altogether.
So let's jump right in, shall we?
The list, compiled by eHarmony's Director of Communication, Grant Langston, is written in second person, with the intended reader being a woman. Langston kicks the list off with: "You see us as projects you can 'fix.'" He writes:
"Women see potential. They see rough edges, and they want to sand them off. This makes us crazy. We don't want to change. We have chosen our car, hair, friends, home and hobbies because we enjoy them."
While my initial thought is to brush this off as hogwash, I'll admit that I can think of one instance in which a female friend of mine tried to drastically change her boyfriend, but I can't think of one case of the reverse. This is the only item on the list that even remotely rings true in my experience.
Another complaint Langston makes is that women's expectations "are set by Hollywood and sky high." He complains that, because we women have it in our heads that George Clooney is going to come and sweep us away, we don't care when (non-celebrity) men do something nice for us.
"When a REAL act of love comes down the pike, he notices that the tread on your tires is low and buys a new set, it hardly even registers," Langston writes.
Firstly, I find it hard to imagine a woman getting a four hundred dollar set of new tires only to cross her arms, stick her nose in the air and pout, "Fine. But you're still not George Clooney." I suppose Langston's point is that women can be unappreciative, but come on—men can be just as rude and ungrateful. It has nothing to do with gender.
Overall, the list does seem to reinforce a handful of outdated stereotypes. Case in point, this complaint: "you don't understand and/or like our need for alone time." Not only do women understand, we actually need more alone time than men.
Other highlights include: "You like to play coy," "You use your emotions as a weapon," and my personal favorite, "You have a tendency to be too critical."
Hey, we're not the ones who just put a list together.
Actually, Lindy West of Jezebel did put a list together, but only after reading eHarmony's. She responded to the complaints with her own list, titled:  "Women's Ten Biggest Complaints About Men's Ten Biggest Complaints About Women." Lindy makes a sensible point:
"…really, the main problem with most of these complaints isn't that they're unreasonable—it's that they're the kind of sh-tty things that all people do in relationships sometimes."
And as one eHarmony commenter summed it up:

"The author has apparently missed the huge irony of complaining about women trying to change men... in a list written by a man of the 10 things women must change if they are to be happy in a relationship."
We all have things we could change when it comes to dating, and the advice in this list shouldn't be exclusive to women. Enjoy the moment, appreciate each other, and give each other space—decent relationship tips for us all.
At any rate, below is a full list of what Langston believes are men's biggest complaints about women:
You see us as projects you can fix.
Your expectations are set by Hollywood and sky high.
You're always looking down the road.
You use your emotions as a weapon.
You have a tendency to be critical.
You like to play coy.
You fixate on what we're thinking, when you should be watching what we're doing.
You don't understand and/or like our need for alone time.
You have a complicated set of double standards.
You want us to change, and then lose respect for us when we do.
Photo: Hill Street Studios/Getty Images
More on love & sex from MSN Living:
13 Signs You're Ready to Move In Together
His 10 Biggest Love Lies
10 Non-Traditional Celebrity Engagement Rings
love: friendship, dating, sex & marriage
What's worse than getting snubbed while proposing? Having your heart broken in front of countless strangers.

We asked brides on TheKnot.com to tell all -- and they did. Here, five of the most likely culprits and advice for how to deal with your drama-causing guests along the way.

This short course in flirting will not only teach you how to flirt better but also how to tell when someone is flirting with you—and how to respond. Have fun.

Gatsby glamour doesn't have to just live on the big screen! Embrace the trendy (yet timeless) art deco style with sequins, pearls, feathers and geometric patterns. Check out these art deco ideas and achieve the feel of 1920s decadence. By the way, all of these are affordable, except for the $600 hairpiece which is a splurge, but a knockout. Shop the look!

Wondering if your summer love will last? Here are 15 signs if your seasonal love is fleeting or for real.

Sixteen years after "Titanic's" release—and 101 years after the historic ship's notorious sinking—our hearts still go on for star-crossed lovers Rose DeWitt Bukater (Kate Winslet) and Jack Dawson (Leonardo DiCaprio). We rounded up some of our favorite ill-fated, but oh-so-romantic affairs on film, from "Gone with the Wind" to "Moulin Rouge!".

Flirting shouldn't be retired once you've got the ring. We asked relationship expert Harlan Cohen, as well as real husbands, the best way to keep the sparks flying.

When we're annoyed by male behavior, we turn to columnist Aaron Traister. His logic may be strange, but we have to admit, it's pretty helpful. Here, he answers our many questions for guys.

Author Amanda Robb talks to clinical psychologist David Schnarch, Ph.D., author of Passionate Marriage: Keeping Love and Intimacy Alive in Committed Relationships and Intimacy and Desire: Awaken the Passion in Your Relationship, to discover the ways she can relight the fire in her own relationship. What she learned just might help you wake up your own libido.

The average wedding costs $28,000. Think that's pricey? You're in for a surprise. We've rounded up some of the most expensive weddings of all time. See if you can guess how much was dropped on these over-the-top affairs, then click through to Bing to see if you're right.

A guide to staying together forever…straight from divorce lawyers! They know what tears couples apart, and they'll tell you how to avoid it.

We've come across some odd tales of lost love. Here's our list of the weirdest reasons people have divorced.