Sex on first date could harm your relationship
A reason to keep it at just a kiss?
By Gina Kaufman, Glamour Magazine
The typical urban legend is that sex on a first date won't lead to a relationship, period. That's debatable, so a new study has examined what effects, if any, a couple may experience in their relationship as a result of hooking up right away.
And well, it isn't great. In a study of 11,000 unmarried people in serious relationships, those who engaged in sex before or within the first few weeks of dating had lower levels of relationship satisfaction, communication and stability than those who waited longer.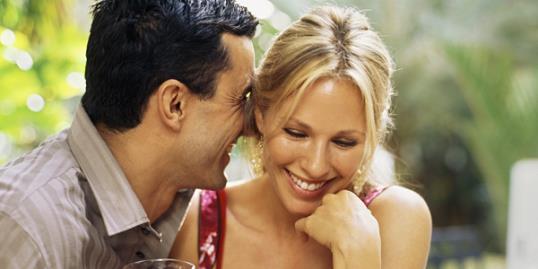 In case you're feeling doubtful about those results, it's in line with earlier research showing that couples who wait longer to have sex have higher marital satisfaction, and the researchers also accounted for other factors that could have affected the findings, such as religion, education, race and number of sexual partners. The results still held.
More from Glamour: 10 turn-ons that aren't about looks
Scientists aren't exactly sure why delaying sex is linked to better outcomes. They speculate that couples who have sex early may have higher expectations for their sex life, but frequency of sex and partners' interest in sex tend to decline over time.
But the good news for anyone who just had to have their partner as soon as they met? The effect, while negative, was also a small effect: one-tenth of a point on a five-point scale. It's probably not exactly a relationship killer.
More from Glamour: 30 sex tips every woman should consider 
And as always, correlation doesn't equal causation: psychologists suggest there could be personality difference between those willing to have sex early and those who choose to wait.
It's definitely food for thought that multiple studies have shown that couples who wait tend to have better relationships, and personally, I tend to be more comfortable with waiting myself. But there are so many factors that can affect a relationship's success that I still don't think there's any point on getting too hung up about the timing of sex in a relationship.
What do you think? Did you have sex early on in your relationship? Do you think it's caused any problems? Do you even think it matters or is it just different for every couple?
Photo: George Doyle/Getty Images
Bing: Amazing first-date ideas.
More from Glamour:
10 romantic movies men secretly love
10 types of sex to try at least once in your life
love: friendship, dating, sex & marriage
The perfect wedding toast is a work of oratory art. It can't be too short (cheers!) and it can't drone on and on. It has to be funny but it also has to be sentimental. So if you've been tasked with toasting the newlyweds, prepare to prep -- and whatever you do, avoid these toasting faux pas!

Those little quirks you think are endearing may be turning your guy off.

We've made picking your palette a breeze! Just find your favorite hue and choose one of the cool combos below.

Get inspired with these twelve ideas for a fantastic, fun summer wedding!

What's worse than getting snubbed while proposing? Having your heart broken in front of countless strangers.

Want your I do's to be totally you? From pre-wedding cocktails to Mad Lib vows, here are 25 ways to make your ceremony as unforgettable as your reception.

Summer love can be sweet. But it tends to be fast, feverish and often fleeting. In a season where emotions run hot, here are some rules to help avoid heartbreak.

We asked brides on TheKnot.com to tell all -- and they did. Here, five of the most likely culprits and advice for how to deal with your drama-causing guests along the way.

This short course in flirting will not only teach you how to flirt better but also how to tell when someone is flirting with you—and how to respond. Have fun.

Gatsby glamour doesn't have to just live on the big screen! Embrace the trendy (yet timeless) art deco style with sequins, pearls, feathers and geometric patterns. Check out these art deco ideas and achieve the feel of 1920s decadence. By the way, all of these are affordable, except for the $600 hairpiece which is a splurge, but a knockout. Shop the look!

Who says a special outing with the hubby has to empty your wallet? These fresh, fun activities require no cash at all, so work your way down the list.

Wondering if your summer love will last? Here are 15 signs if your seasonal love is fleeting or for real.