Sex on first date could harm your relationship
A reason to keep it at just a kiss?
By Gina Kaufman, Glamour Magazine
The typical urban legend is that sex on a first date won't lead to a relationship, period. That's debatable, so a new study has examined what effects, if any, a couple may experience in their relationship as a result of hooking up right away.
And well, it isn't great. In a study of 11,000 unmarried people in serious relationships, those who engaged in sex before or within the first few weeks of dating had lower levels of relationship satisfaction, communication and stability than those who waited longer.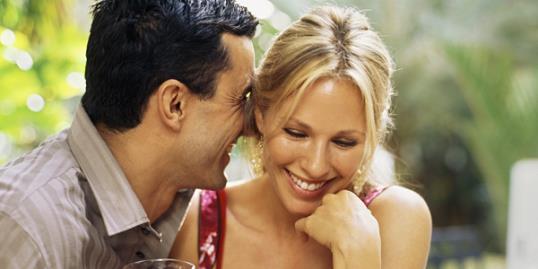 In case you're feeling doubtful about those results, it's in line with earlier research showing that couples who wait longer to have sex have higher marital satisfaction, and the researchers also accounted for other factors that could have affected the findings, such as religion, education, race and number of sexual partners. The results still held.
More from Glamour: 10 turn-ons that aren't about looks
Scientists aren't exactly sure why delaying sex is linked to better outcomes. They speculate that couples who have sex early may have higher expectations for their sex life, but frequency of sex and partners' interest in sex tend to decline over time.
But the good news for anyone who just had to have their partner as soon as they met? The effect, while negative, was also a small effect: one-tenth of a point on a five-point scale. It's probably not exactly a relationship killer.
More from Glamour: 30 sex tips every woman should consider 
And as always, correlation doesn't equal causation: psychologists suggest there could be personality difference between those willing to have sex early and those who choose to wait.
It's definitely food for thought that multiple studies have shown that couples who wait tend to have better relationships, and personally, I tend to be more comfortable with waiting myself. But there are so many factors that can affect a relationship's success that I still don't think there's any point on getting too hung up about the timing of sex in a relationship.
What do you think? Did you have sex early on in your relationship? Do you think it's caused any problems? Do you even think it matters or is it just different for every couple?
Photo: George Doyle/Getty Images
Bing: Amazing first-date ideas.
More from Glamour:
10 romantic movies men secretly love
10 types of sex to try at least once in your life

if they have known each other for years b4 they started dating then they basically have already been friends for years b4 they had sex, but if they only met on their 1st date and they don't know each other very well, the sex may be good but WHO KNOWS WHERE THEY HAVE BEEN!!!  in any case be careful people and wrap it up until u r MARRIED, u don't want a possible one night stand to affect the rest of your life with an unexpected pregnancy or even more common these days r the many STDs out there!!!!
Are you sure you want to delete this comment?
love: friendships, dating, sex & marriage
Dating doesn't have to be a daunting task, promise. Here's how to make it fun for you and him.

One woman's honest journey to divorce will break your heart and inspire you at the same time.

Want to send your date running? Try one these moves.

Two guests arrested in New Jersey.

Celebrities certainly know how to travel in style, so if you're struggling to select a honeymoon destination, look no further than these star-approved hotspots. To make it even easier, we're providing you with hotel recommendations, packing essentials, and tips on what to do and see! So channel your inner celeb at one of these U.S. destinations for an unforgettable vacation!

Tall Twitter users named Wayne, we're on to you!

Should little girls be dreaming of a different kind of "I do"?

Need a reason to pack your bags and get the hell out of here?

After your return from your honeymoon, your marriage officially starts and with that come some changes. It's not to say that the honeymoon phase is over, but you'll have to get some things situated in order to have your marriage start off on the right foot. We tapped the expert advice of wedding planner and reality TV star David Tutera and love and career coach Charreah Jackson to dish on six things you must do to have a successful first month of marriage — from wedding-related logistics to wrap up to relationship rules to set.

Owner of Weddings in Vieques, a destination-wedding planning company off the coast of Puerto Rico, Sandy Malone has helped countless couples plan their big day since 2007. Here, the veteran planner is sharing some expert advice for free: She's sharing the top eight things you have to do right after you get engaged.

Is the idea of a big bridal bash just not your thing? Or perhaps you and your fiancé are just the super spontaneous type, so why not make your next beach vacation your nuptials as well? If you're thinking of eloping but have questions on the mind, we're here to help. We tapped elopement and wedding planner Lindsey Nickel, founder of Events, Etc., for her top dos and don'ts for getting hitched on the sly.

Easy everyday ways to keep the love alive.