Sex on first date could harm your relationship
A reason to keep it at just a kiss?
By Gina Kaufman, Glamour Magazine
The typical urban legend is that sex on a first date won't lead to a relationship, period. That's debatable, so a new study has examined what effects, if any, a couple may experience in their relationship as a result of hooking up right away.
And well, it isn't great. In a study of 11,000 unmarried people in serious relationships, those who engaged in sex before or within the first few weeks of dating had lower levels of relationship satisfaction, communication and stability than those who waited longer.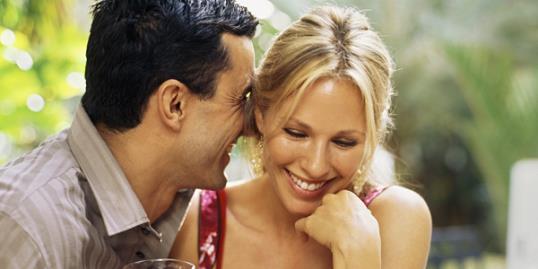 In case you're feeling doubtful about those results, it's in line with earlier research showing that couples who wait longer to have sex have higher marital satisfaction, and the researchers also accounted for other factors that could have affected the findings, such as religion, education, race and number of sexual partners. The results still held.
More from Glamour: 10 turn-ons that aren't about looks
Scientists aren't exactly sure why delaying sex is linked to better outcomes. They speculate that couples who have sex early may have higher expectations for their sex life, but frequency of sex and partners' interest in sex tend to decline over time.
But the good news for anyone who just had to have their partner as soon as they met? The effect, while negative, was also a small effect: one-tenth of a point on a five-point scale. It's probably not exactly a relationship killer.
More from Glamour: 30 sex tips every woman should consider 
And as always, correlation doesn't equal causation: psychologists suggest there could be personality difference between those willing to have sex early and those who choose to wait.
It's definitely food for thought that multiple studies have shown that couples who wait tend to have better relationships, and personally, I tend to be more comfortable with waiting myself. But there are so many factors that can affect a relationship's success that I still don't think there's any point on getting too hung up about the timing of sex in a relationship.
What do you think? Did you have sex early on in your relationship? Do you think it's caused any problems? Do you even think it matters or is it just different for every couple?
Photo: George Doyle/Getty Images
Bing: Amazing first-date ideas.
More from Glamour:
10 romantic movies men secretly love
10 types of sex to try at least once in your life

if they have known each other for years b4 they started dating then they basically have already been friends for years b4 they had sex, but if they only met on their 1st date and they don't know each other very well, the sex may be good but WHO KNOWS WHERE THEY HAVE BEEN!!!  in any case be careful people and wrap it up until u r MARRIED, u don't want a possible one night stand to affect the rest of your life with an unexpected pregnancy or even more common these days r the many STDs out there!!!!
Are you sure you want to delete this comment?
love: friendships, dating, sex & marriage
Making "I do" last forever is one of the biggest challenges you'll ever face—and it's normal to worry about how you'll do it. But, if your connection involves any of these things, rest assured that you're in it for the long run.

Ultimately, as hard as it may seem at the beginning, a marital affair can be a turning point.

Five months after the Boston Marathon bombing, The Knot reached out to Rebekah Gregory and Pete DiMartino and offered to throw them a dream wedding. They said yes, and on April 4, 2014, the two married at the Biltmore Estate in Asheville, North Carolina. Rebekah and Pete exchanged vows on the tennis lawn amidst the cherry tree blossoms and then celebrated with all of their friends and family at a beautiful reception tent right in front of the estate. All of the details were perfectly executed by a team of talented and generous wedding industry pros, including celebrity wedding planner Marcy Blum. Here, a few highlights from Rebekah and Pete's wedding day.

Your wedding is your special day, but you want to keep your guests happy, too. Here are 20 typical wedding guest complaints and what you can do about them.

Study finds that early birds get the long-term relationships.

Receptions would take place near where raw sewage is processed.