Sex on first date could harm your relationship
A reason to keep it at just a kiss?
By Gina Kaufman, Glamour Magazine
The typical urban legend is that sex on a first date won't lead to a relationship, period. That's debatable, so a new study has examined what effects, if any, a couple may experience in their relationship as a result of hooking up right away.
And well, it isn't great. In a study of 11,000 unmarried people in serious relationships, those who engaged in sex before or within the first few weeks of dating had lower levels of relationship satisfaction, communication and stability than those who waited longer.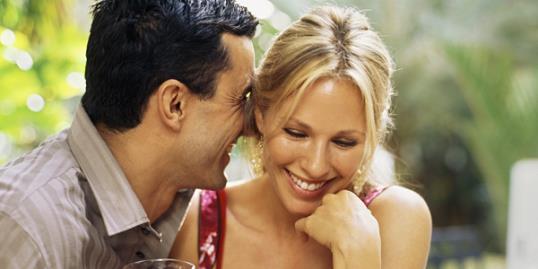 In case you're feeling doubtful about those results, it's in line with earlier research showing that couples who wait longer to have sex have higher marital satisfaction, and the researchers also accounted for other factors that could have affected the findings, such as religion, education, race and number of sexual partners. The results still held.
More from Glamour: 10 turn-ons that aren't about looks
Scientists aren't exactly sure why delaying sex is linked to better outcomes. They speculate that couples who have sex early may have higher expectations for their sex life, but frequency of sex and partners' interest in sex tend to decline over time.
But the good news for anyone who just had to have their partner as soon as they met? The effect, while negative, was also a small effect: one-tenth of a point on a five-point scale. It's probably not exactly a relationship killer.
More from Glamour: 30 sex tips every woman should consider 
And as always, correlation doesn't equal causation: psychologists suggest there could be personality difference between those willing to have sex early and those who choose to wait.
It's definitely food for thought that multiple studies have shown that couples who wait tend to have better relationships, and personally, I tend to be more comfortable with waiting myself. But there are so many factors that can affect a relationship's success that I still don't think there's any point on getting too hung up about the timing of sex in a relationship.
What do you think? Did you have sex early on in your relationship? Do you think it's caused any problems? Do you even think it matters or is it just different for every couple?
Photo: George Doyle/Getty Images
Bing: Amazing first-date ideas.
More from Glamour:
10 romantic movies men secretly love
10 types of sex to try at least once in your life

if they have known each other for years b4 they started dating then they basically have already been friends for years b4 they had sex, but if they only met on their 1st date and they don't know each other very well, the sex may be good but WHO KNOWS WHERE THEY HAVE BEEN!!!  in any case be careful people and wrap it up until u r MARRIED, u don't want a possible one night stand to affect the rest of your life with an unexpected pregnancy or even more common these days r the many STDs out there!!!!
Are you sure you want to delete this comment?
love: friendships, dating, sex & marriage
The holiday season, with all its twinkly lights and fireplaces and cold nights perfect for snuggling, is most definitely for lovers—but "The Single Woman" author Mandy Hale is here to remind you that it's also for singles, too.

Studies show that being satisfied with your romantic relationship is one of the best predictors of happiness -- even more important than education, income, or having a high-status job. Resolve to make 2014 your happiest year yet with these bond-strengthening pledges.

This winter, it's all about mixing unexpected seasonal elements with elegant neutral details and a hint of sparkle and sequins. Take a look.

Here's why dudes without hair make the best boyfriends.

What do you wish you appreciated more when you were flying solo?

"If you're so busy tweeting and Instagraming, you're not paying attention," New York wedding planner Marcy Blum said. "It's almost a cosmic faux pas. People want your energy with them and focused on what they're doing."

The wedding favor, that little thank-you-for-coming gift, has risen to new heights with the bride and groom giving guests a wide range of favors that are meaningful to them.

Generations ago, planning a wedding was 100 percent the bride's job, but in today's age of gender equity, it's a mere 99 percent.

For all the self-help books and advice columns out there (um, keeping reading my advice anyway, please!), there's one tool we all already have in our arsenal for picking a partner that will keep us happy: our gut instincts.

According to a new study from the University of Texas and the University of California, Los Angeles, both men and women have regrets when it comes to sex, but the genders vary greatly when it comes to what they regret specifically.

Spending time alone with your guy is easy, but going public with your plus-one is another thing entirely. Whether it's your crazy relatives at Thanksgiving dinner or awkward convos with your boss at the holiday party, possible pitfalls are everywhere. Keep reading for tips on how to make his grand entrance into your social life a good thing.

Match.com survey reveals the day you're least likely to get spruced up for a date.