Sex on first date could harm your relationship
A reason to keep it at just a kiss?
By Gina Kaufman, Glamour Magazine
The typical urban legend is that sex on a first date won't lead to a relationship, period. That's debatable, so a new study has examined what effects, if any, a couple may experience in their relationship as a result of hooking up right away.
And well, it isn't great. In a study of 11,000 unmarried people in serious relationships, those who engaged in sex before or within the first few weeks of dating had lower levels of relationship satisfaction, communication and stability than those who waited longer.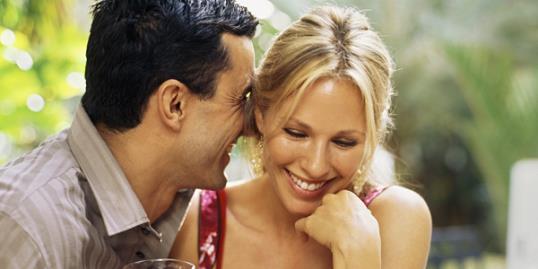 In case you're feeling doubtful about those results, it's in line with earlier research showing that couples who wait longer to have sex have higher marital satisfaction, and the researchers also accounted for other factors that could have affected the findings, such as religion, education, race and number of sexual partners. The results still held.
More from Glamour: 10 turn-ons that aren't about looks
Scientists aren't exactly sure why delaying sex is linked to better outcomes. They speculate that couples who have sex early may have higher expectations for their sex life, but frequency of sex and partners' interest in sex tend to decline over time.
But the good news for anyone who just had to have their partner as soon as they met? The effect, while negative, was also a small effect: one-tenth of a point on a five-point scale. It's probably not exactly a relationship killer.
More from Glamour: 30 sex tips every woman should consider 
And as always, correlation doesn't equal causation: psychologists suggest there could be personality difference between those willing to have sex early and those who choose to wait.
It's definitely food for thought that multiple studies have shown that couples who wait tend to have better relationships, and personally, I tend to be more comfortable with waiting myself. But there are so many factors that can affect a relationship's success that I still don't think there's any point on getting too hung up about the timing of sex in a relationship.
What do you think? Did you have sex early on in your relationship? Do you think it's caused any problems? Do you even think it matters or is it just different for every couple?
Photo: George Doyle/Getty Images
Bing: Amazing first-date ideas.
More from Glamour:
10 romantic movies men secretly love
10 types of sex to try at least once in your life
love: friendship, dating, sex & marriage
Author Amanda Robb talks to clinical psychologist David Schnarch, Ph.D., author of Passionate Marriage: Keeping Love and Intimacy Alive in Committed Relationships and Intimacy and Desire: Awaken the Passion in Your Relationship, to discover the ways she can relight the fire in her own relationship. What she learned just might help you wake up your own libido.

The average wedding costs $28,000. Think that's pricey? You're in for a surprise. We've rounded up some of the most expensive weddings of all time. See if you can guess how much was dropped on these over-the-top affairs, then click through to Bing to see if you're right.

A guide to staying together forever…straight from divorce lawyers! They know what tears couples apart, and they'll tell you how to avoid it.

We've come across some odd tales of lost love. Here's our list of the weirdest reasons people have divorced.

Your summer wedding is only a few months away? Don't sweat it! We have the finishing touches that will guarantee your wedding to be the absolute best blow out.

Planning a wedding involves months (sometimes years) of endless details, pressing deadlines, family drama and—far too often—enough stress to make you just want to elope. Stop right there. Consider this your cheat sheet and secret weapon against such insanity.

Those Facebook friends that seem to have the perfect life with the flawless husband they adore at all times? Even they face tough times like these.

If you're planning a crazy fun wedding, check out these hilarious wedding invitations.

Up your dating game this summer by taking advantage of the season's warm weather and extended evening light to move some of your dates outdoors.

You've said yes. Now it's time to start planning your wedding. Give guests a heads up with clever "save the date" cards. Here are 30 funny ones.

Gifts, affirmations, physical touch—what makes you feel most loved? One expert identified five main ways we express love. What's your preferred love language?

Rocky relationship? Maybe you and your spouse just have different ways of expressing love. Not to worry—here are some tips for speaking your partner's love language.