Online, women want younger men
And men prefer to date younger, too.
When it comes to
online dating
, five is the magic number. A recent study has found that, with online interactions, women prefer men who are five years their junior.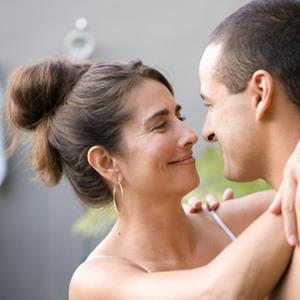 Gallery: 20 things you never knew about kissing
Online dating site and app AYI (Are You Interested) studied one million of its interactions and found that women were five times more likely to show interest in a guy five years younger than her than one who was five years older.
Gallery: Get your flirt on this summer
Unfortunately, AYI's study also found that 42 percent of men wouldn't even consider an older woman. According to the data, men are 22 percent less likely to respond to an older woman than a younger woman who initiates contact.
Why do researchers think women now prefer to date younger men? Find out 
here
.

The actual relationship records tell a different story. On average a man will be three years older than his partner. In the case of divorce a man will on average marry half his age plus ten years. For example a 40 year old man will marry a 30 year old woman. In looking around this seems far more common than the stats being used in this article.

Even when it is possible for much older women to reproduce with assistance from science it is unlikely to change the equation much. A very large part of the human reproductive drive is subconscious and hard wired, even those who have no  interest in reproducing have trouble getting around this. So the 50 year old woman looking to procreate will still in nearly all instances have to purchase the other component unless she is willing to accept an 80 year old man.



I met my husband online four years ago. He was 57 and I was 45. He lived in L.A. while I lived north of Seattle. We emailed daily, sometimes twice a day for six weeks then he asked if he could come to Seattle to take me on a date. We were crazy in love by then. I moved to L.A. 18 months later and married him 9 months ago. We were really shy and only had one short phone call before meeting but we emailed each other little video clips so neither of us was worried about lying about looks and age. We had deep conversations by email and learned things about each other which would have taken forever had we met in person. Just wanting to share my good fortune about finding the love of my life online.
p.s: I got an enormous amount of responses to my profile and eventually figured out (and this study confirms it) that it was due to being 45 years old and looking for a 55+ year old guy.
She left out one thing.....Online dating really sucks:) Meeting online can be ok if you are close enough geographically and willing to meet after a couple of chats\mails  The one woman in the video was right about the honesty and pictures of the subject being 10 years younger. if I met a woman online, I would want to meet pretty fast to see if my love interest was honest and the best way to get to know someone is spend time together. Online, people will never know if they are compatible till they meet. Also, it's often people so far away that may peek your interest...then what? Long distance relationship would make me crazy;)
Are you sure you want to delete this comment?
love: friendships, dating, sex & marriage
New research shows they get divorced at vastly lower rates.

Brad Pitt and Angelina Jolie finally took the plunge, but marriage isn't always a good choice for everyone.

Learn how these surprising tactics can really improve your relationship.

Use these tips to up your chances of finding love.

Find out how paired-off ladies might feel lacking—and how you can make your relationship satisfying.

These signals are seriously subtle, but they can give you real insight into what's going through your husband's mind.

Check which changes are necessary to stay happy together.

We know some of this may sound obvious, but these simple statements can make both of you happier.

Making your relationship more secure, connected, and intimate doesn't have to feel overwhelming. Try these expert tips and reap the rewards now—and in the long run.

For those times when nothing big and horrible happened--but nothing is feeling right either.

What's more fun than animals in weddings? We've rounded up eight of the cutest.

Your puppy is all over your Instagram, Facebook and fridge, so there's no reason not to include him in your engagement pictures too. The best engagement photos give viewers a peek into your life. If you're a dog owner, take this opportunity to show off your pooch, like these 22 couples did! And we can't thank them enough.