Lightning strikes in couple's wedding photo
This shot is too beautiful to be ominous.
Some might call it ominous, but when lightning struck during one couple's wedding shoot, the photo turned out to be pretty amazing.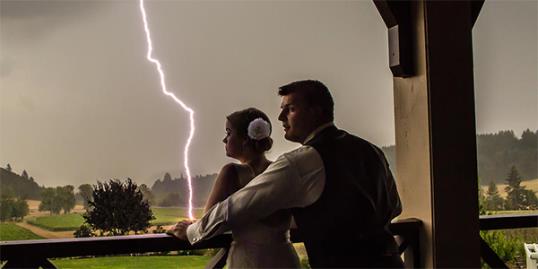 MSN Living: Officials: NM mom struck by lightning, gives birth
Evan and Helen Gremillion decided to tie the knot at Zenith Vineyards in Salem, Ore. To capture their lovely outdoor ceremony, they hired Julia Green, a photographer and graduate student at Oregon State University. It was a beautiful day when Green showed up, but shortly after, a storm began brewing.
"I felt like it was my duty as a photographer to get the best photo I could for them," wedding photographer Julia Green told KGW Portland News. "I said a little prayer, and I clicked five times and it happened."
MSN Living: The outdoor wedding checklist for guests 
Green captured an incredible shot of the Gremillions with a lightning bolt that seemed to materialize from their wedding rings. The groom told the news outlet:
"God was basically saying, 'Congratulations, we're going to make a lightning bolt in your honor.'"
Guests agreed. They decided to interpret the beautiful shot as a positive omen.
"They had smiles on their faces and were really excited about it," Green told the Portland Tribune.
More from The Heart Beat: 
love: friendships, dating, sex & marriage
This just in: Guys over 5'10" are twice as likely to stray.

Or how to tell if you've reached THAT point in your bond.

Dating doesn't have to be a daunting task, promise. Here's how to make it fun for you and him.

This just in: A new study shows girls are warriors in the womb.

You can make a pros and cons list...but ultimately you know what works best for you.

Maggie Reyes is a life coach, writer, and the founder of ModernMarried.com. She helps newlyweds re-think what married life can be. Here, she's revealing tricks every newlywed couple needs to know.

Government-supported Vietnamese classes teach women Korean language, customs.

Whether you're into creative artists or uber-preppy bankers, there's something to be said for trying something new.

Sometimes two characters on a TV show or movie can portray being a happy couple effortlessly, or can have lots of fun playing former spouses — especially if they're married to each other in real life! Keep scrolling for six celebrity costars you probably didn't know tied the knot, even after the bloodiest and craziest story lines.

Some couples want nothing more than a laid-back, by-the-book proposal. Then there are the other couples, where the proposal not only needs to be personalized, it also has to be unique and entirely different than the typical restaurant, bended-knee idea. Sound like you? Then get inspired by some of the most creative proposal ideas we've ever seen. If you find something you like, steal it and then modify it to make your proposal something totally unforgettable.

From Nantucket all the way to Cayo Espanto, we've rounded up some of the prettiest beaches to travel to for your honeymoon.

Researchers studied the age-old stereotype that women really are more talkative than men.