Lightning strikes in couple's wedding photo
This shot is too beautiful to be ominous.
Some might call it ominous, but when lightning struck during one couple's wedding shoot, the photo turned out to be pretty amazing.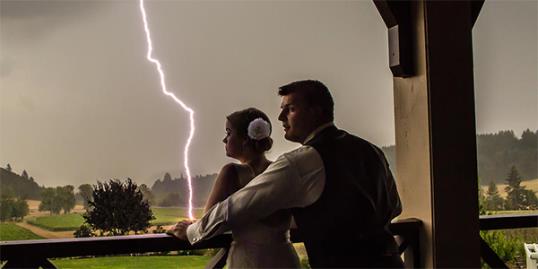 MSN Living: Officials: NM mom struck by lightning, gives birth
Evan and Helen Gremillion decided to tie the knot at Zenith Vineyards in Salem, Ore. To capture their lovely outdoor ceremony, they hired Julia Green, a photographer and graduate student at Oregon State University. It was a beautiful day when Green showed up, but shortly after, a storm began brewing.
"I felt like it was my duty as a photographer to get the best photo I could for them," wedding photographer Julia Green told KGW Portland News. "I said a little prayer, and I clicked five times and it happened."
MSN Living: The outdoor wedding checklist for guests 
Green captured an incredible shot of the Gremillions with a lightning bolt that seemed to materialize from their wedding rings. The groom told the news outlet:
"God was basically saying, 'Congratulations, we're going to make a lightning bolt in your honor.'"
Guests agreed. They decided to interpret the beautiful shot as a positive omen.
"They had smiles on their faces and were really excited about it," Green told the Portland Tribune.
More from The Heart Beat: 
love: friendships, dating, sex & marriage
LinkedUp connects to your LinkedIn profile to find you a date.

Plus, some report having no one at all they feel close to.

It's wedding season! Let's take a look back at when these stunning celebs put on gorgeous gowns and held beautiful bouquets in support of their friends' and family members' big days.

A new study says we're more open to consensual non-monogamy now than ever before — but does it work?

5 steps to being happy together in the long run.

There has been an exponential increase in the number of people who are questioning their marriage.

We're willing to bet that if you're not already grappling with these wedding-related snags, you will be soon.

Pull out the tissues for these personalized wedding vows.

Forgotten what love is all about? Read this note, and remember.

And a few that aren't so shocking.

If you find yourself doing any of these things, consider changing your behavior or counseling.

From pineapple sculptures made out of sunflowers to bold graphic printed tablecloths, ten trendsetters in the wedding industry shared 100 days' worth of inspiring new wedding details. See The Knot editors' top picks for the coolest and most awe-worthy ideas from the wedding experts.