Ring-bearing owl falls asleep during wedding
A wedding surprise is ruined thanks to a sleepy owl.
She had one job.
A bride in England wanted to surprise her husband on their wedding day, so she picked Darcy, a trained barn owl, to be the ring-bearer. The plan was simple: the rings would be tied to Darcy's feet, and a hired falconer would cue the owl during the ceremony.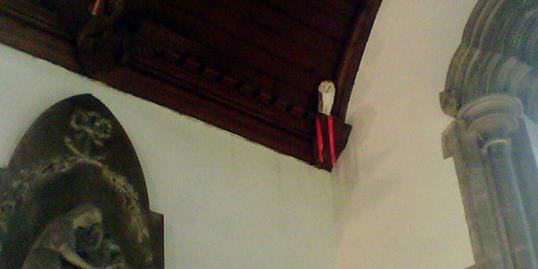 MSN Living: Minister stops wedding to scold photographers
But Darcy had other plans — namely, taking a nap on the church rafters. When the owl was called, she saw the gauntlet where she was supposed to land but headed for the roof instead.
"The idea was it would be amazing and [the owl] would swoop over the heads of the guests, and they'd all feel the air rushing from its wings, but it didn't quite work like that," Rev. Chris Bryan told the Telegraph.
Rev. Bryan explained that the guests laughed it off, and a back-up pair of rings was used to finish the ceremony. Darcy was still asleep when the guests and newlyweds left.
Read the rest of the story here.
More from The Heart Beat: 
Clown couple ties the knot
Woman wants to marry her death-row pen pal
Ohio couple married 65 years die 11 hours apart 
Subscribe to The Heart Beat | Friend us on Facebook, follow us on Twitter and find us on Pinterest.
Photo: Darcy, the barn owl carrying wedding rings, landed in the rafters of the Holy Cross Church in Sherston, Wiltshire, U.K., halting the service for a few minutes. (Reverend Chris Bryan/SWNS.com)
Are you sure you want to delete this comment?
love: friendships, dating, sex & marriage
Here's why dudes without hair make the best boyfriends.

What do you wish you appreciated more when you were flying solo?

"If you're so busy tweeting and Instagraming, you're not paying attention," New York wedding planner Marcy Blum said. "It's almost a cosmic faux pas. People want your energy with them and focused on what they're doing."

The wedding favor, that little thank-you-for-coming gift, has risen to new heights with the bride and groom giving guests a wide range of favors that are meaningful to them.

Generations ago, planning a wedding was 100 percent the bride's job, but in today's age of gender equity, it's a mere 99 percent.

For all the self-help books and advice columns out there (um, keeping reading my advice anyway, please!), there's one tool we all already have in our arsenal for picking a partner that will keep us happy: our gut instincts.

According to a new study from the University of Texas and the University of California, Los Angeles, both men and women have regrets when it comes to sex, but the genders vary greatly when it comes to what they regret specifically.

Spending time alone with your guy is easy, but going public with your plus-one is another thing entirely. Whether it's your crazy relatives at Thanksgiving dinner or awkward convos with your boss at the holiday party, possible pitfalls are everywhere. Keep reading for tips on how to make his grand entrance into your social life a good thing.

Match.com survey reveals the day you're least likely to get spruced up for a date.

Drinking and relationships seem to go hand in hand in a lot of ways. But only in moderation!

Many men will tell you that they have no clue what their wives are thinking.

Spending the holidays with your guy's family for the first time is a huge relationship milestone. But between your nerves, the usual family tension, and your weird Uncle Sal's inappropriate stories, it's also a prime opportunity for total disaster. Read on for 10 of our readers' most embarrassing meet-the-parents moments.