Ring-bearing owl falls asleep during wedding
A wedding surprise is ruined thanks to a sleepy owl.
She had one job.
A bride in England wanted to surprise her husband on their wedding day, so she picked Darcy, a trained barn owl, to be the ring-bearer. The plan was simple: the rings would be tied to Darcy's feet, and a hired falconer would cue the owl during the ceremony.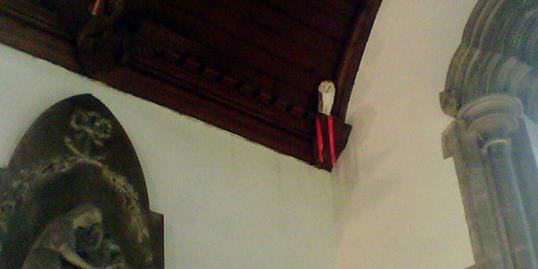 MSN Living: Minister stops wedding to scold photographers
But Darcy had other plans — namely, taking a nap on the church rafters. When the owl was called, she saw the gauntlet where she was supposed to land but headed for the roof instead.
"The idea was it would be amazing and [the owl] would swoop over the heads of the guests, and they'd all feel the air rushing from its wings, but it didn't quite work like that," Rev. Chris Bryan told the Telegraph.
Rev. Bryan explained that the guests laughed it off, and a back-up pair of rings was used to finish the ceremony. Darcy was still asleep when the guests and newlyweds left.
Read the rest of the story here.
More from The Heart Beat: 
Clown couple ties the knot
Woman wants to marry her death-row pen pal
Ohio couple married 65 years die 11 hours apart 
Subscribe to The Heart Beat | Friend us on Facebook, follow us on Twitter and find us on Pinterest.
Photo: Darcy, the barn owl carrying wedding rings, landed in the rafters of the Holy Cross Church in Sherston, Wiltshire, U.K., halting the service for a few minutes. (Reverend Chris Bryan/SWNS.com)
Are you sure you want to delete this comment?
love: friendships, dating, sex & marriage
While we do love crazy, funny and over-the-top engagements, sometimes there's just nothing like a proposal with a heartfelt story behind it (warning: you might need some tissues). We've rounded up some of the most romantic wedding proposals from couples across the country, so keep scrolling for seven of our favorites:

As much as you'd like to think your guests will love every single aspect of your wedding, the truth is you really can't please everyone. However, you can try to avoid ticking them off. Here's how.

You'd think brides and grooms who celebrate their nuptials with 50 guests have an equal shot at wedded bliss as those who invite 500, but apparently not.

Because some things are just better with a buddy (whom you happen to be dating).

They're smart, funny, and adorable, but are you a good match?

Fight the urge to sign her up for OkCupid and read this instead.

We know you have good intentions, but...please...stop.

You can't say we didn't warn you. Every month is Movember when you're dating a guy with a beard. And while the scruffy look can be hot, there are some very real, err, challenges that come with the territory. Don't believe us? Well…

Follow these steps to slash your wedding budget—not your fun—in half.

It won't all be cake and flowers, but it can be the best year of your life together so far.

Expert tips on moving past those oh-so-familiar arguments.