Ring-bearing owl falls asleep during wedding
A wedding surprise is ruined thanks to a sleepy owl.
She had one job.
A bride in England wanted to surprise her husband on their wedding day, so she picked Darcy, a trained barn owl, to be the ring-bearer. The plan was simple: the rings would be tied to Darcy's feet, and a hired falconer would cue the owl during the ceremony.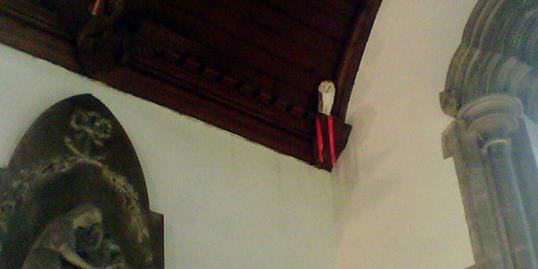 MSN Living: Minister stops wedding to scold photographers
But Darcy had other plans — namely, taking a nap on the church rafters. When the owl was called, she saw the gauntlet where she was supposed to land but headed for the roof instead.
"The idea was it would be amazing and [the owl] would swoop over the heads of the guests, and they'd all feel the air rushing from its wings, but it didn't quite work like that," Rev. Chris Bryan told the Telegraph.
Rev. Bryan explained that the guests laughed it off, and a back-up pair of rings was used to finish the ceremony. Darcy was still asleep when the guests and newlyweds left.
Read the rest of the story here.
More from The Heart Beat: 
Clown couple ties the knot
Woman wants to marry her death-row pen pal
Ohio couple married 65 years die 11 hours apart 
Subscribe to The Heart Beat | Friend us on Facebook, follow us on Twitter and find us on Pinterest.
Photo: Darcy, the barn owl carrying wedding rings, landed in the rafters of the Holy Cross Church in Sherston, Wiltshire, U.K., halting the service for a few minutes. (Reverend Chris Bryan/SWNS.com)
Are you sure you want to delete this comment?
love: friendships, dating, sex & marriage
Maggie Reyes is a life coach, writer, and the founder of ModernMarried.com. She helps newlyweds re-think what married life can be. Here, she's revealing tricks every newlywed couple needs to know.

Government-supported Vietnamese classes teach women Korean language, customs.

Whether you're into creative artists or uber-preppy bankers, there's something to be said for trying something new.

Sometimes two characters on a TV show or movie can portray being a happy couple effortlessly, or can have lots of fun playing former spouses — especially if they're married to each other in real life! Keep scrolling for six celebrity costars you probably didn't know tied the knot, even after the bloodiest and craziest story lines.

Some couples want nothing more than a laid-back, by-the-book proposal. Then there are the other couples, where the proposal not only needs to be personalized, it also has to be unique and entirely different than the typical restaurant, bended-knee idea. Sound like you? Then get inspired by some of the most creative proposal ideas we've ever seen. If you find something you like, steal it and then modify it to make your proposal something totally unforgettable.

From Nantucket all the way to Cayo Espanto, we've rounded up some of the prettiest beaches to travel to for your honeymoon.

Researchers studied the age-old stereotype that women really are more talkative than men.

'There is a science behind attraction,' SingldOut says.

One minute you're happy and in love, the next he's delivering the "It's not you, it's me" speech. Why? We have the scoop on the real reasons most couples split up.

Want to keep your wedding budget in check? Start by checking out this list of the 10 things that could end up costing you a lot more than you anticipated.

Brace yourself, this is uncomfortable.

The proposal-filled site How He Asked has shared its top 10 most emotional proposal photos with us, so have your tissues handy. We're suckers for a good proposal story, and these ones are truly tear-worthy. Check them out now, and watch your heart grow (at least) three sizes!