Ring-bearing owl falls asleep during wedding
A wedding surprise is ruined thanks to a sleepy owl.
She had one job.
A bride in England wanted to surprise her husband on their wedding day, so she picked Darcy, a trained barn owl, to be the ring-bearer. The plan was simple: the rings would be tied to Darcy's feet, and a hired falconer would cue the owl during the ceremony.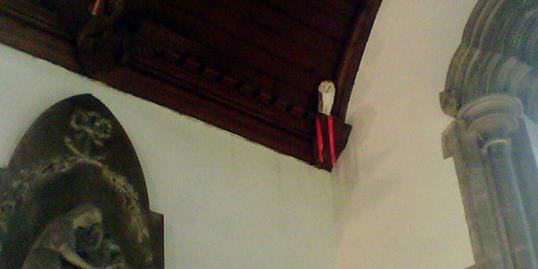 MSN Living: Minister stops wedding to scold photographers
But Darcy had other plans — namely, taking a nap on the church rafters. When the owl was called, she saw the gauntlet where she was supposed to land but headed for the roof instead.
"The idea was it would be amazing and [the owl] would swoop over the heads of the guests, and they'd all feel the air rushing from its wings, but it didn't quite work like that," Rev. Chris Bryan told the Telegraph.
Rev. Bryan explained that the guests laughed it off, and a back-up pair of rings was used to finish the ceremony. Darcy was still asleep when the guests and newlyweds left.
Read the rest of the story here.
More from The Heart Beat: 
Clown couple ties the knot
Woman wants to marry her death-row pen pal
Ohio couple married 65 years die 11 hours apart 
Subscribe to The Heart Beat | Friend us on Facebook, follow us on Twitter and find us on Pinterest.
Photo: Darcy, the barn owl carrying wedding rings, landed in the rafters of the Holy Cross Church in Sherston, Wiltshire, U.K., halting the service for a few minutes. (Reverend Chris Bryan/SWNS.com)
Are you sure you want to delete this comment?
love: friendships, dating, sex & marriage
New research shows they get divorced at vastly lower rates.

Brad Pitt and Angelina Jolie finally took the plunge, but marriage isn't always a good choice for everyone.

Learn how these surprising tactics can really improve your relationship.

Use these tips to up your chances of finding love.

Find out how paired-off ladies might feel lacking—and how you can make your relationship satisfying.

These signals are seriously subtle, but they can give you real insight into what's going through your husband's mind.

Check which changes are necessary to stay happy together.

We know some of this may sound obvious, but these simple statements can make both of you happier.

Making your relationship more secure, connected, and intimate doesn't have to feel overwhelming. Try these expert tips and reap the rewards now—and in the long run.

For those times when nothing big and horrible happened--but nothing is feeling right either.

What's more fun than animals in weddings? We've rounded up eight of the cutest.

Your puppy is all over your Instagram, Facebook and fridge, so there's no reason not to include him in your engagement pictures too. The best engagement photos give viewers a peek into your life. If you're a dog owner, take this opportunity to show off your pooch, like these 22 couples did! And we can't thank them enough.