Ring-bearing owl falls asleep during wedding
A wedding surprise is ruined thanks to a sleepy owl.
She had one job.
A bride in England wanted to surprise her husband on their wedding day, so she picked Darcy, a trained barn owl, to be the ring-bearer. The plan was simple: the rings would be tied to Darcy's feet, and a hired falconer would cue the owl during the ceremony.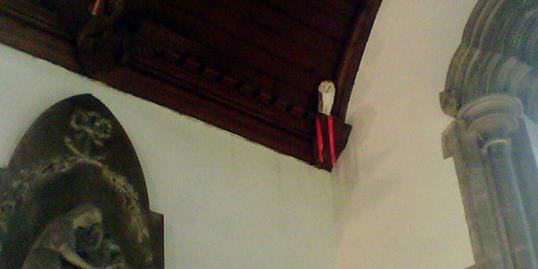 MSN Living: Minister stops wedding to scold photographers
But Darcy had other plans — namely, taking a nap on the church rafters. When the owl was called, she saw the gauntlet where she was supposed to land but headed for the roof instead.
"The idea was it would be amazing and [the owl] would swoop over the heads of the guests, and they'd all feel the air rushing from its wings, but it didn't quite work like that," Rev. Chris Bryan told the Telegraph.
Rev. Bryan explained that the guests laughed it off, and a back-up pair of rings was used to finish the ceremony. Darcy was still asleep when the guests and newlyweds left.
Read the rest of the story here.
More from The Heart Beat: 
Clown couple ties the knot
Woman wants to marry her death-row pen pal
Ohio couple married 65 years die 11 hours apart 
Subscribe to The Heart Beat | Friend us on Facebook, follow us on Twitter and find us on Pinterest.
Photo: Darcy, the barn owl carrying wedding rings, landed in the rafters of the Holy Cross Church in Sherston, Wiltshire, U.K., halting the service for a few minutes. (Reverend Chris Bryan/SWNS.com)
Are you sure you want to delete this comment?
love: friendships, dating, sex & marriage
Sometimes you have to do things you don't want to do, like hang out with his lame friends. You're not always in the mood to nurse a beer silently while he and his boys argue about who's going to die next on "Game of Thrones" — but tomorrow he's sitting through a seven-girl brunch. So.

Why holding on to your partner's mistakes will end up hurting you.

A little extra effort, will power and research can help your marriage bloom well into old age.

These are the conversations all betrothed couples should take the time to have before they get hitched.

Brace yourself, this is uncomfortable.

There's nothing wrong with grabbing Italian food and alternating between watching action films and romantic comedies, but shaking up your going-out routine with an extreme date night can be the ultimate turn on and the best way to keep your relationship exciting.

This just in: Guys over 5'10" are twice as likely to stray.

Or how to tell if you've reached THAT point in your bond.

Dating doesn't have to be a daunting task, promise. Here's how to make it fun for you and him.

This just in: A new study shows girls are warriors in the womb.

You can make a pros and cons list...but ultimately you know what works best for you.

Maggie Reyes is a life coach, writer, and the founder of ModernMarried.com. She helps newlyweds re-think what married life can be. Here, she's revealing tricks every newlywed couple needs to know.