Macho Men Threatened When Women Earn More
A new study shows why macho men often struggle in their relationships.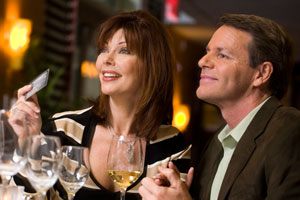 Gender roles are becoming increasingly marginalized, but that doesn't mean they've been tossed out for good.
Researchers from Fordham University in New York recently conducted a study which found that "macho" men feel threatened when their female partners make more money than they do. Bad news for macho guys, considering that just this week, a new survey found that the majority of women in the U.S. are the breadwinners of their households.
The Fordham University study included 47 men who had higher-earning female partners. Researchers Patrick Coughlin and Jay Wade assessed the men's feelings on masculinity, the quality of their relationships and "the importance of the disparity in income between them and their female partners," according to the press release.
According to the results, when the man had a traditional view of masculinity, he was more likely to report a low-quality relationship. And, you guessed it—he was also more likely to place an importance on the income disparity between himself and his partner.
"Our results demonstrate the importance of masculinity ideology in understanding how and why men with higher-earning partners will have low or high quality romantic relationships," Coughlin and Wade said in the press release. "The findings are relevant to men who are married as well as non-married men in a romantic relationship."
Sure, it's easy to write these guys off as closed-minded meat heads (especially when they're labeled "macho"), but there's another side to the coin. Surveys seem to show that women also tend to have traditional views of gender roles when it comes to money. For example, earlier this month, a survey conducted by an online dating site found that a whopping 75 percent of women are unlikely to date a guy who's unemployed.
"Not having a job will definitely make it harder for men to date someone they don't already know," said Irene LaCota, spokesperson for the site, It's Just Lunch.

But according to LaCota, the results have less to do with money and more to do with women's concern that the guy is "engaged in activity." Apparently, women view unemployed men as having a lack of drive and ambition. Fair enough, but here's the thing. Unemployment didn't have the same social stigma for women as it did for men. Two thirds of men in the survey said they had no problem dating a woman who's unemployed.
The point is, while these "macho" men could easily be written off for their insular views on gender roles, women often seem to have those same antiquated views.
As a good friend said to me recently, "most of the women I go out with make way more money than me, yet I'm still expected to pay for the date."
Even though I argued relentlessly with him about this, he has a point. Many of us want the traditional gender roles and the double standards to exist, but only if we get to pick and choose when. So can we really blame the machos for feeling threatened? The issue is simply not that simple.
The press release continues:
"The breadwinner role for men is still the accepted norm in marriage, and allows for and supports the husband's power and authority in the family. It is therefore reasonable for a man who earns less than his female partner to feel removed from this traditional gender role, and feel a void because he does not fulfill this role."

Men may have been bringing home the bacon for ages, but if the latest statistics are any indication, it looks like it's time to redefine our roles.
What do you think? Do you expect the man in the relationship to make more? Would you date a man who made substantially less than you?
Photo: Tim Kiusalaas/Getty Images
More on love & sex from MSN Living:
25 Secrets Men Keep From Women
25 Secrets Women Keep From Men
The DOs and DON'Ts of Dating More Than One Guy at a Time
love: friendships, dating, sex & marriage
Brad Pitt and Angelina Jolie finally took the plunge, but marriage isn't always a good choice for everyone.

Learn how these surprising tactics can really improve your relationship.

Use these tips to up your chances of finding love.

Find out how paired-off ladies might feel lacking—and how you can make your relationship satisfying.

These signals are seriously subtle, but they can give you real insight into what's going through your husband's mind.

Check which changes are necessary to stay happy together.

We know some of this may sound obvious, but these simple statements can make both of you happier.

Making your relationship more secure, connected, and intimate doesn't have to feel overwhelming. Try these expert tips and reap the rewards now—and in the long run.

For those times when nothing big and horrible happened--but nothing is feeling right either.

What's more fun than animals in weddings? We've rounded up eight of the cutest.

Your puppy is all over your Instagram, Facebook and fridge, so there's no reason not to include him in your engagement pictures too. The best engagement photos give viewers a peek into your life. If you're a dog owner, take this opportunity to show off your pooch, like these 22 couples did! And we can't thank them enough.

Our married blogger gets real about checking out other guys when you're taken.