Macho Men Threatened When Women Earn More
A new study shows why macho men often struggle in their relationships.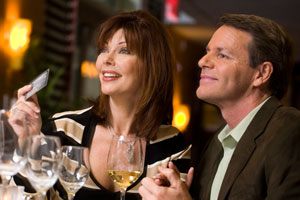 Gender roles are becoming increasingly marginalized, but that doesn't mean they've been tossed out for good.
Researchers from Fordham University in New York recently conducted a study which found that "macho" men feel threatened when their female partners make more money than they do. Bad news for macho guys, considering that just this week, a new survey found that the majority of women in the U.S. are the breadwinners of their households.
The Fordham University study included 47 men who had higher-earning female partners. Researchers Patrick Coughlin and Jay Wade assessed the men's feelings on masculinity, the quality of their relationships and "the importance of the disparity in income between them and their female partners," according to the press release.
According to the results, when the man had a traditional view of masculinity, he was more likely to report a low-quality relationship. And, you guessed it—he was also more likely to place an importance on the income disparity between himself and his partner.
"Our results demonstrate the importance of masculinity ideology in understanding how and why men with higher-earning partners will have low or high quality romantic relationships," Coughlin and Wade said in the press release. "The findings are relevant to men who are married as well as non-married men in a romantic relationship."
Sure, it's easy to write these guys off as closed-minded meat heads (especially when they're labeled "macho"), but there's another side to the coin. Surveys seem to show that women also tend to have traditional views of gender roles when it comes to money. For example, earlier this month, a survey conducted by an online dating site found that a whopping 75 percent of women are unlikely to date a guy who's unemployed.
"Not having a job will definitely make it harder for men to date someone they don't already know," said Irene LaCota, spokesperson for the site, It's Just Lunch.

But according to LaCota, the results have less to do with money and more to do with women's concern that the guy is "engaged in activity." Apparently, women view unemployed men as having a lack of drive and ambition. Fair enough, but here's the thing. Unemployment didn't have the same social stigma for women as it did for men. Two thirds of men in the survey said they had no problem dating a woman who's unemployed.
The point is, while these "macho" men could easily be written off for their insular views on gender roles, women often seem to have those same antiquated views.
As a good friend said to me recently, "most of the women I go out with make way more money than me, yet I'm still expected to pay for the date."
Even though I argued relentlessly with him about this, he has a point. Many of us want the traditional gender roles and the double standards to exist, but only if we get to pick and choose when. So can we really blame the machos for feeling threatened? The issue is simply not that simple.
The press release continues:
"The breadwinner role for men is still the accepted norm in marriage, and allows for and supports the husband's power and authority in the family. It is therefore reasonable for a man who earns less than his female partner to feel removed from this traditional gender role, and feel a void because he does not fulfill this role."

Men may have been bringing home the bacon for ages, but if the latest statistics are any indication, it looks like it's time to redefine our roles.
What do you think? Do you expect the man in the relationship to make more? Would you date a man who made substantially less than you?
Photo: Tim Kiusalaas/Getty Images
More on love & sex from MSN Living:
25 Secrets Men Keep From Women
25 Secrets Women Keep From Men
The DOs and DON'Ts of Dating More Than One Guy at a Time
love: friendships, dating, sex & marriage
This just in: A new study shows girls are warriors in the womb.

You can make a pros and cons list...but ultimately you know what works best for you.

Maggie Reyes is a life coach, writer, and the founder of ModernMarried.com. She helps newlyweds re-think what married life can be. Here, she's revealing tricks every newlywed couple needs to know.

Government-supported Vietnamese classes teach women Korean language, customs.

Whether you're into creative artists or uber-preppy bankers, there's something to be said for trying something new.

Sometimes two characters on a TV show or movie can portray being a happy couple effortlessly, or can have lots of fun playing former spouses — especially if they're married to each other in real life! Keep scrolling for six celebrity costars you probably didn't know tied the knot, even after the bloodiest and craziest story lines.

Some couples want nothing more than a laid-back, by-the-book proposal. Then there are the other couples, where the proposal not only needs to be personalized, it also has to be unique and entirely different than the typical restaurant, bended-knee idea. Sound like you? Then get inspired by some of the most creative proposal ideas we've ever seen. If you find something you like, steal it and then modify it to make your proposal something totally unforgettable.

From Nantucket all the way to Cayo Espanto, we've rounded up some of the prettiest beaches to travel to for your honeymoon.

Researchers studied the age-old stereotype that women really are more talkative than men.

'There is a science behind attraction,' SingldOut says.

One minute you're happy and in love, the next he's delivering the "It's not you, it's me" speech. Why? We have the scoop on the real reasons most couples split up.

Want to keep your wedding budget in check? Start by checking out this list of the 10 things that could end up costing you a lot more than you anticipated.