Macho Men Threatened When Women Earn More
A new study shows why macho men often struggle in their relationships.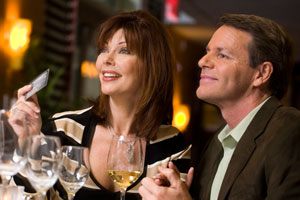 Gender roles are becoming increasingly marginalized, but that doesn't mean they've been tossed out for good.
Researchers from Fordham University in New York recently conducted a study which found that "macho" men feel threatened when their female partners make more money than they do. Bad news for macho guys, considering that just this week, a new survey found that the majority of women in the U.S. are the breadwinners of their households.
The Fordham University study included 47 men who had higher-earning female partners. Researchers Patrick Coughlin and Jay Wade assessed the men's feelings on masculinity, the quality of their relationships and "the importance of the disparity in income between them and their female partners," according to the press release.
According to the results, when the man had a traditional view of masculinity, he was more likely to report a low-quality relationship. And, you guessed it—he was also more likely to place an importance on the income disparity between himself and his partner.
"Our results demonstrate the importance of masculinity ideology in understanding how and why men with higher-earning partners will have low or high quality romantic relationships," Coughlin and Wade said in the press release. "The findings are relevant to men who are married as well as non-married men in a romantic relationship."
Sure, it's easy to write these guys off as closed-minded meat heads (especially when they're labeled "macho"), but there's another side to the coin. Surveys seem to show that women also tend to have traditional views of gender roles when it comes to money. For example, earlier this month, a survey conducted by an online dating site found that a whopping 75 percent of women are unlikely to date a guy who's unemployed.
"Not having a job will definitely make it harder for men to date someone they don't already know," said Irene LaCota, spokesperson for the site, It's Just Lunch.

But according to LaCota, the results have less to do with money and more to do with women's concern that the guy is "engaged in activity." Apparently, women view unemployed men as having a lack of drive and ambition. Fair enough, but here's the thing. Unemployment didn't have the same social stigma for women as it did for men. Two thirds of men in the survey said they had no problem dating a woman who's unemployed.
The point is, while these "macho" men could easily be written off for their insular views on gender roles, women often seem to have those same antiquated views.
As a good friend said to me recently, "most of the women I go out with make way more money than me, yet I'm still expected to pay for the date."
Even though I argued relentlessly with him about this, he has a point. Many of us want the traditional gender roles and the double standards to exist, but only if we get to pick and choose when. So can we really blame the machos for feeling threatened? The issue is simply not that simple.
The press release continues:
"The breadwinner role for men is still the accepted norm in marriage, and allows for and supports the husband's power and authority in the family. It is therefore reasonable for a man who earns less than his female partner to feel removed from this traditional gender role, and feel a void because he does not fulfill this role."

Men may have been bringing home the bacon for ages, but if the latest statistics are any indication, it looks like it's time to redefine our roles.
What do you think? Do you expect the man in the relationship to make more? Would you date a man who made substantially less than you?
Photo: Tim Kiusalaas/Getty Images
More on love & sex from MSN Living:
25 Secrets Men Keep From Women
25 Secrets Women Keep From Men
The DOs and DON'Ts of Dating More Than One Guy at a Time
love: friendships, dating, sex & marriage
Two guests arrested in New Jersey.

Celebrities certainly know how to travel in style, so if you're struggling to select a honeymoon destination, look no further than these star-approved hotspots. To make it even easier, we're providing you with hotel recommendations, packing essentials, and tips on what to do and see! So channel your inner celeb at one of these U.S. destinations for an unforgettable vacation!

Tall Twitter users named Wayne, we're on to you!

Should little girls be dreaming of a different kind of "I do"?

Need a reason to pack your bags and get the hell out of here?

After your return from your honeymoon, your marriage officially starts and with that come some changes. It's not to say that the honeymoon phase is over, but you'll have to get some things situated in order to have your marriage start off on the right foot. We tapped the expert advice of wedding planner and reality TV star David Tutera and love and career coach Charreah Jackson to dish on six things you must do to have a successful first month of marriage — from wedding-related logistics to wrap up to relationship rules to set.

Owner of Weddings in Vieques, a destination-wedding planning company off the coast of Puerto Rico, Sandy Malone has helped countless couples plan their big day since 2007. Here, the veteran planner is sharing some expert advice for free: She's sharing the top eight things you have to do right after you get engaged.

Is the idea of a big bridal bash just not your thing? Or perhaps you and your fiancé are just the super spontaneous type, so why not make your next beach vacation your nuptials as well? If you're thinking of eloping but have questions on the mind, we're here to help. We tapped elopement and wedding planner Lindsey Nickel, founder of Events, Etc., for her top dos and don'ts for getting hitched on the sly.

Easy everyday ways to keep the love alive.

Expert tips on moving past those oh-so-familiar arguments.

Sometimes you have to do things you don't want to do, like hang out with his lame friends. You're not always in the mood to nurse a beer silently while he and his boys argue about who's going to die next on "Game of Thrones" — but tomorrow he's sitting through a seven-girl brunch. So.

Why holding on to your partner's mistakes will end up hurting you.