Study: How Household Chores Cause Relationship Stress
For women, gender inequality makes housework worse.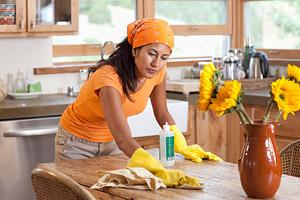 Even the happiest of couples are bound to occasionally argue over whose turn it is to do the dishes. But for some women, the topic of housework might be a little more unsettling. A recent study from Sweden's Umea University revealed that, for some, the issue actually causes psychological distress.
Researchers studied 723 subjects—men and women—and asked them about their relationship issues. At age 21, they found that both men and women had approximately the same level of psychological distress. By age 42, men's stress levels stayed the same, but women reported higher levels of distress. The key contributor? An uneven distribution of chores.
But of course, the issue runs a bit deeper than doing the laundry. The women who tackled most of the housework only experienced "distress" if they also described their relationship as "not gender-equal." The women who felt they were in an equal relationship didn't seem bothered by the fact that they did more housework than their partners.
"The results of this study indicate that it is not only a matter of whether the responsibility for domestic work is equal or not, but also the relational context in which the responsibilities are divided within the couple relationship," the authors wrote.
How did men fare in the study? Researchers found that one of the biggest causes of psychological distress for guys was earning less than their partners.
Psychologist Jill Weber tells WebMD that the findings are unsurprising:
"In general, men who earn less than their wives or who are out of work don't feel respected, and respect is a hot-button issue for men," Weber says.
As for the ladies, Weber says it's not really about the chores.
"It's the feeling that the woman is not getting support from her partner. Inequality often translates as a lack of emotional support."
So basically, a woman isn't as bothered by doing most of the scrubbing, vacuuming, dusting, etc.—if she has an emotionally supportive man by her side.
But I'm guessing it doesn't hurt if he can scrub a toilet, too.
Photo: John Lund/Marc Romanelli/Getty Images
More on love & sex from MSN Living:
How to Reconnect with Your Spouse
10 Fun, Frisky Ways to Spice Up Your Relationship
The Dos and Donts of Sex in 2012
love: friendships, dating, sex & marriage
This time of year, we dust off our holiday traditions of special songs, stories, events and food to make our season bright. Here's a look into the traditional, unique and quirky holiday traditions of some famous couples.

Look, I looooove engagement season for obvious reasons, but even I can admit I'm like, "Really, AGAIN?" when yet ANOTHER engagement ring pops up in my news feed. Seriously, there were two this weekend. (Congrats, Gemma and Danny!)

We asked real men and women (and a few first-base experts, too) to give us the cardinal rules of kissing, tell us what makes someone a good kisser and more. So whether you're leaning in for kiss No. 1 or 1,000, read on.by Devin Tomb

Not quite sure which diamond shape suits your personality? We're here to help.

Dating can lead to all kinds of tricky situations. To help you navigate even the most awkward moments, we've compiled our 50 best dating tips—some new, some old—given to us by experts, moms, women like you, and even Justin Timberlake.

Customers as Madison's new Snuggle House can snuggle with professional cuddlers for $60 an hour.

Can you believe it was only about 15 years ago that engagement ring shopping meant a time-consuming slog from jewelry boutique to jewelry boutique? Thank goodness for the internet; nowadays, it's easy to do all that legwork online.

The holiday season, with all its twinkly lights and fireplaces and cold nights perfect for snuggling, is most definitely for lovers—but "The Single Woman" author Mandy Hale is here to remind you that it's also for singles, too.

Studies show that being satisfied with your romantic relationship is one of the best predictors of happiness -- even more important than education, income, or having a high-status job. Resolve to make 2014 your happiest year yet with these bond-strengthening pledges.

This winter, it's all about mixing unexpected seasonal elements with elegant neutral details and a hint of sparkle and sequins. Take a look.

Here's why dudes without hair make the best boyfriends.

What do you wish you appreciated more when you were flying solo?