Study: How Household Chores Cause Relationship Stress
For women, gender inequality makes housework worse.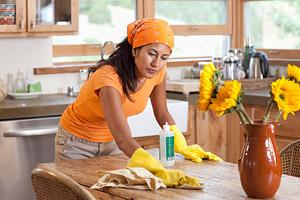 Even the happiest of couples are bound to occasionally argue over whose turn it is to do the dishes. But for some women, the topic of housework might be a little more unsettling. A recent study from Sweden's Umea University revealed that, for some, the issue actually causes psychological distress.
Researchers studied 723 subjects—men and women—and asked them about their relationship issues. At age 21, they found that both men and women had approximately the same level of psychological distress. By age 42, men's stress levels stayed the same, but women reported higher levels of distress. The key contributor? An uneven distribution of chores.
But of course, the issue runs a bit deeper than doing the laundry. The women who tackled most of the housework only experienced "distress" if they also described their relationship as "not gender-equal." The women who felt they were in an equal relationship didn't seem bothered by the fact that they did more housework than their partners.
"The results of this study indicate that it is not only a matter of whether the responsibility for domestic work is equal or not, but also the relational context in which the responsibilities are divided within the couple relationship," the authors wrote.
How did men fare in the study? Researchers found that one of the biggest causes of psychological distress for guys was earning less than their partners.
Psychologist Jill Weber tells WebMD that the findings are unsurprising:
"In general, men who earn less than their wives or who are out of work don't feel respected, and respect is a hot-button issue for men," Weber says.
As for the ladies, Weber says it's not really about the chores.
"It's the feeling that the woman is not getting support from her partner. Inequality often translates as a lack of emotional support."
So basically, a woman isn't as bothered by doing most of the scrubbing, vacuuming, dusting, etc.—if she has an emotionally supportive man by her side.
But I'm guessing it doesn't hurt if he can scrub a toilet, too.
Photo: John Lund/Marc Romanelli/Getty Images
More on love & sex from MSN Living:
How to Reconnect with Your Spouse
10 Fun, Frisky Ways to Spice Up Your Relationship
The Dos and Donts of Sex in 2012
love: friendships, dating, sex & marriage
A new study says we're more open to consensual non-monogamy now than ever before — but does it work?

5 steps to being happy together in the long run.

There has been an exponential increase in the number of people who are questioning their marriage.

We're willing to bet that if you're not already grappling with these wedding-related snags, you will be soon.

Pull out the tissues for these personalized wedding vows.

Forgotten what love is all about? Read this note, and remember.

And a few that aren't so shocking.

If you find yourself doing any of these things, consider changing your behavior or counseling.

From pineapple sculptures made out of sunflowers to bold graphic printed tablecloths, ten trendsetters in the wedding industry shared 100 days' worth of inspiring new wedding details. See The Knot editors' top picks for the coolest and most awe-worthy ideas from the wedding experts.

Those Facebook friends who seem to have perfect lives with flawless mates whom they adore at all times? Even they face tough times like these.

How to flag her little fibs. By Laura Tedesco

A new study on attraction may help explain why fashions change.