Study: How Household Chores Cause Relationship Stress
For women, gender inequality makes housework worse.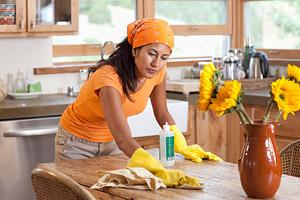 Even the happiest of couples are bound to occasionally argue over whose turn it is to do the dishes. But for some women, the topic of housework might be a little more unsettling. A recent study from Sweden's Umea University revealed that, for some, the issue actually causes psychological distress.
Researchers studied 723 subjects—men and women—and asked them about their relationship issues. At age 21, they found that both men and women had approximately the same level of psychological distress. By age 42, men's stress levels stayed the same, but women reported higher levels of distress. The key contributor? An uneven distribution of chores.
But of course, the issue runs a bit deeper than doing the laundry. The women who tackled most of the housework only experienced "distress" if they also described their relationship as "not gender-equal." The women who felt they were in an equal relationship didn't seem bothered by the fact that they did more housework than their partners.
"The results of this study indicate that it is not only a matter of whether the responsibility for domestic work is equal or not, but also the relational context in which the responsibilities are divided within the couple relationship," the authors wrote.
How did men fare in the study? Researchers found that one of the biggest causes of psychological distress for guys was earning less than their partners.
Psychologist Jill Weber tells WebMD that the findings are unsurprising:
"In general, men who earn less than their wives or who are out of work don't feel respected, and respect is a hot-button issue for men," Weber says.
As for the ladies, Weber says it's not really about the chores.
"It's the feeling that the woman is not getting support from her partner. Inequality often translates as a lack of emotional support."
So basically, a woman isn't as bothered by doing most of the scrubbing, vacuuming, dusting, etc.—if she has an emotionally supportive man by her side.
But I'm guessing it doesn't hurt if he can scrub a toilet, too.
Photo: John Lund/Marc Romanelli/Getty Images
More on love & sex from MSN Living:
How to Reconnect with Your Spouse
10 Fun, Frisky Ways to Spice Up Your Relationship
The Dos and Donts of Sex in 2012
love: friendships, dating, sex & marriage
This just in: Guys over 5'10" are twice as likely to stray.

Or how to tell if you've reached THAT point in your bond.

Dating doesn't have to be a daunting task, promise. Here's how to make it fun for you and him.

This just in: A new study shows girls are warriors in the womb.

You can make a pros and cons list...but ultimately you know what works best for you.

Maggie Reyes is a life coach, writer, and the founder of ModernMarried.com. She helps newlyweds re-think what married life can be. Here, she's revealing tricks every newlywed couple needs to know.

Government-supported Vietnamese classes teach women Korean language, customs.

Whether you're into creative artists or uber-preppy bankers, there's something to be said for trying something new.

Sometimes two characters on a TV show or movie can portray being a happy couple effortlessly, or can have lots of fun playing former spouses — especially if they're married to each other in real life! Keep scrolling for six celebrity costars you probably didn't know tied the knot, even after the bloodiest and craziest story lines.

Some couples want nothing more than a laid-back, by-the-book proposal. Then there are the other couples, where the proposal not only needs to be personalized, it also has to be unique and entirely different than the typical restaurant, bended-knee idea. Sound like you? Then get inspired by some of the most creative proposal ideas we've ever seen. If you find something you like, steal it and then modify it to make your proposal something totally unforgettable.

From Nantucket all the way to Cayo Espanto, we've rounded up some of the prettiest beaches to travel to for your honeymoon.

Researchers studied the age-old stereotype that women really are more talkative than men.