Survey: Meet 'The Perfect Man'
He loves his mom and eats meat.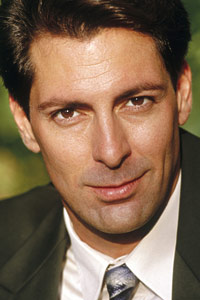 Well, the guys are going to love this one.
While there may be someone out there who's perfect for you, we all know the perfect person simply doesn't exist. Still, researchers wanted to know what qualities women want in men, and their results reveal "the perfect man."
According to the poll by Austin Reed, the perfect man earns about $77K a year, drinks beer and drives an Audi.
But wait, men. Before you get bent out of shape, there's even more.
Women also want men to have stylish clothes, a good body and a clean-shaven face. In fact, in the survey of 2,000 women, they list those qualities as a "must." The hipster beards just aren't cutting it anymore.
The perfect guy also can swim, rides a bike, and makes family his top priority.
Anything else?
Yep. Eighty-six percent of women polled say they want a sensitive man who calls his mom regularly and cries during movies.
According to The Huffington Post, a spokesperson for Austin Reed said:
"It would seem that women have high expectations when it comes to the perfect man. How a man is presented is obviously going to be a huge part of that. While women don't want a man to be too preened, they would like him to be stylish and up to date with current trends."
And we're not even done yet. Women also prefer men to be 6 feet tall with short, dark hair and brown eyes. Can we be any more specific? Yes, we can. He must also be a carnivore.
I, for one, respectfully disagree with these results. Among other "imperfect" traits, my ideal man drives a '97 Nissan and can't swim for crap.
Here's a full list of qualities the perfect man apparently possesses:
6 feet tall
Toned and athletic
Brown eyes
Short dark hair
Smart dress sense
Beer drinker
Non-smoker
Wears smart jeans, shirt and a V-neck jumper
Gets ready in 17 minutes
Stylish
Wants a family
Earns £48,000 ($77,000) a year
Loves shopping
Eats meat
Clean shaven
Smooth chest
Watches soaps
Enjoys watching football
Drives an Audi
Educated to degree level
Earns more than his other half
Jokes around and has a laugh
Sensitive when his wife/girlfriend is upset
Says 'I love you' only when he means it
Admits it when he looks at other women
Has a driver's license
Can swim
Can ride a bike
Can change a tire
Calls mom regularly
Tell us on Facebook: What do you want in the perfect man?

Photo: George Shelley/Getty Images
love: friendships, dating, sex & marriage
New research shows they get divorced at vastly lower rates.

Brad Pitt and Angelina Jolie finally took the plunge, but marriage isn't always a good choice for everyone.

Learn how these surprising tactics can really improve your relationship.

Use these tips to up your chances of finding love.

Find out how paired-off ladies might feel lacking—and how you can make your relationship satisfying.

These signals are seriously subtle, but they can give you real insight into what's going through your husband's mind.

Check which changes are necessary to stay happy together.

We know some of this may sound obvious, but these simple statements can make both of you happier.

Making your relationship more secure, connected, and intimate doesn't have to feel overwhelming. Try these expert tips and reap the rewards now—and in the long run.

For those times when nothing big and horrible happened--but nothing is feeling right either.

What's more fun than animals in weddings? We've rounded up eight of the cutest.

Your puppy is all over your Instagram, Facebook and fridge, so there's no reason not to include him in your engagement pictures too. The best engagement photos give viewers a peek into your life. If you're a dog owner, take this opportunity to show off your pooch, like these 22 couples did! And we can't thank them enough.