Survey: Meet 'The Perfect Man'
He loves his mom and eats meat.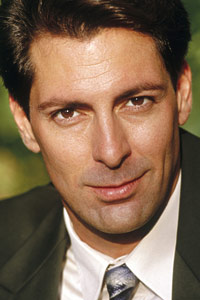 Well, the guys are going to love this one.
While there may be someone out there who's perfect for you, we all know the perfect person simply doesn't exist. Still, researchers wanted to know what qualities women want in men, and their results reveal "the perfect man."
According to the poll by Austin Reed, the perfect man earns about $77K a year, drinks beer and drives an Audi.
But wait, men. Before you get bent out of shape, there's even more.
Women also want men to have stylish clothes, a good body and a clean-shaven face. In fact, in the survey of 2,000 women, they list those qualities as a "must." The hipster beards just aren't cutting it anymore.
The perfect guy also can swim, rides a bike, and makes family his top priority.
Anything else?
Yep. Eighty-six percent of women polled say they want a sensitive man who calls his mom regularly and cries during movies.
According to The Huffington Post, a spokesperson for Austin Reed said:
"It would seem that women have high expectations when it comes to the perfect man. How a man is presented is obviously going to be a huge part of that. While women don't want a man to be too preened, they would like him to be stylish and up to date with current trends."
And we're not even done yet. Women also prefer men to be 6 feet tall with short, dark hair and brown eyes. Can we be any more specific? Yes, we can. He must also be a carnivore.
I, for one, respectfully disagree with these results. Among other "imperfect" traits, my ideal man drives a '97 Nissan and can't swim for crap.
Here's a full list of qualities the perfect man apparently possesses:
6 feet tall
Toned and athletic
Brown eyes
Short dark hair
Smart dress sense
Beer drinker
Non-smoker
Wears smart jeans, shirt and a V-neck jumper
Gets ready in 17 minutes
Stylish
Wants a family
Earns £48,000 ($77,000) a year
Loves shopping
Eats meat
Clean shaven
Smooth chest
Watches soaps
Enjoys watching football
Drives an Audi
Educated to degree level
Earns more than his other half
Jokes around and has a laugh
Sensitive when his wife/girlfriend is upset
Says 'I love you' only when he means it
Admits it when he looks at other women
Has a driver's license
Can swim
Can ride a bike
Can change a tire
Calls mom regularly
Tell us on Facebook: What do you want in the perfect man?

Photo: George Shelley/Getty Images
love: friendships, dating, sex & marriage
Here's why dudes without hair make the best boyfriends.

What do you wish you appreciated more when you were flying solo?

"If you're so busy tweeting and Instagraming, you're not paying attention," New York wedding planner Marcy Blum said. "It's almost a cosmic faux pas. People want your energy with them and focused on what they're doing."

The wedding favor, that little thank-you-for-coming gift, has risen to new heights with the bride and groom giving guests a wide range of favors that are meaningful to them.

Generations ago, planning a wedding was 100 percent the bride's job, but in today's age of gender equity, it's a mere 99 percent.

For all the self-help books and advice columns out there (um, keeping reading my advice anyway, please!), there's one tool we all already have in our arsenal for picking a partner that will keep us happy: our gut instincts.

According to a new study from the University of Texas and the University of California, Los Angeles, both men and women have regrets when it comes to sex, but the genders vary greatly when it comes to what they regret specifically.

Spending time alone with your guy is easy, but going public with your plus-one is another thing entirely. Whether it's your crazy relatives at Thanksgiving dinner or awkward convos with your boss at the holiday party, possible pitfalls are everywhere. Keep reading for tips on how to make his grand entrance into your social life a good thing.

Match.com survey reveals the day you're least likely to get spruced up for a date.

Drinking and relationships seem to go hand in hand in a lot of ways. But only in moderation!

Many men will tell you that they have no clue what their wives are thinking.

Spending the holidays with your guy's family for the first time is a huge relationship milestone. But between your nerves, the usual family tension, and your weird Uncle Sal's inappropriate stories, it's also a prime opportunity for total disaster. Read on for 10 of our readers' most embarrassing meet-the-parents moments.