Survey: Meet 'The Perfect Man'
He loves his mom and eats meat.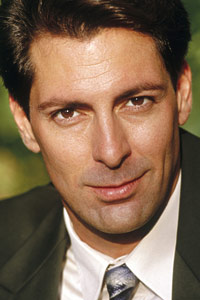 Well, the guys are going to love this one.
While there may be someone out there who's perfect for you, we all know the perfect person simply doesn't exist. Still, researchers wanted to know what qualities women want in men, and their results reveal "the perfect man."
According to the poll by Austin Reed, the perfect man earns about $77K a year, drinks beer and drives an Audi.
But wait, men. Before you get bent out of shape, there's even more.
Women also want men to have stylish clothes, a good body and a clean-shaven face. In fact, in the survey of 2,000 women, they list those qualities as a "must." The hipster beards just aren't cutting it anymore.
The perfect guy also can swim, rides a bike, and makes family his top priority.
Anything else?
Yep. Eighty-six percent of women polled say they want a sensitive man who calls his mom regularly and cries during movies.
According to The Huffington Post, a spokesperson for Austin Reed said:
"It would seem that women have high expectations when it comes to the perfect man. How a man is presented is obviously going to be a huge part of that. While women don't want a man to be too preened, they would like him to be stylish and up to date with current trends."
And we're not even done yet. Women also prefer men to be 6 feet tall with short, dark hair and brown eyes. Can we be any more specific? Yes, we can. He must also be a carnivore.
I, for one, respectfully disagree with these results. Among other "imperfect" traits, my ideal man drives a '97 Nissan and can't swim for crap.
Here's a full list of qualities the perfect man apparently possesses:
6 feet tall
Toned and athletic
Brown eyes
Short dark hair
Smart dress sense
Beer drinker
Non-smoker
Wears smart jeans, shirt and a V-neck jumper
Gets ready in 17 minutes
Stylish
Wants a family
Earns £48,000 ($77,000) a year
Loves shopping
Eats meat
Clean shaven
Smooth chest
Watches soaps
Enjoys watching football
Drives an Audi
Educated to degree level
Earns more than his other half
Jokes around and has a laugh
Sensitive when his wife/girlfriend is upset
Says 'I love you' only when he means it
Admits it when he looks at other women
Has a driver's license
Can swim
Can ride a bike
Can change a tire
Calls mom regularly
Tell us on Facebook: What do you want in the perfect man?

Photo: George Shelley/Getty Images
love: friendships, dating, sex & marriage
Forgotten what love is all about? Read this note, and remember.

And a few that aren't so shocking.

If you find yourself doing any of these things, consider changing your behavior or counseling.

From pineapple sculptures made out of sunflowers to bold graphic printed tablecloths, ten trendsetters in the wedding industry shared 100 days' worth of inspiring new wedding details. See The Knot editors' top picks for the coolest and most awe-worthy ideas from the wedding experts.

Those Facebook friends who seem to have perfect lives with flawless mates whom they adore at all times? Even they face tough times like these.

How to flag her little fibs. By Laura Tedesco

A new study on attraction may help explain why fashions change.

As a general rule, any island that offers great weather year-round is going to attract the most visitors in the winter (high season) when we're all trying to escape the snow. Once summer rolls around, many islands see a sharp drop-off in tourism since many people have beach weather right in their own backyards.

And how you can attack the issues together.

A wedding is an exceptionally special day. Sometimes, an opportune photo flub makes the occasion even more memorable. Here are 25 awesome wedding photo bombs.

Somewhere between the first few butterfly-inducing dates and the committed-for-life stage, there's the period of wondering if you're both on the same page about how serious you feel about a future together. If you're not quite at the point of "that talk" but you're looking for a few clues you're heading in that direction, here are some signs he's in it for the long haul as your relationship progresses.

What's that sound? It's white noise blocking out the well-meaning person proclaiming groundbreaking news about where you can meet someone, asking why you're still single, or bugging you about when you're getting married already. Don't be that person. Here are 15 annoying things all single people don't want to hear.