Survey: Meet 'The Perfect Man'
He loves his mom and eats meat.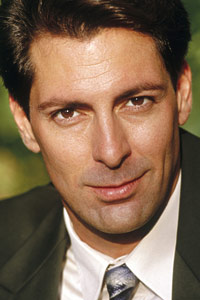 Well, the guys are going to love this one.
While there may be someone out there who's perfect for you, we all know the perfect person simply doesn't exist. Still, researchers wanted to know what qualities women want in men, and their results reveal "the perfect man."
According to the poll by Austin Reed, the perfect man earns about $77K a year, drinks beer and drives an Audi.
But wait, men. Before you get bent out of shape, there's even more.
Women also want men to have stylish clothes, a good body and a clean-shaven face. In fact, in the survey of 2,000 women, they list those qualities as a "must." The hipster beards just aren't cutting it anymore.
The perfect guy also can swim, rides a bike, and makes family his top priority.
Anything else?
Yep. Eighty-six percent of women polled say they want a sensitive man who calls his mom regularly and cries during movies.
According to The Huffington Post, a spokesperson for Austin Reed said:
"It would seem that women have high expectations when it comes to the perfect man. How a man is presented is obviously going to be a huge part of that. While women don't want a man to be too preened, they would like him to be stylish and up to date with current trends."
And we're not even done yet. Women also prefer men to be 6 feet tall with short, dark hair and brown eyes. Can we be any more specific? Yes, we can. He must also be a carnivore.
I, for one, respectfully disagree with these results. Among other "imperfect" traits, my ideal man drives a '97 Nissan and can't swim for crap.
Here's a full list of qualities the perfect man apparently possesses:
6 feet tall
Toned and athletic
Brown eyes
Short dark hair
Smart dress sense
Beer drinker
Non-smoker
Wears smart jeans, shirt and a V-neck jumper
Gets ready in 17 minutes
Stylish
Wants a family
Earns £48,000 ($77,000) a year
Loves shopping
Eats meat
Clean shaven
Smooth chest
Watches soaps
Enjoys watching football
Drives an Audi
Educated to degree level
Earns more than his other half
Jokes around and has a laugh
Sensitive when his wife/girlfriend is upset
Says 'I love you' only when he means it
Admits it when he looks at other women
Has a driver's license
Can swim
Can ride a bike
Can change a tire
Calls mom regularly
Tell us on Facebook: What do you want in the perfect man?

Photo: George Shelley/Getty Images
love: friendships, dating, sex & marriage
Two guests arrested in New Jersey.

Celebrities certainly know how to travel in style, so if you're struggling to select a honeymoon destination, look no further than these star-approved hotspots. To make it even easier, we're providing you with hotel recommendations, packing essentials, and tips on what to do and see! So channel your inner celeb at one of these U.S. destinations for an unforgettable vacation!

Tall Twitter users named Wayne, we're on to you!

Should little girls be dreaming of a different kind of "I do"?

Need a reason to pack your bags and get the hell out of here?

After your return from your honeymoon, your marriage officially starts and with that come some changes. It's not to say that the honeymoon phase is over, but you'll have to get some things situated in order to have your marriage start off on the right foot. We tapped the expert advice of wedding planner and reality TV star David Tutera and love and career coach Charreah Jackson to dish on six things you must do to have a successful first month of marriage — from wedding-related logistics to wrap up to relationship rules to set.

Owner of Weddings in Vieques, a destination-wedding planning company off the coast of Puerto Rico, Sandy Malone has helped countless couples plan their big day since 2007. Here, the veteran planner is sharing some expert advice for free: She's sharing the top eight things you have to do right after you get engaged.

Is the idea of a big bridal bash just not your thing? Or perhaps you and your fiancé are just the super spontaneous type, so why not make your next beach vacation your nuptials as well? If you're thinking of eloping but have questions on the mind, we're here to help. We tapped elopement and wedding planner Lindsey Nickel, founder of Events, Etc., for her top dos and don'ts for getting hitched on the sly.

Easy everyday ways to keep the love alive.

Expert tips on moving past those oh-so-familiar arguments.

Sometimes you have to do things you don't want to do, like hang out with his lame friends. You're not always in the mood to nurse a beer silently while he and his boys argue about who's going to die next on "Game of Thrones" — but tomorrow he's sitting through a seven-girl brunch. So.

Why holding on to your partner's mistakes will end up hurting you.