Survey: Meet 'The Perfect Man'
He loves his mom and eats meat.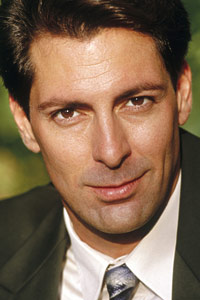 Well, the guys are going to love this one.
While there may be someone out there who's perfect for you, we all know the perfect person simply doesn't exist. Still, researchers wanted to know what qualities women want in men, and their results reveal "the perfect man."
According to the poll by Austin Reed, the perfect man earns about $77K a year, drinks beer and drives an Audi.
But wait, men. Before you get bent out of shape, there's even more.
Women also want men to have stylish clothes, a good body and a clean-shaven face. In fact, in the survey of 2,000 women, they list those qualities as a "must." The hipster beards just aren't cutting it anymore.
The perfect guy also can swim, rides a bike, and makes family his top priority.
Anything else?
Yep. Eighty-six percent of women polled say they want a sensitive man who calls his mom regularly and cries during movies.
According to The Huffington Post, a spokesperson for Austin Reed said:
"It would seem that women have high expectations when it comes to the perfect man. How a man is presented is obviously going to be a huge part of that. While women don't want a man to be too preened, they would like him to be stylish and up to date with current trends."
And we're not even done yet. Women also prefer men to be 6 feet tall with short, dark hair and brown eyes. Can we be any more specific? Yes, we can. He must also be a carnivore.
I, for one, respectfully disagree with these results. Among other "imperfect" traits, my ideal man drives a '97 Nissan and can't swim for crap.
Here's a full list of qualities the perfect man apparently possesses:
6 feet tall
Toned and athletic
Brown eyes
Short dark hair
Smart dress sense
Beer drinker
Non-smoker
Wears smart jeans, shirt and a V-neck jumper
Gets ready in 17 minutes
Stylish
Wants a family
Earns £48,000 ($77,000) a year
Loves shopping
Eats meat
Clean shaven
Smooth chest
Watches soaps
Enjoys watching football
Drives an Audi
Educated to degree level
Earns more than his other half
Jokes around and has a laugh
Sensitive when his wife/girlfriend is upset
Says 'I love you' only when he means it
Admits it when he looks at other women
Has a driver's license
Can swim
Can ride a bike
Can change a tire
Calls mom regularly
Tell us on Facebook: What do you want in the perfect man?

Photo: George Shelley/Getty Images
love: friendships, dating, sex & marriage
It's not that you don't find every little thing about your partner endearing and adorable; it's just that it would have been really, really nice if that map could have been consulted three hours ago.

The typical wedding: A white dress, tiered cake, floral centerpieces and a cute flower girl -- you know the drill. Every once in a while, though, a couple trades in tradition for a quirky, never-seen-that-before idea. Here are a few of the most out-there wedding photos that made us do a double take.

There's a lot to love about weddings this fall, like cocktails served in copper Moscow mule mugs, industrial-inspired lighting and pheasant feather details. See what's new!

Do you have to be engaged to sport a ring with bling?

124.6 million haven't gotten hitched.

Even though the national average wedding is $29,858, that's just an average. If you live in a smaller state like Idaho where the average wedding costs $16,159, you may find yourself saving a little more than half of the national spend! Check out some of the other least expensive cities to get married in below:

Summer is winding down, but the ubiquitous summer romance lives on.

For those times when nothing big and horrible happened--but nothing is feeling right either.

He's confident, distinguished and anywhere from 4 to 20 years older than you. Age is just a number, but there's something about older men that we love. Here are eight reasons why being in a relationship with an older man is tops.

While a younger man may have less life experience, that doesn't mean he's not emotionally mature. Here are the eight reasons why being in a relationship with a younger man is tops.

Have you ever wondered what the 'other woman' was thinking?

So fall is coming and you need some romantic inspiration now that long walks on the beach are out of the question. Well look no further! From apple picking to pumpkin carving, these are some great fall date ideas from girls just like you!