Women Want Two Hours of Romance Per Day
Love comes first, but socializing and the Internet aren't far behind.
According to new research, women want romance in their lives more than anything else. But they do have a time limit for love. Specifically, researchers found that the average woman prefers to spend exactly 106 minutes on romance each day.
Researchers from the University of Bremen and the Georgia Institute of Technology sought to find how the average woman would spend a "perfect day." Romance topped the list.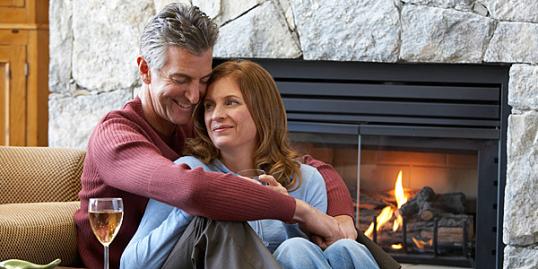 The study's authors, Sebastian Pokutta and Christian Kroll, interviewed 900 women with an average age of 38. They asked those women about their daily activities and how they felt about them. The researchers explained:
"Our research asks what a perfect day would look like if we take into account the crucial fact that even the most pleasurable activities are usually less enjoyable the longer they last and the more often we do them."
Kroll, whose research focuses on "happiness, social capital and quality of life," told MSN's The Heart Beat:

"The study can be used as a starting point for rethinking how we prioritize our time in order to achieve the most happiness. Of course, it does not seem advisable to run around with a stopwatch all day trying to meet the proposed schedule. But the results can provide food for thought about what it is that matters in terms of well-being, especially for women, which might be interesting for men, too."
Related: 50 Things Everyone Should Know About Getting Married
In addition to the 106 minutes of romance, women wanted to spend 48 minutes on the Internet and 82 minutes socializing. Relaxing took up 78 minutes of the perfect day, followed by 75 minutes of eating and 68 minutes of exercise. Sounds like a decent day to me. Minus the exercise part, maybe.
Related: 50 Unique Engagement Rings
Women said if they could be completely hedonistic, they would spend 613 minutes with their partner, 103 minutes socializing and 74 minutes relaxing. 
"Certain activities are attractive because we do them so rarely," researchers said in the paper, published in the Journal of Economic Psychology. "Scarcity can therefore be expected to be a central feature of why we enjoy intimate relations more than work."
Tell us on Facebook: What do you think, ladies – sound about right, or is that too much or too little romance?
Photo: Noel Hendrickson/Getty Images
Bing: Simple ways to be romantic.
More Sex & Love on MSN Living:
30 Diamond Engagement Rings So Sparkly You'll Need Sunglasses
5 Signs a Guy Is Toxic
5 Sexy Steps to Get Out of Your Date Rut
love: friendships, dating, sex & marriage
The typical wedding: A white dress, tiered cake, floral centerpieces and a cute flower girl -- you know the drill. Every once in a while, though, a couple trades in tradition for a quirky, never-seen-that-before idea. Here are a few of the most out-there wedding photos that made us do a double take.

There's a lot to love about weddings this fall, like cocktails served in copper Moscow mule mugs, industrial-inspired lighting and pheasant feather details. See what's new!

Do you have to be engaged to sport a ring with bling?

124.6 million haven't gotten hitched.

Even though the national average wedding is $29,858, that's just an average. If you live in a smaller state like Idaho where the average wedding costs $16,159, you may find yourself saving a little more than half of the national spend! Check out some of the other least expensive cities to get married in below:

Summer is winding down, but the ubiquitous summer romance lives on.

For those times when nothing big and horrible happened--but nothing is feeling right either.

He's confident, distinguished and anywhere from 4 to 20 years older than you. Age is just a number, but there's something about older men that we love. Here are eight reasons why being in a relationship with an older man is tops.

While a younger man may have less life experience, that doesn't mean he's not emotionally mature. Here are the eight reasons why being in a relationship with a younger man is tops.

Have you ever wondered what the 'other woman' was thinking?

So fall is coming and you need some romantic inspiration now that long walks on the beach are out of the question. Well look no further! From apple picking to pumpkin carving, these are some great fall date ideas from girls just like you!

Getting bored of the same dinner and movie date night? Take an adorable cue from your favorite celebs and try something new! From dancing to boxing you can't go wrong with these awesome date ideas.