Shacking Up No Longer a Major Divorce Predictor
Yet another reason to live in sin.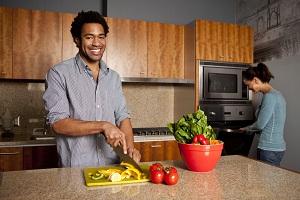 A new government study finds that men and women who live together before marriage no longer run a higher risk of divorcing like they did in years past.
Oh, but I should mention….being engaged helps.
"[Living together before marriage] is not playing as big a role in predicting divorce as it used to," said Casey Copen, the lead author of the study.
But the study, which surveyed 22,000 men and women, found that the divorce rate is higher if the shacking up couple isn't engaged. So if you're living together and marriage isn't in the works, but you do eventually end up getting married, that marriage is more likely to end. How much more likely? About 7 percent.
If a couple is living together without an engagement, the chance of the marriage lasting more than 15 years is 53 percent. For an engaged couple living together, that number is 60 percent.
To explain the trend, Copen said the non-engaged couples might not take commitment seriously or have family histories that made them pessimistic about marriage.
So commitment seems to be the key word here.
Hillary Mickell first moved in with her husband when they were both students at Boston University. They now live in San Francisco.
"I sort of knew he would be part of my life long-term," Hilary says of moving in with her husband before they were married. "I wasn't thinking, `He's moving in with me, is he ever going to marry me?'"
So it looks like living in sin won't hurt your marriage…as long as you do plan on getting married.
Other interesting statistics from the study:
* Men and women with Bachelor's degrees are more likely to stay married for at least 20 years. However, they also delay marriage.
* Asian women are more likely than other races to have a first marriage lasting longer than 20 years.
love: friendships, dating, sex & marriage
We know some of this may sound obvious, but these simple statements can make both of you happier.

Making your relationship more secure, connected, and intimate doesn't have to feel overwhelming. Try these expert tips and reap the rewards now—and in the long run.

For those times when nothing big and horrible happened--but nothing is feeling right either.

What's more fun than animals in weddings? We've rounded up eight of the cutest.

Your puppy is all over your Instagram, Facebook and fridge, so there's no reason not to include him in your engagement pictures too. The best engagement photos give viewers a peek into your life. If you're a dog owner, take this opportunity to show off your pooch, like these 22 couples did! And we can't thank them enough.

Our married blogger gets real about checking out other guys when you're taken.

He's confident, distinguished and anywhere from 4 to 20 years older than you. Age is just a number, but there's something about older men that we love. Here are eight reasons why being in a relationship with an older man is tops.

While a younger man may have less life experience, that doesn't mean he's not emotionally mature. Here are the eight reasons why being in a relationship with a younger man is tops.

While we do love crazy, funny and over-the-top engagements, sometimes there's just nothing like a proposal with a heartfelt story behind it (warning: you might need some tissues). We've rounded up some of the most romantic wedding proposals from couples across the country, so keep scrolling for seven of our favorites:

As much as you'd like to think your guests will love every single aspect of your wedding, the truth is you really can't please everyone. However, you can try to avoid ticking them off. Here's how.

You'd think brides and grooms who celebrate their nuptials with 50 guests have an equal shot at wedded bliss as those who invite 500, but apparently not.

Because some things are just better with a buddy (whom you happen to be dating).