Bride Avoided Mirrors for an Entire Year
An experiment in boosting self-esteem and avoiding vanity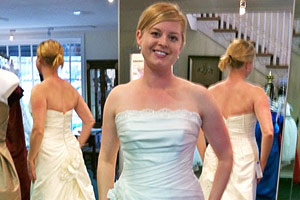 "I definitely have mascara on my nose a lot more frequently than I used to," Kjerstin Gruys tells ABC News' Robin Roberts.
Gruys is a 29-year-old Ph.D. student who conducts research on beauty and its social implications. Last year, in the midst of preparing for her wedding, Gruys made the decision to avoid her own reflection for an entire year. It started as a way to deal with stress and quickly turned into an experiment in dealing with self-esteem, vanity and social inequality.
In her blog, Mirror, Mirror Off the Wall, Kjerstin made a list of rules she vowed to follow from March 26, 2011, until March 25, 2012.
"Of course I use my rear and side-view mirrors when driving," Gruys explains. "I just can't use them to check myself out!"
She does allow herself to check out her own shadow, but she can't look at reflective surfaces.
"Window shopping has become very tricky," Kjerstin explains in her blog.
The project started when Kjerstin, who was then a bride-to-be, began shopping for wedding dresses. She told ABC News:
"I thought I was going to find a dress that somehow fulfilled every dream, and that I'd enjoy the process of shopping for dresses; I'd feel my most beautiful. I'd find this perfect dress that complimented my body."
But the experience ended up causing her a great deal of stress.
"I saw myself in the mirror and was being critical. I thought, 'Well, maybe I should lose a little weight before the wedding…'"
Kjerstin explains that she then read a passage from Sarah Dunant's The Birth of Venus, and it influenced her mirror-free decision. The book describes a group of nuns in Renaissance Italy who were restricted from having mirrors in their lives.
"This idea of living your life experiencing the world for itself instead of constantly reflecting, you know, pun intended, on how you looked....It was a life where you could get away from yourself," Kjerstin said.
She explains that the idea was to get away from the obsession with perfectionism and to instead focus on other aspects of her life. On her wedding day, Kjerstin was knee-deep in the experiment. But she stuck to her rules, and managed to continue with the project on the one day that most women likely look at their reflection the most. 
"I'm getting my focus back to thinking about the real meaning of the day, which isn't how I look but marrying the love of my life," Kjerstin said.
Of course, the experiment had its drawbacks, mascara on the nose being one. But, as Kjerstin pointed out, that didn't affect her life much. Learning to focus on feelings rather than looks has undoubtedly had a bigger impact.
Kjerstin's shopping-induced stress isn't uncommon, and her mirror-free decision might seem extreme to some, but it's nothing compared to some brides' solutions. One woman explained her experience to the New York Daily News:
"A month before my wedding I panicked and bought diet pills as a quick fix. They were full of caffeine and with all the stress of wedding planning, left me feeling so jittery and nauseous that after a week I decided to try will power instead. I tried to cut everything out of my diet except 800 calories' worth of vegetables, meat and fruit per day. I felt so tired and hungry that as soon as someone bought doughnuts at work, I crumbled. By the time my wedding day arrived, I hadn't actually lost any weight at all."
And earlier this year, a new wedding-day diet trend made headlines: the K-E Diet. It promised brides could lose an average of 20 pounds in only ten days. It also involved a feeding tube inserted through the nose and into the stomach.
The Heart Beat talked to Veronica Trebels, regional manager of La Soie Bridal. She confirmed that dress shopping is often a major source of stress for many brides-to-be. Trebels offers her advice:
"Be open-minded," Trebels says, adding that many brides often have a particular silhouette in mind. Many times, there are other silhouettes that are better suited for them.
Another tip to reduce dress-shopping stress is "to look at pictures. Because the dress might photograph different than it looks in person." Trebels also tells brides to "consider your budget. Money is another reason why brides usually get stressed out."
And lastly, she advises to keep the entourage to a minimum while you're dress shopping. Many brides bring in ten or more people, and having all of those opinions flying at you only adds to an already stressful day.
And if all that doesn't work, you can always avoid mirrors for an entire year. Sure, shopping without a reflection is a tough task, but Kjerstin found there was another benefit to that:
"I think not looking in the mirror has been good for my budget."
What do you think? Could you avoid your own reflection for an entire year?
Photo: Courtesy of  Kjerstin Gruys
More Love & Sex from MSN Living:
Breaking Up: The Dos and Don'ts of Calling it Quits
10 Questions to Change Your Marriage
Men's Secret Bedroom Fears
Are you sure you want to delete this comment?
love: friendships, dating, sex & marriage
Sometimes you have to do things you don't want to do, like hang out with his lame friends. You're not always in the mood to nurse a beer silently while he and his boys argue about who's going to die next on "Game of Thrones" — but tomorrow he's sitting through a seven-girl brunch. So.

Why holding on to your partner's mistakes will end up hurting you.

A little extra effort, will power and research can help your marriage bloom well into old age.

These are the conversations all betrothed couples should take the time to have before they get hitched.

Brace yourself, this is uncomfortable.

There's nothing wrong with grabbing Italian food and alternating between watching action films and romantic comedies, but shaking up your going-out routine with an extreme date night can be the ultimate turn on and the best way to keep your relationship exciting.

This just in: Guys over 5'10" are twice as likely to stray.

Or how to tell if you've reached THAT point in your bond.

Dating doesn't have to be a daunting task, promise. Here's how to make it fun for you and him.

This just in: A new study shows girls are warriors in the womb.

You can make a pros and cons list...but ultimately you know what works best for you.

Maggie Reyes is a life coach, writer, and the founder of ModernMarried.com. She helps newlyweds re-think what married life can be. Here, she's revealing tricks every newlywed couple needs to know.