Romance fades three and a half years into marriage
Wedded bliss has an expiration date, according to a recent study.
When is the honeymoon officially over? Three and a half years into marriage, a new study says.
Two thousand married adults were polled about their marriage and romance habits, and researchers found that couples generally start taking each other for granted three years and six months into their marriage.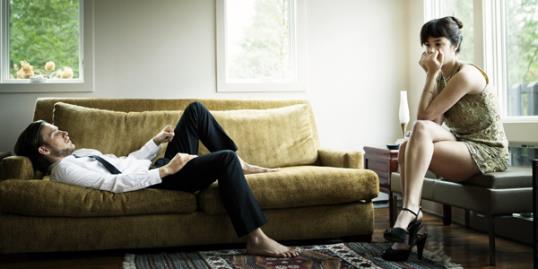 More on MSN Living: Best Valentine's Day gifts on Pinterest
It might sound like a depressing statistic, but 75 percent of those surveyed said they felt this was "normal." In fact, only 43 percent of respondents considered taking a partner for granted to be a bad thing.
Co-operative Food commissioned the study, and spokesperson Kate Jones told The Heart Beat:
"Once the honeymoon period is over, couples often let bad habits take over and forget to go the extra mile to make each other happy. Although it's completely normal to relax in your partner's company, and many couples could see these things as a sign of intimacy, it's great to keep that spark alive at the same time. The relationship with your partner needs just as much TLC as those with your friends, family or colleagues."
More on MSN Living: 10 tips for a sexy and romantic Valentine's Day
At the three and a half year mark, couples adopt quite a few bad relationship habits—forgetting anniversaries, for example. Couples also begin to eat at different times and ditch conversation in favor of watching TV.
"Bad habits begin to creep into the relationship, such as breaking wind in front of each other, showering less, women forgetting to shave their legs, not closing the bathroom door when using the toilet and leaving the toilet seat up," Jones said.

Nine out of ten people in the study attributed their lackluster relationship behavior to being comfortable with their partner. So maybe the romance doesn't fade; maybe it just transforms—82 percent of couples say, despite getting too comfortable, they're happy with their marriage.
Based on their study, Co-operative Food put together a list of signs that you've gotten too comfortable in your marriage. Check it out and tell us if you're guilty.
Top 10 signs of being taken for granted:
Opting to sleep rather than having sex.

Lack of 'date nights'.

You forget to say "I love you" everyday.

You stop kissing each other goodbye.

Go to bed at different times.

Don't cuddle up on the sofa in the evening anymore.

Dressing down in tracksuit bottoms before the other half gets home.

No longer bothering with Valentine's Day.

Assuming you'll do all the chores.

Breaking wind when partner is around.

Readers: Would you like to be featured in an upcoming MSN Living slideshow? Email a photo of your engagement ring to msnlivingmail@micros​oft.com. Please include your name, city and state plus a little about your proposal. By submitting your photographs, you agree to the following.
More from The Heart Beat:


Study: Yup, lots of women fake orgasms
Study: Couples cuddle eight times a week
World's longest-married couple share their secrets
Love content like this? Friend us on Facebook, follow us on Twitter and find us on Pinterest   
Photo: Cavan Images/Getty Images

love: friendships, dating, sex & marriage
The outlandish things we do for love have no limits; just ask these guys. Who's hugged the longest? Kissed the longest? Been on the most expensive date? Take a look below as we count down the world's most loving record-breakers.

If you just got engaged, congrats! This is seriously exciting news that deserves lots of congratulatory hugs, "oohing" and "ahhing" over the ring and plenty of bubbly. To make sure you get the right response from friends, family and coworkers, avoid announcing your engagement like this…

Ladies, give yourself the best gift of all this season: The NYC Taxi Driver 2014 Calendar. By Michelle Toglia

Pheromones may be the key to finding your perfect match.

Her partner? Wine? Downtime? Find out where it all ranks.

This time of year, we dust off our holiday traditions of special songs, stories, events and food to make our season bright. Here's a look into the traditional, unique and quirky holiday traditions of some famous couples.

Look, I looooove engagement season for obvious reasons, but even I can admit I'm like, "Really, AGAIN?" when yet ANOTHER engagement ring pops up in my news feed. Seriously, there were two this weekend. (Congrats, Gemma and Danny!)

We asked real men and women (and a few first-base experts, too) to give us the cardinal rules of kissing, tell us what makes someone a good kisser and more. So whether you're leaning in for kiss No. 1 or 1,000, read on.by Devin Tomb

Not quite sure which diamond shape suits your personality? We're here to help.

Dating can lead to all kinds of tricky situations. To help you navigate even the most awkward moments, we've compiled our 50 best dating tips—some new, some old—given to us by experts, moms, women like you, and even Justin Timberlake.

Customers as Madison's new Snuggle House can snuggle with professional cuddlers for $60 an hour.

Can you believe it was only about 15 years ago that engagement ring shopping meant a time-consuming slog from jewelry boutique to jewelry boutique? Thank goodness for the internet; nowadays, it's easy to do all that legwork online.