Romance fades three and a half years into marriage
Wedded bliss has an expiration date, according to a recent study.
When is the honeymoon officially over? Three and a half years into marriage, a new study says.
Two thousand married adults were polled about their marriage and romance habits, and researchers found that couples generally start taking each other for granted three years and six months into their marriage.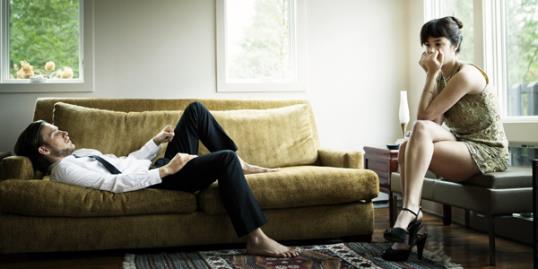 More on MSN Living: Best Valentine's Day gifts on Pinterest
It might sound like a depressing statistic, but 75 percent of those surveyed said they felt this was "normal." In fact, only 43 percent of respondents considered taking a partner for granted to be a bad thing.
Co-operative Food commissioned the study, and spokesperson Kate Jones told The Heart Beat:
"Once the honeymoon period is over, couples often let bad habits take over and forget to go the extra mile to make each other happy. Although it's completely normal to relax in your partner's company, and many couples could see these things as a sign of intimacy, it's great to keep that spark alive at the same time. The relationship with your partner needs just as much TLC as those with your friends, family or colleagues."
More on MSN Living: 10 tips for a sexy and romantic Valentine's Day
At the three and a half year mark, couples adopt quite a few bad relationship habits—forgetting anniversaries, for example. Couples also begin to eat at different times and ditch conversation in favor of watching TV.
"Bad habits begin to creep into the relationship, such as breaking wind in front of each other, showering less, women forgetting to shave their legs, not closing the bathroom door when using the toilet and leaving the toilet seat up," Jones said.

Nine out of ten people in the study attributed their lackluster relationship behavior to being comfortable with their partner. So maybe the romance doesn't fade; maybe it just transforms—82 percent of couples say, despite getting too comfortable, they're happy with their marriage.
Based on their study, Co-operative Food put together a list of signs that you've gotten too comfortable in your marriage. Check it out and tell us if you're guilty.
Top 10 signs of being taken for granted:
Opting to sleep rather than having sex.

Lack of 'date nights'.

You forget to say "I love you" everyday.

You stop kissing each other goodbye.

Go to bed at different times.

Don't cuddle up on the sofa in the evening anymore.

Dressing down in tracksuit bottoms before the other half gets home.

No longer bothering with Valentine's Day.

Assuming you'll do all the chores.

Breaking wind when partner is around.

Readers: Would you like to be featured in an upcoming MSN Living slideshow? Email a photo of your engagement ring to msnlivingmail@micros​oft.com. Please include your name, city and state plus a little about your proposal. By submitting your photographs, you agree to the following.
More from The Heart Beat:


Study: Yup, lots of women fake orgasms
Study: Couples cuddle eight times a week
World's longest-married couple share their secrets
Love content like this? Friend us on Facebook, follow us on Twitter and find us on Pinterest   
Photo: Cavan Images/Getty Images


I consider our relationship to be in the 25%! We've been married for over 43 years and still are best friends. We take care of each other. We treat each other the way we would want to be treated ourselves. We know we have each others back and trust. We work hard and do most things together. We respect each other and consider the others feelings before we do something. We talk to each other about everything. We share household chores. We don't pay attention to what people think and don't let other opinions affect what we do or how we do it. I have read that marriage is hard work, we don't think of it that way. We care for each other and marriage just happens.
Are you sure you want to delete this comment?
love: friendships, dating, sex & marriage
No sense in wasting your time on someone who will never commit.

There he is, the man of your dreams. He's sitting across from you at the coffee shop or standing at the opposite side of the bar. His eyes meet yours, a quick glance, and then it's back to his drink. Was he giving you a signal?

Remember that time on "30 Rock" when Liz Lemon and her eventual-husband Criss went shopping at Ikea, only to end up in a major fight? We know it couldn't be closer to the truth because we've all been there. In honor of the irritation that can be Ikea, here are the top fights you'll likely encounter.

Love it or hate it, the selfie wields much power.

Dating doesn't have to be a daunting task, promise. Here's how to make it fun for you and him.

One woman's honest journey to divorce will break your heart and inspire you at the same time.

Want to send your date running? Try one these moves.

Two guests arrested in New Jersey.

Celebrities certainly know how to travel in style, so if you're struggling to select a honeymoon destination, look no further than these star-approved hotspots. To make it even easier, we're providing you with hotel recommendations, packing essentials, and tips on what to do and see! So channel your inner celeb at one of these U.S. destinations for an unforgettable vacation!

Tall Twitter users named Wayne, we're on to you!

Should little girls be dreaming of a different kind of "I do"?

Need a reason to pack your bags and get the hell out of here?