10 years later, brides still mad at lack of gifts
After a decade, some brides still hold grudges.
The New York Times recently profiled a series of women who, 10 years after their weddings, can't forget the gifts they didn't get. Etiquette expert Jodi R.R. Smith told the paper:
"You could talk to a 98-year-old woman and she won't be able to tell you what song she danced to at her wedding, but she can tell you who didn't give her a gift."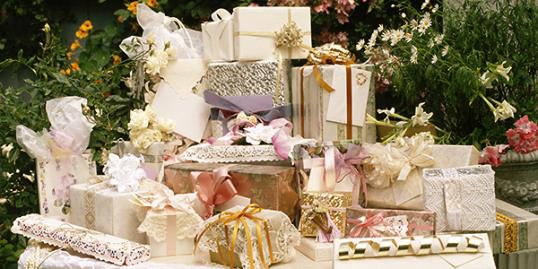 MSN Living: Real women spill their best-kept beauty secrets
Wendy Kaufman, for example, married in 2004. Three hundred guests attended her wedding, and she still remembers the three people who didn't bring a gift. One of the no-gifting guests was the son of her college sweetheart, another was her parents' rich friend who "drank her face off at the wedding," and finally, there was a colleague:
"When I see her at events I want to blurt out: 'You cheap jerk. How can you sit here and have a conversation with me?'" Kaufman told the paper.
Bing: Things to never do at a wedding
Smith says gifts can be symbolic of the guest's relationship with the bride and groom.
"It's hurtful if this is someone I really cared about, who I thought was a great friend, who made the cut to come to my wedding, and she doesn't do the right thing."
What do you think of brides who hold grudges — is it understandable or just plain petty?
MSN Living:  Bride plans wedding 10 years before meeting her groom
More from The Heart Beat:
Photo: Art Montes De Oca/Getty Images
love: friendships, dating, sex & marriage
It's wedding season! Let's take a look back at when these stunning celebs put on gorgeous gowns and held beautiful bouquets in support of their friends' and family members' big days.

A new study says we're more open to consensual non-monogamy now than ever before — but does it work?

5 steps to being happy together in the long run.

There has been an exponential increase in the number of people who are questioning their marriage.

We're willing to bet that if you're not already grappling with these wedding-related snags, you will be soon.

Pull out the tissues for these personalized wedding vows.

Forgotten what love is all about? Read this note, and remember.

And a few that aren't so shocking.

If you find yourself doing any of these things, consider changing your behavior or counseling.

From pineapple sculptures made out of sunflowers to bold graphic printed tablecloths, ten trendsetters in the wedding industry shared 100 days' worth of inspiring new wedding details. See The Knot editors' top picks for the coolest and most awe-worthy ideas from the wedding experts.

Those Facebook friends who seem to have perfect lives with flawless mates whom they adore at all times? Even they face tough times like these.

How to flag her little fibs. By Laura Tedesco