10 years later, brides still mad at lack of gifts
After a decade, some brides still hold grudges.
The New York Times recently profiled a series of women who, 10 years after their weddings, can't forget the gifts they didn't get. Etiquette expert Jodi R.R. Smith told the paper:
"You could talk to a 98-year-old woman and she won't be able to tell you what song she danced to at her wedding, but she can tell you who didn't give her a gift."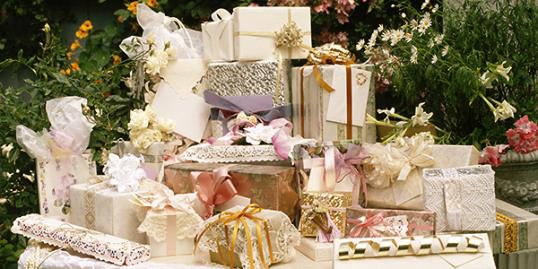 MSN Living: Real women spill their best-kept beauty secrets
Wendy Kaufman, for example, married in 2004. Three hundred guests attended her wedding, and she still remembers the three people who didn't bring a gift. One of the no-gifting guests was the son of her college sweetheart, another was her parents' rich friend who "drank her face off at the wedding," and finally, there was a colleague:
"When I see her at events I want to blurt out: 'You cheap jerk. How can you sit here and have a conversation with me?'" Kaufman told the paper.
Bing: Things to never do at a wedding
Smith says gifts can be symbolic of the guest's relationship with the bride and groom.
"It's hurtful if this is someone I really cared about, who I thought was a great friend, who made the cut to come to my wedding, and she doesn't do the right thing."
What do you think of brides who hold grudges — is it understandable or just plain petty?
MSN Living:  Bride plans wedding 10 years before meeting her groom
More from The Heart Beat:
Photo: Art Montes De Oca/Getty Images
love: friendships, dating, sex & marriage
New research shows they get divorced at vastly lower rates.

Brad Pitt and Angelina Jolie finally took the plunge, but marriage isn't always a good choice for everyone.

Learn how these surprising tactics can really improve your relationship.

Use these tips to up your chances of finding love.

Find out how paired-off ladies might feel lacking—and how you can make your relationship satisfying.

These signals are seriously subtle, but they can give you real insight into what's going through your husband's mind.

Check which changes are necessary to stay happy together.

We know some of this may sound obvious, but these simple statements can make both of you happier.

Making your relationship more secure, connected, and intimate doesn't have to feel overwhelming. Try these expert tips and reap the rewards now—and in the long run.

For those times when nothing big and horrible happened--but nothing is feeling right either.

What's more fun than animals in weddings? We've rounded up eight of the cutest.

Your puppy is all over your Instagram, Facebook and fridge, so there's no reason not to include him in your engagement pictures too. The best engagement photos give viewers a peek into your life. If you're a dog owner, take this opportunity to show off your pooch, like these 22 couples did! And we can't thank them enough.