Cheating Husbands Feel 'Dethroned' By Kids?
Or is this just another excuse for bad behavior?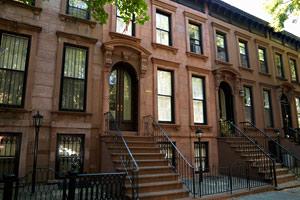 There's a theory that men cheat because of the "dethroning" effect. Basically, they have children, and their wives begin to shift focus from them onto the kids. The men then end up feeling replaced and useless, and, according to the theory, that's when they decide to take their business elsewhere.
Relationship coach LiYana Silver further explained the effect in a video on Huffington Post last week.
"Acknowledgement and appreciation...it's like this very important kind of man food, and when he doesn't get it… he'll find someone he will feel appreciated with."
As with any theory, not everyone is buying it. The other perspective is that it's just an excuse to enable bad behavior, and, as Hugo Schwyzer of Jezebel puts it: "It's exasperating that Silver is blaming wives and girlfriends for male infidelity."
Cheating site Ashley Madison recently revealed that family-friendly neighborhood Prospect Park is home to more cheating spouses than any other New York City neighborhood. CEO Noel Biderman added that women are cheating more than ever, explaining that women and men cheat for different reasons. His explanation seems to support dethroning:

"For women, the more successful they are, the more likely they are to cheat. For men, we've found that infidelity usually comes into play when children come on to the scene."
Take into consideration that Ashley Madison's slogan is: Life is short. Have an affair®. They're not exactly encouraging restraint.
In her Huffington Post video, Silver urges wives and girlfriends to become the "appreciator."
It's always good advice to appreciate your loved ones, but the question in the video is 'why do men cheat?' Isn't 'because you're not the appreciator' an unfair answer?
Some, like blogger Dan Seitz of GuySpeak.com, think there's a much simpler explanation for cheating.
"In other words, it's because he's a jerk...'Dethroning' is just passing the buck for your crappy behavior, and worse, blaming somebody who can't fight back."
What do you think? Is the explanation for cheating that simple?
Photo: Panoramic Images/Getty Images

love: friendships, dating, sex & marriage
The outlandish things we do for love have no limits; just ask these guys. Love makes us do some pretty crazy things. And sometimes, we feel the need to prove it to the entire world. And no, we don't mean getting a tattoo of your partner's name on your leg or proposing on the big screen at the Yankee game. We mean renewing your marriage vows 101 times or making out for 58 hours. Who would go to such extremes you ask? Meet the Guinness World Record-holders in all-things love. They gave up sleep, food and even going to the bathroom alone, all in the name of loving longer than anyone else. Who's hugged the longest? Kissed the longest? Been on the most expensive date? Take a look below as we count down the world's most loving record-breakers.

Her partner? Wine? Downtime? Find out where it all ranks.

Pheromones *may* be the key to finding your perfect match.

This time of year, we dust off our holiday traditions of special songs, stories, events and food to make our season bright. Here's a look into the traditional, unique and quirky holiday traditions of some famous couples.

Look, I looooove engagement season for obvious reasons, but even I can admit I'm like, "Really, AGAIN?" when yet ANOTHER engagement ring pops up in my news feed. Seriously, there were two this weekend. (Congrats, Gemma and Danny!)

We asked real men and women (and a few first-base experts, too) to give us the cardinal rules of kissing, tell us what makes someone a good kisser and more. So whether you're leaning in for kiss No. 1 or 1,000, read on.by Devin Tomb

Not quite sure which diamond shape suits your personality? We're here to help.

Dating can lead to all kinds of tricky situations. To help you navigate even the most awkward moments, we've compiled our 50 best dating tips—some new, some old—given to us by experts, moms, women like you, and even Justin Timberlake.

Customers as Madison's new Snuggle House can snuggle with professional cuddlers for $60 an hour.

Can you believe it was only about 15 years ago that engagement ring shopping meant a time-consuming slog from jewelry boutique to jewelry boutique? Thank goodness for the internet; nowadays, it's easy to do all that legwork online.

The holiday season, with all its twinkly lights and fireplaces and cold nights perfect for snuggling, is most definitely for lovers—but "The Single Woman" author Mandy Hale is here to remind you that it's also for singles, too.

Studies show that being satisfied with your romantic relationship is one of the best predictors of happiness -- even more important than education, income, or having a high-status job. Resolve to make 2014 your happiest year yet with these bond-strengthening pledges.