Cheating Husbands Feel 'Dethroned' By Kids?
Or is this just another excuse for bad behavior?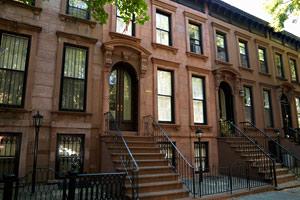 There's a theory that men cheat because of the "dethroning" effect. Basically, they have children, and their wives begin to shift focus from them onto the kids. The men then end up feeling replaced and useless, and, according to the theory, that's when they decide to take their business elsewhere.
Relationship coach LiYana Silver further explained the effect in a video on Huffington Post last week.
"Acknowledgement and appreciation...it's like this very important kind of man food, and when he doesn't get it… he'll find someone he will feel appreciated with."
As with any theory, not everyone is buying it. The other perspective is that it's just an excuse to enable bad behavior, and, as Hugo Schwyzer of Jezebel puts it: "It's exasperating that Silver is blaming wives and girlfriends for male infidelity."
Cheating site Ashley Madison recently revealed that family-friendly neighborhood Prospect Park is home to more cheating spouses than any other New York City neighborhood. CEO Noel Biderman added that women are cheating more than ever, explaining that women and men cheat for different reasons. His explanation seems to support dethroning:

"For women, the more successful they are, the more likely they are to cheat. For men, we've found that infidelity usually comes into play when children come on to the scene."
Take into consideration that Ashley Madison's slogan is: Life is short. Have an affair®. They're not exactly encouraging restraint.
In her Huffington Post video, Silver urges wives and girlfriends to become the "appreciator."
It's always good advice to appreciate your loved ones, but the question in the video is 'why do men cheat?' Isn't 'because you're not the appreciator' an unfair answer?
Some, like blogger Dan Seitz of GuySpeak.com, think there's a much simpler explanation for cheating.
"In other words, it's because he's a jerk...'Dethroning' is just passing the buck for your crappy behavior, and worse, blaming somebody who can't fight back."
What do you think? Is the explanation for cheating that simple?
Photo: Panoramic Images/Getty Images

love: friendships, dating, sex & marriage
Love it or hate it, the selfie wields much power.

Talk about some blurred lines.

Come on people, it's not that hard to mind your own business.

No sense in wasting your time on someone who will never commit.

There he is, the man of your dreams. He's sitting across from you at the coffee shop or standing at the opposite side of the bar. His eyes meet yours, a quick glance, and then it's back to his drink. Was he giving you a signal?

Remember that time on "30 Rock" when Liz Lemon and her eventual-husband Criss went shopping at Ikea, only to end up in a major fight? We know it couldn't be closer to the truth because we've all been there. In honor of the irritation that can be Ikea, here are the top fights you'll likely encounter.

Dating doesn't have to be a daunting task, promise. Here's how to make it fun for you and him.

One woman's honest journey to divorce will break your heart and inspire you at the same time.

Want to send your date running? Try one these moves.

Two guests arrested in New Jersey.

Celebrities certainly know how to travel in style, so if you're struggling to select a honeymoon destination, look no further than these star-approved hotspots. To make it even easier, we're providing you with hotel recommendations, packing essentials, and tips on what to do and see! So channel your inner celeb at one of these U.S. destinations for an unforgettable vacation!

Tall Twitter users named Wayne, we're on to you!