Cheating Husbands Feel 'Dethroned' By Kids?
Or is this just another excuse for bad behavior?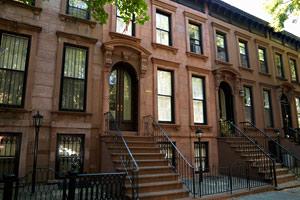 There's a theory that men cheat because of the "dethroning" effect. Basically, they have children, and their wives begin to shift focus from them onto the kids. The men then end up feeling replaced and useless, and, according to the theory, that's when they decide to take their business elsewhere.
Relationship coach LiYana Silver further explained the effect in a video on Huffington Post last week.
"Acknowledgement and appreciation...it's like this very important kind of man food, and when he doesn't get it… he'll find someone he will feel appreciated with."
As with any theory, not everyone is buying it. The other perspective is that it's just an excuse to enable bad behavior, and, as Hugo Schwyzer of Jezebel puts it: "It's exasperating that Silver is blaming wives and girlfriends for male infidelity."
Cheating site Ashley Madison recently revealed that family-friendly neighborhood Prospect Park is home to more cheating spouses than any other New York City neighborhood. CEO Noel Biderman added that women are cheating more than ever, explaining that women and men cheat for different reasons. His explanation seems to support dethroning:

"For women, the more successful they are, the more likely they are to cheat. For men, we've found that infidelity usually comes into play when children come on to the scene."
Take into consideration that Ashley Madison's slogan is: Life is short. Have an affair®. They're not exactly encouraging restraint.
In her Huffington Post video, Silver urges wives and girlfriends to become the "appreciator."
It's always good advice to appreciate your loved ones, but the question in the video is 'why do men cheat?' Isn't 'because you're not the appreciator' an unfair answer?
Some, like blogger Dan Seitz of GuySpeak.com, think there's a much simpler explanation for cheating.
"In other words, it's because he's a jerk...'Dethroning' is just passing the buck for your crappy behavior, and worse, blaming somebody who can't fight back."
What do you think? Is the explanation for cheating that simple?
Photo: Panoramic Images/Getty Images

love: friendships, dating, sex & marriage
Brad Pitt and Angelina Jolie finally took the plunge, but marriage isn't always a good choice for everyone.

Learn how these surprising tactics can really improve your relationship.

Use these tips to up your chances of finding love.

Find out how paired-off ladies might feel lacking—and how you can make your relationship satisfying.

These signals are seriously subtle, but they can give you real insight into what's going through your husband's mind.

Check which changes are necessary to stay happy together.

We know some of this may sound obvious, but these simple statements can make both of you happier.

Making your relationship more secure, connected, and intimate doesn't have to feel overwhelming. Try these expert tips and reap the rewards now—and in the long run.

For those times when nothing big and horrible happened--but nothing is feeling right either.

What's more fun than animals in weddings? We've rounded up eight of the cutest.

Your puppy is all over your Instagram, Facebook and fridge, so there's no reason not to include him in your engagement pictures too. The best engagement photos give viewers a peek into your life. If you're a dog owner, take this opportunity to show off your pooch, like these 22 couples did! And we can't thank them enough.

Our married blogger gets real about checking out other guys when you're taken.