Cheating Husbands Feel 'Dethroned' By Kids?
Or is this just another excuse for bad behavior?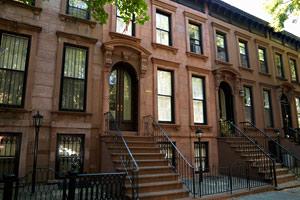 There's a theory that men cheat because of the "dethroning" effect. Basically, they have children, and their wives begin to shift focus from them onto the kids. The men then end up feeling replaced and useless, and, according to the theory, that's when they decide to take their business elsewhere.
Relationship coach LiYana Silver further explained the effect in a video on Huffington Post last week.
"Acknowledgement and appreciation...it's like this very important kind of man food, and when he doesn't get it… he'll find someone he will feel appreciated with."
As with any theory, not everyone is buying it. The other perspective is that it's just an excuse to enable bad behavior, and, as Hugo Schwyzer of Jezebel puts it: "It's exasperating that Silver is blaming wives and girlfriends for male infidelity."
Cheating site Ashley Madison recently revealed that family-friendly neighborhood Prospect Park is home to more cheating spouses than any other New York City neighborhood. CEO Noel Biderman added that women are cheating more than ever, explaining that women and men cheat for different reasons. His explanation seems to support dethroning:

"For women, the more successful they are, the more likely they are to cheat. For men, we've found that infidelity usually comes into play when children come on to the scene."
Take into consideration that Ashley Madison's slogan is: Life is short. Have an affair®. They're not exactly encouraging restraint.
In her Huffington Post video, Silver urges wives and girlfriends to become the "appreciator."
It's always good advice to appreciate your loved ones, but the question in the video is 'why do men cheat?' Isn't 'because you're not the appreciator' an unfair answer?
Some, like blogger Dan Seitz of GuySpeak.com, think there's a much simpler explanation for cheating.
"In other words, it's because he's a jerk...'Dethroning' is just passing the buck for your crappy behavior, and worse, blaming somebody who can't fight back."
What do you think? Is the explanation for cheating that simple?
Photo: Panoramic Images/Getty Images

love: friendships, dating, sex & marriage
How to flag her little fibs. By Laura Tedesco

A new study on attraction may help explain why fashions change.

As a general rule, any island that offers great weather year-round is going to attract the most visitors in the winter (high season) when we're all trying to escape the snow. Once summer rolls around, many islands see a sharp drop-off in tourism since many people have beach weather right in their own backyards.

And how you can attack the issues together.

A wedding is an exceptionally special day. Sometimes, an opportune photo flub makes the occasion even more memorable. Here are 25 awesome wedding photo bombs.

Somewhere between the first few butterfly-inducing dates and the committed-for-life stage, there's the period of wondering if you're both on the same page about how serious you feel about a future together. If you're not quite at the point of "that talk" but you're looking for a few clues you're heading in that direction, here are some signs he's in it for the long haul as your relationship progresses.

What's that sound? It's white noise blocking out the well-meaning person proclaiming groundbreaking news about where you can meet someone, asking why you're still single, or bugging you about when you're getting married already. Don't be that person. Here are 15 annoying things all single people don't want to hear.

With just a few days left before the big day, you already have a mile-long checklist of to-dos—now meet the don'ts! From impromptu skin treatments to all-night movie marathons, here are 11 things to avoid at all costs.

A new study shows that watching and discussing romantic films can drastically reduce your chance of divorce. These flicks more than fit the bill.

These seemingly innocent phrases still have the power to wound… big time.

Making "I do" last forever is one of the biggest challenges you'll ever face—and it's normal to worry about how you'll do it. But, if your connection involves any of these things, rest assured that you're in it for the long run.

Ultimately, as hard as it may seem at the beginning, a marital affair can be a turning point.