Cheating Husbands Feel 'Dethroned' By Kids?
Or is this just another excuse for bad behavior?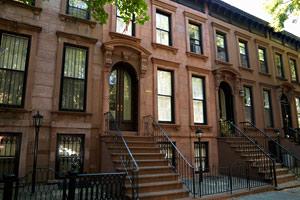 There's a theory that men cheat because of the "dethroning" effect. Basically, they have children, and their wives begin to shift focus from them onto the kids. The men then end up feeling replaced and useless, and, according to the theory, that's when they decide to take their business elsewhere.
Relationship coach LiYana Silver further explained the effect in a video on Huffington Post last week.
"Acknowledgement and appreciation...it's like this very important kind of man food, and when he doesn't get it… he'll find someone he will feel appreciated with."
As with any theory, not everyone is buying it. The other perspective is that it's just an excuse to enable bad behavior, and, as Hugo Schwyzer of Jezebel puts it: "It's exasperating that Silver is blaming wives and girlfriends for male infidelity."
Cheating site Ashley Madison recently revealed that family-friendly neighborhood Prospect Park is home to more cheating spouses than any other New York City neighborhood. CEO Noel Biderman added that women are cheating more than ever, explaining that women and men cheat for different reasons. His explanation seems to support dethroning:

"For women, the more successful they are, the more likely they are to cheat. For men, we've found that infidelity usually comes into play when children come on to the scene."
Take into consideration that Ashley Madison's slogan is: Life is short. Have an affair®. They're not exactly encouraging restraint.
In her Huffington Post video, Silver urges wives and girlfriends to become the "appreciator."
It's always good advice to appreciate your loved ones, but the question in the video is 'why do men cheat?' Isn't 'because you're not the appreciator' an unfair answer?
Some, like blogger Dan Seitz of GuySpeak.com, think there's a much simpler explanation for cheating.
"In other words, it's because he's a jerk...'Dethroning' is just passing the buck for your crappy behavior, and worse, blaming somebody who can't fight back."
What do you think? Is the explanation for cheating that simple?
Photo: Panoramic Images/Getty Images

love: friendships, dating, sex & marriage
The typical wedding: A white dress, tiered cake, floral centerpieces and a cute flower girl -- you know the drill. Every once in a while, though, a couple trades in tradition for a quirky, never-seen-that-before idea. Here are a few of the most out-there wedding photos that made us do a double take.

There's a lot to love about weddings this fall, like cocktails served in copper Moscow mule mugs, industrial-inspired lighting and pheasant feather details. See what's new!

Do you have to be engaged to sport a ring with bling?

124.6 million haven't gotten hitched.

Even though the national average wedding is $29,858, that's just an average. If you live in a smaller state like Idaho where the average wedding costs $16,159, you may find yourself saving a little more than half of the national spend! Check out some of the other least expensive cities to get married in below:

Summer is winding down, but the ubiquitous summer romance lives on.

For those times when nothing big and horrible happened--but nothing is feeling right either.

He's confident, distinguished and anywhere from 4 to 20 years older than you. Age is just a number, but there's something about older men that we love. Here are eight reasons why being in a relationship with an older man is tops.

While a younger man may have less life experience, that doesn't mean he's not emotionally mature. Here are the eight reasons why being in a relationship with a younger man is tops.

Have you ever wondered what the 'other woman' was thinking?

So fall is coming and you need some romantic inspiration now that long walks on the beach are out of the question. Well look no further! From apple picking to pumpkin carving, these are some great fall date ideas from girls just like you!

Getting bored of the same dinner and movie date night? Take an adorable cue from your favorite celebs and try something new! From dancing to boxing you can't go wrong with these awesome date ideas.