Writer: I am 'the anti-wife'
A busy writer and editor says she is "shamefully neglectful" of her "wifely duties".
Writer Kate Thompson recently penned a piece for The Daily Mail, accompanied by the title: "Meet Britain's worst wife."
In the post, Thompson calls herself the "anti-wife."  Explaining that she is "shamefully neglectful" of her "wifely duties," Thompson says she simply can't play the role of subservient partner.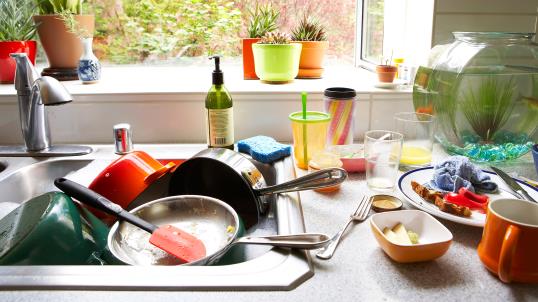 MSN Living: The 10 habits that keep marriages strong
"[My husband] brings me an organic buffalo milk cappuccino every morning in bed and once spent hours making fresh syrup from rhubarb to add to my favourite champagne after I'd given birth. And yes, he works full-time…But for all he does for me, anxious to make everything in my life better, he gets a raw deal in return."
MSN Living: US remarriage rate plunges
So how raw is that deal? Thompson says she's never ironed, rarely cooks, and only makes love to her husband on a milestone birthday — "just the ones with a zero."
"The truth is that I'm just too busy and involved in my career as a writer to be a traditional, caring wife."
Her husband, Ben, claims he doesn't mind their set up.
"I'm in awe of the way he looks after me, our sons and our home. He makes my life easier. And he says he enjoys it."
Read more about Thompson's "anti-wife" lifestyle here.
More from The Heart Beat: 
Clown couple ties the knot
Woman wants to marry her death-row pen pal
Ohio couple married 65 years die 11 hours apart 
Subscribe to The Heart Beat | Friend us on Facebook, follow us on Twitter and find us on Pinterest.
Photo: Thomas Northcut/Getty Images
Are you sure you want to delete this comment?
love: friendships, dating, sex & marriage
While we do love crazy, funny and over-the-top engagements, sometimes there's just nothing like a proposal with a heartfelt story behind it (warning: you might need some tissues). We've rounded up some of the most romantic wedding proposals from couples across the country, so keep scrolling for seven of our favorites:

As much as you'd like to think your guests will love every single aspect of your wedding, the truth is you really can't please everyone. However, you can try to avoid ticking them off. Here's how.

You'd think brides and grooms who celebrate their nuptials with 50 guests have an equal shot at wedded bliss as those who invite 500, but apparently not.

Because some things are just better with a buddy (whom you happen to be dating).

They're smart, funny, and adorable, but are you a good match?

Fight the urge to sign her up for OkCupid and read this instead.

We know you have good intentions, but...please...stop.

You can't say we didn't warn you. Every month is Movember when you're dating a guy with a beard. And while the scruffy look can be hot, there are some very real, err, challenges that come with the territory. Don't believe us? Well…

Follow these steps to slash your wedding budget—not your fun—in half.

It won't all be cake and flowers, but it can be the best year of your life together so far.

Expert tips on moving past those oh-so-familiar arguments.