Writer: I am 'the anti-wife'
A busy writer and editor says she is "shamefully neglectful" of her "wifely duties".
Writer Kate Thompson recently penned a piece for The Daily Mail, accompanied by the title: "Meet Britain's worst wife."
In the post, Thompson calls herself the "anti-wife."  Explaining that she is "shamefully neglectful" of her "wifely duties," Thompson says she simply can't play the role of subservient partner.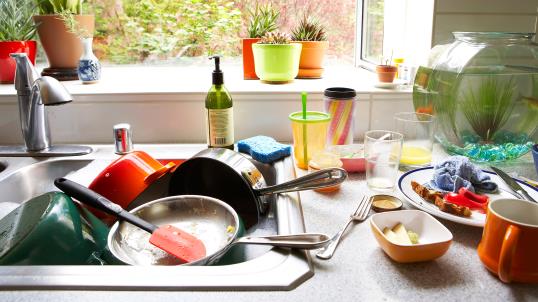 MSN Living: The 10 habits that keep marriages strong
"[My husband] brings me an organic buffalo milk cappuccino every morning in bed and once spent hours making fresh syrup from rhubarb to add to my favourite champagne after I'd given birth. And yes, he works full-time…But for all he does for me, anxious to make everything in my life better, he gets a raw deal in return."
MSN Living: US remarriage rate plunges
So how raw is that deal? Thompson says she's never ironed, rarely cooks, and only makes love to her husband on a milestone birthday — "just the ones with a zero."
"The truth is that I'm just too busy and involved in my career as a writer to be a traditional, caring wife."
Her husband, Ben, claims he doesn't mind their set up.
"I'm in awe of the way he looks after me, our sons and our home. He makes my life easier. And he says he enjoys it."
Read more about Thompson's "anti-wife" lifestyle here.
More from The Heart Beat: 
Clown couple ties the knot
Woman wants to marry her death-row pen pal
Ohio couple married 65 years die 11 hours apart 
Subscribe to The Heart Beat | Friend us on Facebook, follow us on Twitter and find us on Pinterest.
Photo: Thomas Northcut/Getty Images
Are you sure you want to delete this comment?
love: friendships, dating, sex & marriage
Government-supported Vietnamese classes teach women Korean language, customs.

Whether you're into creative artists or uber-preppy bankers, there's something to be said for trying something new.

Sometimes two characters on a TV show or movie can portray being a happy couple effortlessly, or can have lots of fun playing former spouses — especially if they're married to each other in real life! Keep scrolling for six celebrity costars you probably didn't know tied the knot, even after the bloodiest and craziest story lines.

Some couples want nothing more than a laid-back, by-the-book proposal. Then there are the other couples, where the proposal not only needs to be personalized, it also has to be unique and entirely different than the typical restaurant, bended-knee idea. Sound like you? Then get inspired by some of the most creative proposal ideas we've ever seen. If you find something you like, steal it and then modify it to make your proposal something totally unforgettable.

From Nantucket all the way to Cayo Espanto, we've rounded up some of the prettiest beaches to travel to for your honeymoon.

Researchers studied the age-old stereotype that women really are more talkative than men.

'There is a science behind attraction,' SingldOut says.

One minute you're happy and in love, the next he's delivering the "It's not you, it's me" speech. Why? We have the scoop on the real reasons most couples split up.

Want to keep your wedding budget in check? Start by checking out this list of the 10 things that could end up costing you a lot more than you anticipated.

Brace yourself, this is uncomfortable.

The proposal-filled site How He Asked has shared its top 10 most emotional proposal photos with us, so have your tissues handy. We're suckers for a good proposal story, and these ones are truly tear-worthy. Check them out now, and watch your heart grow (at least) three sizes!

How to do weddings: Yet another foreign (and expensive) aspect of adulthood that you have to learn the hard way. But have no fear! Click through for some must-have wedding tips.